Waterfront Square
Hamilton Bermuda
Finding a quiet area to sit and relax for a while, that too in Bermuda's busy city of Hamilton would perhaps never come to someone's mind thus far. No longer so. Hamilton city now does have a nice wonderful space right on Front Street and overlooking the harbor where a tired visitor or a local can relax. The corner of the parking lot (the number one shed on Front Street), has been reopened as an open space for pedestrians. 
The Waterfront Square is clearly identifiable by the giant compass which was hand painted on the ground and now remains there as a colorful piece of art on the Hamilton waterfront. It's an ideal place to relax, have a snack and refreshing beverages while enjoying the harbor view. You will also see many tourists and locals carrying their lunch packs and enjoying their meals here. 
This is also a good place to take a break before you take your ferry for the dockyard or while coming to Hamilton from the dockyard by ferry. 
Waterfront Square Bermuda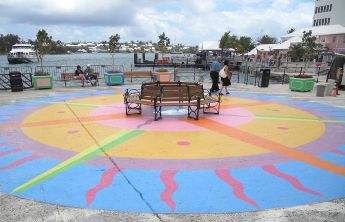 The Mayor of the Hamilton City, Charles Gosling had formally opened the square on June 16th 2010. He called the area, a "wonderful, open, recreational space.... All of this is in keeping with our vision to continue to find ways to beautify the city and effectively use space to enhance the lives of those who live, work and visit Hamilton" .  
Location
On
Front Street
beside the ferry terminal and next to Bank Of Bermuda building. 
Raj Bhattacharya
Raj is an avid traveler and a full-time travel blogger. He has traveled to numerous countries across the world and loves to keep travelling. His mission here is to help viewers like you visiting Bermuda or seeking insights into related matters with the most comprehensive content. Since years now he has been helping countless viewers by posting quality articles on this website, answering questions and sharing experiences. Launched in 2008, this website is Bermuda's leading source of online information since many years. 
Related Articles