Bermuda dry marina for boats
There is a great news for the private boat owners or boating enthusiasts in Bermuda. A new dry marina has come up in St. George (known as BoatPort). The marina has a Roof and Rack Storage system that can accommodate 60 boats in a covered storage out of the water. So you will no longer need to moor your boat in the water and worry about damages every time there is a strong wind or a storm. We all know about the kind of damages a storm can cause to the boats. So how does it work?  
The marina uses a 24,000 pound Wiggins Marina Bull Forklift to lift the boat from the water and take it to the dry storage place. The boat is washed with fresh water before it is stored in its own designated storage place.  
Since the boats may have different shapes and sizes, the rack bunk beams in the storage areas are adjusted to suit the bottom of the boats. Similarly when required, the boat is transported to the Launch and Recovery point and lowered into the water with the help of the Bull Forklift. 
Bermuda Dry Storage Marina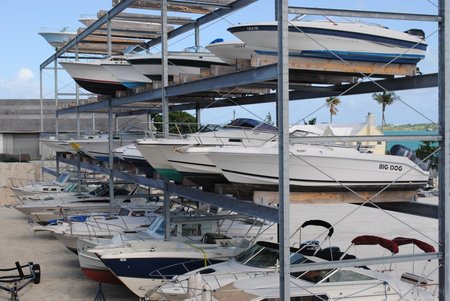 Photo: Bermuda BoatPort 
So what are the advantages of this dry boat marina in Bermuda? There are plenty. 
Since the vessel is stored out of the water, you won't need to moor your boat in the water any longer. 
No bottom paint required. There is less corrosion on underwater gears. 
Safety during storms and high wind conditions 
However the most important advantage is that you can call them up over phone, and they will place the boat on the water on demand. When you arrive at the marina, it'll be ready for you to sail. Gone are the days when you had to plan couple of weeks in advance to move your boat to the water or out of the water. 
You can get all the above services for a monthly fee. So you can use your boat everyday if you like for the same charge. The marina also provides flexible service offerings. Some of the optional services includes: 
Cleaning, waxing and maintenance. 
Delivering the boat to another location so that you get the boat delivered wherever you want and start your sail from there. 
Location and Contact
The dry marina or the boat port in Bermuda is located on the harbor off Wellington Slip Road, St. George's. The location also has its own advantages. It gives easy access to the eastern end water area for fishing, or to the Castle harbor or even a quick run up along the north shore will easily take you to the western end boating hot spot areas. 
29 Wellington Slip Road, St. George's GE 02, Bermuda. 
Related Articles
1) Check out
Bermuda Marinas
to get information about the yacht marinas in Bermuda