Sense Spa at Tucker's Point Bermuda
The 12,000 square ft. Spa at Rosewood Tucker's Point Hotel offers massages, body therapies, facials for both men and women, nail services, hair salon and men's barber services. It has been recently re-branded and named as The Sense spa. 
Update April 2012: The Sense spa has added many Bermuda touches to its line of treatments and also lowered the prices to attract more customers. Some of the unique Bermuda touches includes pawpaw and aloe massages, Bermuda honey and bay grape based therapies. 
Other local flavors includes trays and bowls made of Bermuda Cedar and the scrubs made out of locally blown glasses from the glass blowing studios. Many treatments now make use of locally grown and organic herbs and oils. 
A new concept of 4-hour long Spa Journey (Explore Bermuda) has been introduced where the guest starts with a rejuvenating journey through the flora and botanicals of the Spa garden. Then one is taken to an old grotto in the property (called Coffee Chine) which has been recently revitalized. Here the guest will hand pick the plant that will be used for body wrap. Another journey includes experiencing Spa cuisine, treatment and more. 
Sense Spa at Rodewood Tuckers's Point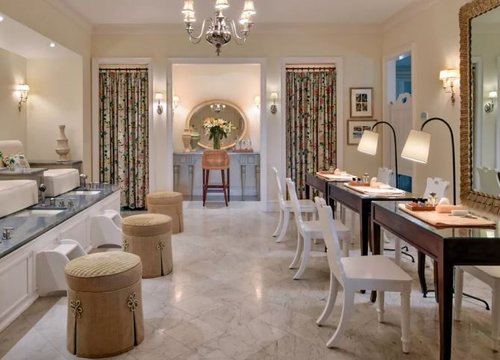 Photo: Rodewood Tuckers's Point 
There are also menus for children. Here are some of the main offerings of the Spa: 
Spa Journeys
These innovative journeys combine various treatments and other experiences. 
Sense of Bermuda Experience 
Combines warming massage, facial, manicure and pedicure, and followed by spa lunch. 
Explore Bermuda 
As mentioned earlier, it combines walk through a lovely spa garden, hand selecting plant for wrap, followed by pedicure etc. 
Bermuda Triangle 
A unique aspect of this journey is rain splash therapy where 18 showerheads spraying water together from different angles massage your body. It's followed by aloe massage and facial. 
Atlantic Sea Spray 
This removes the toxins from the body. Exfoliation done followed by algae rich seaweed wrap. It completes with manicure and pedicure. 
Rosewood Retreat 
Exfoliation using Bermuda honey and cane sugar. This is followed by pawpaw massage. Then you take a quiet lunch by the pool side along with a swizzle drink. 
Massages
There is a range of massages offered using flower extracts, herbs and other natural ingredients. Natural Aloe Massage takes toxins out of body and releases stress. The Cedar Warming Massage is a full body massage using warm cedar and essential oils. You feel spontaneously relaxed. 
Other massages includes Pawpaw massage which is rich with antioxidants, Deep Massage that uses deep strokes for the inner layer of muscles to relieve pains and stress, Fusion Massage which is a customized massage, and few others. 
Facials
Several facial treatments are offered and all include aromatherapy and massage of the face, neck and shoulder. Some of the key offerings are Organic Care Facial, Tucker's Point Signature facial, Rosewood Complete Facial etc. Duration is 80 to 110 minutes. 
Apart from the above, the Spa also has a Salon and Barber services that offers comprehensive services including: 
* Manicure / Pedicure Treatments 
* Hair and Scalp Treatments 
* Hair Highlights and Coloring 
* Bridal Make-ups 
* Men's Razor Shave 
* Chair Facials and Massage 
* La-Brasiliana Hair Treatments 
Opening Hours
9:00am -  6:00pm Daily 
Location and Contacts
Rosewood Tucker's Point Hotel and Spa, 60 Tucker's Point Drive, Hamilton Parish, Bermuda 
Phone: 441/298 4000 

By Raj Bhattacharya 
Raj, a seasoned travel writer and Bermuda destination expert, has extensive global travel experience. This website reflects his profound insights, garnered over nearly two decades of dedicated findings and research on the island. Raj has assisted countless Bermuda-bound visitors by providing direct, personalized responses to their queries and imparting his wealth of knowledge through this platform. This site serves as an indispensable guide for those seeking informed and reliable insights into Bermuda's treasures. 
Related Articles