Paula Cox - Premier of Bermuda
October 29, 2010 - December 18, 2012
Paula Cox of Progressive Labor Party (PLP) has been voted as the Premier of Bermuda by a large margin as she takes up her new role starting October 29, 2010. 
She succeeds Dr.
Ewart Brown
who was the previous Premier. Paula Cox defeated her immediate rival Mr. Lister by receiving 124 (75%) of the total votes while Lister got only 39 in a PLP delegates conference. Paula Cox has been an MP in the PLP since 1996 and the Finance Minister. In her personal capacity, she has been a member of the Bermuda Bar (which is the legal authority of Bermuda). She received her training as a lawyer in UK. 
She was also a former journalist and worked in the capacity of a press officer in PLP in 1990s. She had earlier worked as VP and senior legal counsel at
Bank of Bermuda
. Paula Cox is also in the corporate counsel of ACE. In 1996, when Paula Cox became a Minister of Parliament from Progressive Labor Party, she represented the Devonshire North constituency till 2003, and then onwards Devonshire West. 
In 1998, when PLP defeated United Bermuda Party to run the government, she received the Ministry of Labor and Home Affairs. This was the time when she introduced the legislation to restrict the
work permit
stays. However, she also tabled a law to increase the rights of many non-Bermudians in the island. 
Paula Cox, Bermuda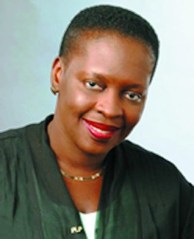 In 2001, she took the Education Ministry. Her father Eugene Cox was then the Finance Minister. She replaced her father as the Finance Minister after his death in January 2004. She subsequently became the Deputy Prime Minister in 2006. 
Paula Cox has had an exceedingly fast career in the cabinet mainly due to her popularity and personality to command respect. However, she too had to take a hit in her popularity when she introduced the unpopular tax raising budget as the Finance Minister. 
Some of her career achievements include: 
- Increasing the pension benefits 
- Eliminating land tax for seniors 
- Increasing the scholarship funding by the Bermuda Government 
- Abolishing annual voter registration; 
- Giving tax breaks to hotels, restaurants and taxis 
- Duty free housing materials for the poor 
- Increasing protection for small investors in cooperative enterprises, etc. 
Related Articles
1) Visit
Bermuda Premiers
to know about all the leaders who have run the Bermuda government since its autonomy in 1968.