NCL Norwegian Gem
Norwegian Gem is the newest in the fleet of NCL cruise line and started operating to Bermuda in 2011. The cruise ship has whimsically sprayed color not only on its exterior, but also inside. This after all makes the whole ship look quite bright and vibrant. Passenger capacity is 2394 (on double occupancy basis) with 1092 crew. The ship is 865-foot long with gross tonnage of 93,530. It can cruise at a speed of 25 knots. 
NCL Norwegian Gem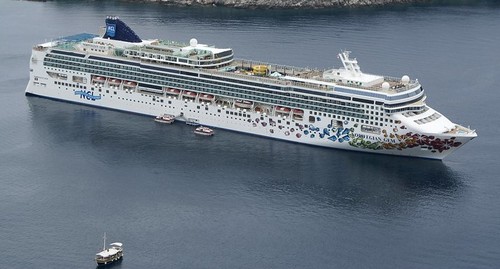 Photo: Richard Martin, flickr, cc by 2.0 
The Cabins / Staterooms
There are all kinds of rooms starting from the inside and ocean view rooms to suites and villas. The inside rooms are 145 sq. ft. while the outsides and with balconies are 160 sq. ft. There are 278 inter-connected rooms in the ship making it quite family friendly. 
The rooms are all painted with great bright primary colors. All rooms have flat-screen TVs, mini-fridge, chairs or couches, hair dryer, Internet access and coffee makers. The bathrooms are usually split with a separate shower cage and enclosed toilet with the wash basin placed in between. 
At the luxury end of the state rooms, you can pamper yourself to any extreme. There are mini-suites, romance suites (having great ocean views), penthouses, Courtyard Villas and owner's suites.  
The ship also has two Garden Villas that are each about 5,000 sq. ft. Each villa has three bedrooms, three bathrooms, a living room, dining room, grand piano in the living room, private sunbathing area, saunas and a hot tub. 
Restaurants and Dining Options
In general the food in Norwegian Gem is excellent. Most of the elevators have electronic boards showing waiting time at the various restaurants. Such boards are also there outside the restaurants. If there is a queue, the waitress would give you a beeper which will give signals when your turn comes. Here are all the dining options in Gem. 
Grand Pacific Main Dining Room: This is one of the main dining rooms designed after the dining rooms of the Matson Liner ships that sailed from San Francisco to Honolulu. Some of our favorite preparations include Beet Soup, Rotisserie chicken with rice, roast carrots and parsnips. Capacity: 558 
Magenta Main Dining Room: Another dining room designed with contemporary artwork some of which are back lit. It has decorative walls that change colors. Capacity: 306 
Blue Lagoon: A 24-hour food-court style eatery. You get everything from hamburgers to fast-wok food. Chicken wings and Cantonese Rice with pork are excellent. Capacity: 108 
Cagney's Steakhouse: A traditional American steakhouse of the 1930's. T-bone with port wine sauce is simply great. Capacity: 168 
Garden/Kids cafe: The menu changes regularly. It has a fresh salad bar and a dessert bar. There is also a kids section with kids favorite menu. The main section has a capacity of 390, the kid's section accommodates 52. 
La Cucina: A casual Italian restaurant themed on a traditional farmhouse kitchen. Capacity: 108 
Le Bistro: a French restaurant themed on the colors, plantings and artwork of the Pacific Islands. There are excellent new dishes like tender tasty short ribs. Capacity: 106 
Orchid Garden: an Asian Restaurant complex serving Japanese, Thai and Chinese cuisine including teppanyaki and sushi. Capacity: 100 
Sushi: Great sushi and sashimi. You can watch them being prepared. Priced a la carte.  
Capacity: 10 
Teppanyaki Room: Serving authentic teppanyaki. Capacity: 32 
Tequila Latin/ Tapas Restaurant: The restaurant looks modern and brightly colored. serves hot and spicy latin/tapas food. 
Other than the above, there is a 24 hours room service on a limited menu items. There is also a spacious outdoor buffet that accommodates 259 persons. 
Onboard Entertainment
Art gallery 
Basket Ball / Volley Ball / Tennis Courts 
Body Waves Fitness Center: Full gym. Aerobics/fitness classes held daily. 
Business Center and Meeting Rooms 
Card Room 
Corona Cigar Room 
Gem Club Casino: Full casino with a capacity of 327 
Hot Tubs: There are 6 hot tubs in the ship 
Jogging and Walking Track 
Kid's Pool: Has many fun features as well 
Stardust Theater (Broadway and Vegas-style shows are held here. Capacity: 1042) 
Tahitian Pool: The main pool of the ship with Topsiders Bar and Grill next to it 
An on board Chapel also functions as a meeting room 
Leopard Lounge - Teens can have fun here 
A library with a great view of the ocean 
Trade Route Boutiques - Large department store offering a nice selection of items 
Tree Top Kid's Club - also has indoor jungle gym/obstacle course 
Video Arcade 
Yin and Yang Spa and Salon 
There are a number of bars, lounges, casino and nightclubs on board the Norwegian Gem. 
Bali Hai Bar and Grill (styled as a ballooning basket with sandbags, ropes and a rattan front); 
Bliss Ultra Lounge and Nightclub (features 4 lane bowling alleys and plasma TVs); 
Gem Club Casino Bar (a full bar with casino); 
Java Cafe and Internet Cafe (serves coffee, teas, pastries, cookies etc. and offers computer, Internet facilities); 
Magnum Champagne and Wine bar; 
Maltings Beer and Whiskey Bar; 
Sake Bar (part of Orchid Garden restaurant); 
Shakers Martini and Cocktail Bar (features James Bond inspired graphics and funky images from the 60's and 70's); 
Spinnaker Lounge (The show band is excellent. It's also a dance floor with horizontal windows); 
Star Bar (themed on a gangster call Cagney of America); 
Top Siders Bar and Grill (pool side bar); 
Cost that are outside the cruise deal
The basic cruise fare includes shows from a comedy troupe called Second City, a great fitness center, Nintendo Wii on a wide 2-storied screen, waterslides, a climbing wall, bowling alley, access to bars and lounges, pools, hot tubs, kid's centers, teen discos etc. This is apart from the food at the main dining rooms and some restaurants where there is no extra cost. There are cover charges for dining at some of the specialty restaurants. 
Watch out for these extra charges which are not covered in your basic cruise deal package: 
As part of gratuity (service charge), the Gem adds $12 per person per night. 
Using the relaxation area at the Yin and Yang Spa having thalassotherapy pool, heated loungers, and saunas and steam costs $20 per day. 
A massage or a therapy at the Spa would cost well over $100. 
Tap water, juice, coffee, iced and hot tea are the only free drinks. Extra charges apply for beer, wine, cocktails and even sodas. 
You can not bring your own liquor on board other than limited quantity of wine in bottles. If you bring wine, there is a corkage fee. 
Bowling at the Bliss Ultra Lounge costs $5 per game 
There are extra cover charges ($20 per person) for dining at Cagney's Steakhouse, the French Le Bistro, the Orchid Garden and the Teppanyaki Room. The other restaurants including La Cucina, Tequila Latin/tapas, and the 24-hour Blue Lagoon do not cost extra. 
Our overall review and opinion
Like all other NCL Cruise ships, Norwegian Gem also offers Free Style cruising which is all about on-board flexibility. So there is no fixed time for dining, there is no formal dress code, you can enjoy the early musical performance or the late show. 
Norwegian Gem is being upgraded to Freestyle 2,0 which is the next level of flexible cruising. This is not a replacement, but an upgrade. For example, in dining rooms instead of buffets, food would be prepared to your order.  
While Nintendo Wi-fi is offered in most of the NCL ships, in case of Gem it's special and has been designed with wide screens across two decks in the lobby. The choice of restaurants in the ship is really great and the food is of high quality. Bowling is a new offering in the ship. This is definitely a modern cruise ship with improved amenities. With 278 inter-connected rooms, the ship is great for families. 
With all the activities and options in the ship, you are unlikely to spend a lot of time in the state rooms. Overall we think Norwegian Gem offers good value for money. 
Related Articles
1) Check out
Bermuda Cruises
to know all about cruises calling ports in Bermuda.