Bermuda Beach Art Festival
Bermuda is joining the league of beach art which is fast catching up in the world. It's an artwork that you create with a rake and using sand as the canvas. There are no chemicals or paints to be used. And it's difficult to create fine details and shades on the sand. But artists have recently started creating shades with their amazing skills and giving it a 3-D look. 
The first beach art festival in Bermuda was held in March 2012. Although still in it's infancy, the festival has now become an annual celebration of the beautiful beaches of Bermuda. The main event is where artists (both locals and visitors) reserve different beaches of their choice and create a magnificent artwork on the sand. However, the art lasts only until the next high tide when the water washes it away. So the art although is done meticulously for hours, is a temporary one. It is done in different beaches in the island at the same time by different artists. 
Since it's difficult to create finer details on the sand, one should look from far and see the bigger picture and the concept. In fact most artists use the type of beach and its key feature (like a rock formation in the middle of the beach) as the center focus and create the art around it. The theme of the art depends on the type of beach (long, short or a cove etc). 
So why so much effort for a temporary artwork? Although the art may be temporary and would soon get washed away, the pictures and the videos will remain. The timing is also so chosen that it takes place during low tide when most part of the sandy beach is exposed for the artwork. 
Bermuda Beach Art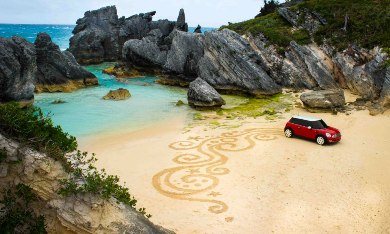 Photo by Bermuda Beach Art Festival 
While the Bermuda Beach Art Festival includes several events and activities, it centers around the beach art competition from several artists. There are prizes in different sub categories. Although the competition takes places in several beaches across the island, the main central beach is
Horseshoe Bay Beach
which is treated as the Head Quarters of the festival. This is where most of the festival activities take place. 
During the first Bermuda Beach Art Festival held in March 24 2012, 15 artists joined the competition and hundreds of viewers (both residents and tourists) came to see the artworks. Jersey island is an island located in UK. This is where the first World Beach Art Competition was held in 2011. It was won by the French artist Sam Dougados. 
Sam was brought in as the guest artist and judge during the first Bermuda Beach Art Festival in 2012. He offered demonstrations prior to the first Beach Art Festival. 
The entire Bermuda Beach Art Festival was conceived by Nicky Gurret, a sand artist of Bermuda who was also the founder of the already established
Sand Sculpture Competition
in the island. Nicky is the director of this festival and assisted by Dy. Director Lynne Matcham. 
Admission and Entry
There is no admission fee for viewers and neither any entry fee for the artists. If you are visiting Bermuda in March, time your visit with this great event. All tourists (and resident) artists of any skill levels are welcome to join the art competition. There are cash prizes in categories like Adult, Teen, Family, Tourist and Best Design Overall. 
For more information contact: 
2016 Bermuda Beach Art Festival
It will be held on Saturday March 19, 2016. Low tide is at 1:19pm. 
2015 Bermuda Beach Art Festival
This year the island wide Sand Art Competition takes place on Saturday, 28th March 2015. Entry is free and there will be free workshops the week prior on Horseshoe Bay Beach. Free yoga classes will be held from 11am - noon at Horseshoe Bay Beach, Elbow Beach and John smiths Bay Beach.  
Competitors can enter by sending an email to
[email protected]
by March 25th mentioning name/team name, beach of choice and category (Adult / Family / Teen / Tourist). 
Beach Art Festival History
2014 Beach Art Festival 
Scheduled on Saturday March 29, 2014. Andres Amador, an internationally well known beach artist will be there. Hide tide is at 1:30pm. So see all the beach artwork before they all get washed away by high tide. 
2013 Bermuda Beach Art Festival 
It is scheduled on March 23, 2013 (Sat) from 9am to 12noon at various beaches in Bermuda. Horseshoe Bay Beach will however remain as the Head Quarter. This year, the guest artist and judge will be Andy Coutanche from Jersey Island who was one of the founder members of the World Beach Art Competition in Jersey and is a great beach artist by himself. He is fondly known as "Jersey Sandman". Andy will hold free demonstration and workshop sessions prior to the competition. There will be cash prizes ($500) given to winners in each category. The prize distribution ceremony will be held at 6pm at Grass Beach Terrace of
Elbow Beach Hotel
. There will also be many watersports (Wind and Kite Surfing, stand up paddle board) and Scuba demos and instructions given on Horseshoe Bay Beach between 11am to 3pm. Other activities would include Yoga classes (At Horseshoe and Elbow beaches) from 11am to 12noon. Play Mobil competition (for under 12) will be held at Horseshoe Bay Beach from 11am to 1pm. Videos of dancers from
In Motion
will be played during the festival. The whole event is Eco friendly. A Naturalist of the island Dr Wolfgang Sterrer will be giving lectures on Bermuda Sand, its nature and the creatures that can be found in it before the competition starts. 
Related Articles
Visitors' Reviews
Share your experience.