NCL Norwegian Breakaway
This is the newest of the NCL fleet and made its debut journey to Bermuda in May 2013. With a passenger capacity of little over 4,000, although this is not the largest ship on the sea, but it has some amazing features and offerings that seriously add to the WOW factors. It's like a five star resort on sea. This 1,062-foot ship has 18 decks and can cruise at a speed of 21 knots. There will be close to 1600 crew members on board providing service.  
Norwegian Breakaway in Bermuda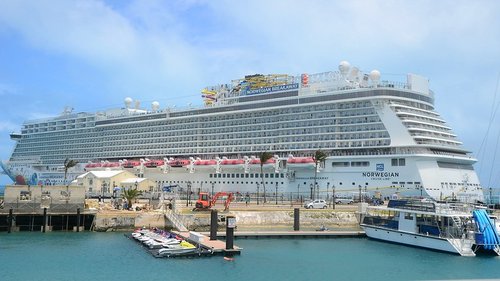 Photo: slgckgc, flickr, cc by 2.0 
The hull design is bright and colorful with lots of imprints including the pictures of New Empire State building of New York, the Statue of Liberty and more. It's loud and clear that the cruise ship makes it's voyage from New York City. In Bermuda, it usually docks at Heritage Wharf (which is newer of the two berths) in Royal Naval Dockyard. 
Some of the highlights of the cruise includes its expansive and elaborate spa, mini golf, basket ball court, life size waterslides for kids, choice of 28 specialized restaurants, a real Ice Bar with ice seats serving cocktails, fireworks on sea, Broadway shows, Casino and lot more. The rate for regular cabins start from $1,000 per person for a seven day cruise from New York to Bermuda including all meals (introductory rate). 
Norwegian Breakaway in Bermuda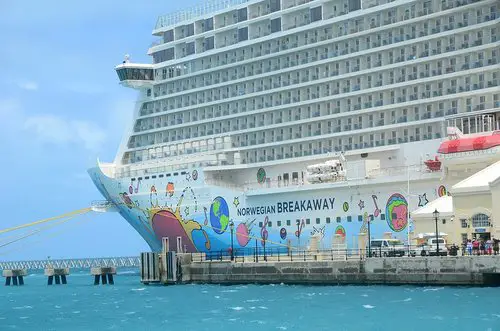 Photo: slgckgc, flickr, cc by 2.0 
The Cabins or Staterooms
There are several types of state rooms in the cruise - from regular inside to haven suites. However in general the cabin designs are simple, traditional with not many flourishes. 
The Haven Suit Complex comprises of 42 suites, and offers exclusivity in terms of the complex's own restaurant along with a gym, sun deck and a swimming pool. The 28 Spa Balcony Cabins and 20 Spa Suites are located adjacent to the Spa facility. They get free access to the Thermal Spa Suite. There are 59 numbers of 100-sq ft single cabins. The ship additionally has 158 Ocean View cabins out of which 42 are family cabins which can accommodate families of up to 5. 
Restaurants and Bars
This is one area where the Norwegian Breakaway would beat any other cruise ships of its class. There is a long boardwalk on deck-8 known as The Waterfront. Alongside the boardwalk there are several alfresco restaurants and cafes offering different types of cuisine. 
The boardwalk connects to the atrium known as 678 Ocean Place which is a vast space across three decks. The atrium too has a large number of restaurants, pubs, bars plus shops and the casino. There are a total of 28 restaurants in the ship. 
Here are some of the great eating places along the boardwalk: Moderno is a Brazilian style resto, Cagney's a great steakhouse, Ocean Blu offers seafood and Sushi with a raw bar etc. There are also couple of nice bars here. 
The atrium has an array of 17 dining options including steakhouse, a 24-hour pub with free pub fares etc. There are three main dining rooms in the ship that offer complimentary meals that are part of the cruise fare. 
But the real highlight is the Ice Bar. The temperature inside the room is kept at 17°F. The guests are given complimentary coats and gloves to stay warm inside. There are different sculptures like that of Statue of Liberty, Brooklyn Bridge of New York etc made of ice. Even the bar and the glass in which you have the cocktails are made of ice. The bar offers several cocktails including the Yellow Cab, The Rock Center etc. 
Onboard Activities and Entertainment
This is another area where the Breakaway has brought in a lot of focus and details. There are three different Broadway shows, comedy shows etc. It offers a latest Casino featuring modern slot machines, gaming tables including poker, blackjack, roulette, craps etc. 
There will be fireworks display almost every night. There are five waterslides including twin free fall slides. A sports complex features the largest ropes course at sea. 
The Mandara Spa covers an area of 23,000 sq. ft and offers the first ever Salt Room Therapy which is great healer for skin ailments, sleeplessness etc. There is also a thermal room with wonderful view of the ocean. Other features include 13 heated lounges, whirlpools, vitality pool, sauna, steam room, solarium etc. There are 22 spa treatment rooms for both men and women offering various types of massages and other treatments including the signature 24 Carat Gold Facial. There are also full service salon and barber shop. Spa service is available for kids as well. 
Related Articles
Visitors' Reviews and Comments
Kevin Borden (October 2014) 
On August 3rd 2014 -From the moment we began sailing up the Hudson toward the Atlantic Ocean via the Verrazano to the 1st dining experience at O'Sheehan's for lunch, we were made to feel warmly welcomed!! - The ship is something to see!!! The crew, especially our Room Stewart and the many smiling faces of the restaurant staff of places like Savor restaurant, made ALL the difference for us during our 7 day cruise to Bermuda. There's not ample time to describe the many highlights of our trip on the Norweigan Breakaway. The people go out of their way to make you feel at home. One of the managers of the Savor restaurant: 'Antonio' so genuinely said to myself and family... "welcome to our home". We found the ship to be very comfortable to ride on. The Pulse Fitness facility and The Mandara Spa were some of the highlights of our trip."Roberta", one of the attendants at the Spa, with a smile that will ignite your heart, treated my wife and daughter like royalty, their last evning on the cruise.- let me just say, we left the next morning Aug 10th-to return home and have not stopped thinking about our next cruise..TBD..TBA sooner than later.  :)