Gojo's Coffee Shop, Bermuda
$, Bermudian, Snacks 
CLOSED
---
This is a centrally located coffee shop in the Town of St. George. It is located at the main square area (on one side of King's square). You are not likely to miss it as it is like a splash of color in its otherwise bland surroundings. It is also one of the few places here that is open on Sundays. You will find seating both indoors and outdoors, though sitting on the benches outside underneath the coverings with a light snack and coffee and looking out at the sail boats leaving the ports for the high seas, is well preferred. 
It's a small place with placards placed here and there mentioning the menu. The decor is scant with a few posters, local art and books (left behind by old customers). It has a very casual and informal setting and you will soon find yourself drawn into friendly and enjoyable conversation with the owner Darrin (Jo) and his brother. Service is also pleasant and courteous and they do their most to accommodate you. 
Gojo's Coffee Shop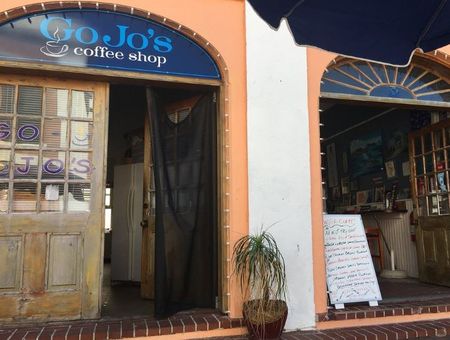 If you are looking for light snacks or just a quick tea or coffee mid morning, or simple sandwiches for breakfast/ lunch, this is a good place to go to. You can have your sandwich fixed just the way you prefer it. Or you can go for the ones that are offered on the menu. The fish sandwich with the "catch of the day" is quite nice and fresh. 
There is the cod and potatoes cake sandwich and the Wahoo sandwich or you can also try the Cowboy sandwich with egg, cheese, ham, green peppers and tomatoes which is very filling. It is also notable for the "BAT" as they call it or the Bacon Avocado and Tomato on raisin bread. Their simple fried eggs with the great seasonings are good options for breakfast too. 
During lobster season, they prepare great lobster salads and sandwiches which are fresh and something you should not miss if you can catch them. Even the cod cakes are available on occasion and taste delicious. 
If you are taking a break from the heat outside, you can go for their iced coffee with a slice of their homemade banana bread or the much raved carrot cake which is really moist and spongy. There are various other options on the menu like paninis, wraps, bagels, pizza, brownies and muffins.  
Service here however could be a tad bit slow, much in keeping with the laid back pace of life on an island, though you can enjoy the sights and sounds around you while waiting. Besides much of what you get on the plate makes up for the wait. Prices too are like anywhere else on the island and a bit steep compared to those back in the US. However, drinks are more fairly priced here. 
Customer satisfaction is on their list of priorities as you will find a visitors' book placed on a table for your comments. If you are looking for a gluten free vegetarian meal, you will find quite a few choices on the menu. You will also get to use free WiFi here. You can even choose to take your sandwiches to go and sit either in the Somer's garden or overlooking the water at Ordinance Island. 
Open Hours and Contacts
Monday to Friday- 8.30am - 6pm 
Saturday - Sunday- 9am - 3pm 
Address: 7 King's Square, St. George. Phone: +1 441-297-0614 
Road Map 

By Raj Bhattacharya 
Raj, a seasoned travel writer and Bermuda destination expert, has extensive global travel experience. This website reflects his profound insights, garnered over nearly two decades of dedicated findings and research on the island. Raj has assisted countless Bermuda-bound visitors by providing direct, personalized responses to their queries and imparting his wealth of knowledge through this platform. This site serves as an indispensable guide for those seeking informed and reliable insights into Bermuda's treasures. 
Related Articles
Visitors' Reviews and Comments