Astwood Arms, Bermuda
Category: $$ 
The Ambience
The Victorian styled vintage ambience is the main stronghold of this pub located right on Front Street in Hamilton City. It has a separate dining room, a bar, a cellar for watching ongoing live sports on large screen TVs and even an outdoor dining area on the front porch which is ideal for people watching.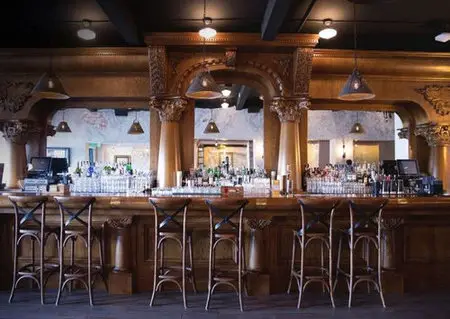 The Bar. Photo: Astwood Arms 
Inside you get the classic rock feel with 70s and 80s music and light jazz playing through the speakers. There are large barrels and casks kept at the corners. The round shaped wooden tables and chairs are placed around the dining room giving a retro styled decor. However, the highlight has to be the huge bar made out of solid oak... this bar was custom-built for the pub in Halifax, England. 
The Drinks & Food
They serve both draught and bottled beers from the US and UK as well as locally produced beers. The beer menu is quite extensive. However, their specialty is Gin based handcrafted cocktails. In fact, they have a whole menu on Gin cocktails... some of the popular ones includes Tanqueray London Dry Gin (Flavors: Juniper, Coriander, Angelica, Liquorice), Hayman Peach & Rose Cup (Flavors: Peach, Pear, Cucumber, Fragrant Rose), Bermuda Gin Co Pink House (Flavors: Hibiscus, Mint, Blood Orange), etc. You can choose your glass... tall, short, balloon etc.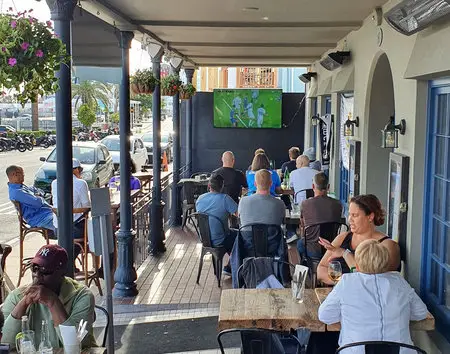 Front Porch. Photo: Astwood Arms 
The food is essentially British pub fares, although there are some variations and Bermudian touch. Astwood Arms serves breakfast, lunch and dinner. 
In soups and salads you get items like Baked onion soup, Bermuda Fish Chowder, Caesar Salad, Cobb Salad (Grilled Chicken, Bacon, Avocado, Boiled Egg, Cherry Tomatoes, Blue Cheese Dressing), Superfood Salad (Quinoa, Cucumber, Avocado, Cranberries, Almonds), etc. 
Under the Pub Classics, there are dishes such as Traditional battered fish & chips, Ploughman's Lunch (comprising of  pate, baked ham, English cheddar, brie, piccalilli, branston pickle, crusty bread and side salad), House BBQ St. Louis Ribs (served with sour cream & chive Mash half or full rack), Banger & Mash (comes with Cumberland Sausages, mashed potato, onion gravy), Grilled NY Strip (accompanied with garlic butter, fries, green peas), Grilled Wahoo (comes with roasted fingerling potatoes, vegetables, lemon butter sauce), Chicken Tikka Masala made in Indian style (served with Basmati rice, naan, salad), Sweet Potato Chili (accompanied with Basmati Rice, Creme Fraiche) etc.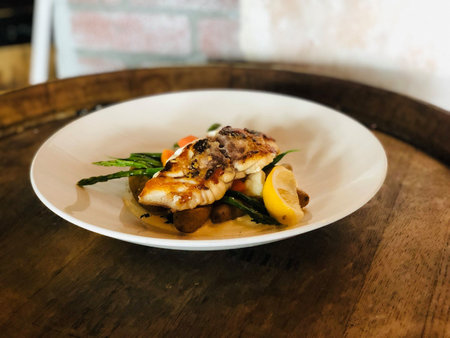 Rock Fish. Photo: Astwood Arms 
There are also burgers, sandwiches, fries, fish fingers, chicken wings, crispy calamari, sausage rolls, homemade pate (comes with red onion chutney), etc... however, one of the best here is the nachos known as 'Astwood's Loaded Nachos' which is served with house chili, black beans, guacamole, pickled jalapenos, corn chips and sour cream. Although not on the menu, they also make excellent Wahoo Tacos. Other than a separate Pizza menu, they also have a menu for children. 
Indicative Prices
Gin cocktails range from $10 to $12.50 
Soups & Salads range from $9 to $19 
Classic pub fares from $18 to $29 
Pizzas: $17.50 to $19.50 
Service
The pub belongs to the reputed 'Yellowfin' group which also runs several other restaurants and bars in the island which are all quite popular. So expect professional service. However, at times, particularly when it gets crowded, the service can become a tad slow and may appear to be a little indifferent. 
Otherwise, the atmosphere is quite friendly and casual. It's a great place where both tourists and locals frequent to chat over a few drinks and pub fares, particularly in the late afternoon after having done their shopping on Front Street. Overall quality of food and drinks are very good. 
Open Hours
Monday to Sunday 12 noon -11pm 
Location and Contacts
Astwood Arms is only a 5-minue walk (400 meters) from Hamilton Ferry Terminal. As you come out of the ferry terminal, cross the road (Front Street) and walk towards right. 
Address: 83 Front Street, Hamilton City, Bermuda 
Road Map 
Related Articles
Visitors' Reviews and Comments