Captain Kirk's Fleet of Boats, Bermuda
Boats of different size and type are offered by the operator Captain Kirk's Coral Reef Adventures. The options includes small RIB boat for fast access to remote offshore reef or wreck area for snorkeling and swimming, large catamaran that is ideal for a sunset or day cruise, Glass bottom motor cruises for watching underwater marine life through glass bottom panes, large motor yacht for private functions etc. These boats need to be booked well in advance if you plan to charter them because in high season (i.e. usually May to October) they are all used for regular group tours as well. 
The Aristocat
This a uniquely designed catamaran. You can charter it for a sightseeing sail or a trip to the offshore coral reefs for a swim or snorkel. This 55-foot boat has a capacity of up to 50 persons. You can relax on the deck and enjoy a drink. 
Some features of Aristocat includes a large fore-deck with sun mats, access to water via stairwells, large cockpit with ample shaded seating, elegant salon with walk around bar, snorkel equipment, exterior wet bar, changing room and bathrooms, fresh water shower and fully equipped galley. 
Aristocat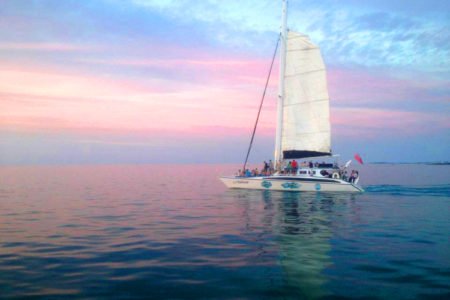 Photo: Captain Kirk's Coral Adventures 
A popular sailing option with Aristocat is a full day cruise... A morning sail out to picturesque Somerset for swimming and your choice of water sports. Enjoy lunch on board or at one of the nearby seaside restaurants. After lunch it's a relaxing sail out to the coral reefs for snorkeling. Sun bathe and relax with cocktails on the return sail. A second option could be a sunset cocktail charter sail. A great way to have a night out! Enjoy cocktails and live music as the boat glides towards the setting sun. 
Indicative Rate: $600/hour 
Capacity: 40 passengers offshore; 50 passengers inshore 
Pisces
This is a 31-ft RIB speed boat and can accommodate up to 20 persons. It's fast and its small size lets you get into any water area where the larger boats are unable to anchor. This boat is ideal for exploring the small coves along the coastline or offshore water areas where you can swim, snorkel and relax. 
Indicative Rate: $350/hour 
Reef Comber
This is motorized boat with upper and lower decks. The lower deck has glass bottom so that's a great option to take it to reef and wreck areas to get excellent views of marine life through the glass bottom panes. It has benches on both decks. There is sound system, a small bar, swim steps and platform to easily access the water. They also provide snorkel gears in case you want to get to offshore water areas to snorkel. It has a capacity of 40 passengers. 
Reef Comber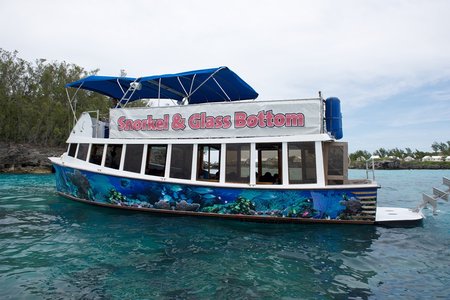 Photo: Captain Kirk's Coral Adventures 
Indicative Rate: $450/hour for up to 25 persons, $20 for each additional person. 
Coral Sea
This is a relatively larger motor cruiser which also has a glass bottom for viewing the underwater marine life. The 63-ft boat has a capacity of up to 100 persons. The boat is fitted with two bathrooms with toilets, sound system, swim platform with ladder, adjustable lighting system, a full bar etc. It has a partially covered upper deck and comfortable seating arrangements. So this boat is meant for a larger group that would like to sightsee, get glass bottom views, soak in the sun, have a party on board or do some offshore swimming and snorkeling activities. 
Coral Sea 
Photo: Captain Kirk's Coral Adventures 
Indicative Rate: $650/hr up to 50 people - $25 each additional passenger 
Coral Princess
This is another glass bottom motor cruiser quite similar to Coral Sea and has a capacity of up to 90. It has open but partially shaded upper deck, a bow area with seating and collapsible glass bottom panes which can create a wider space for seating in the lower deck. It too has two bathrooms with toilets, swim ladder, sound and lighting systems etc. They also provide snorkel gears. So this boat too offers a great option to explore water areas and spot turtles, take part in snorkeling and swimming activities in offshore reef or wreck areas, have an on board party etc. 
Coral Princess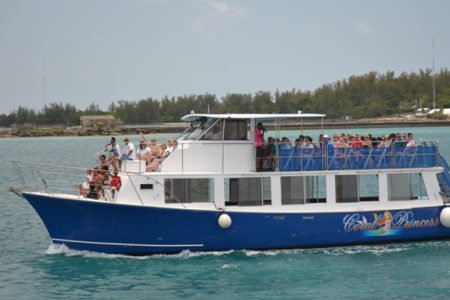 Photo: Captain Kirk's Coral Adventures 
Indicative Rate: $650/hr up to 50 people - $25 each additional passenger. 
MV Elizabeth
This is a large motor cruiser (largest of the fleet) with a capacity of up to 250 persons. It has all modern amenities in it including 4 bathrooms with toilets, full bar, 80-inch TV, swim platform with ladder, music and light systems, wide range of seating options etc. This is ideal for a private group party or a function including weddings. They can also arrange for on-board DJ and catering. 
MV Elizabeth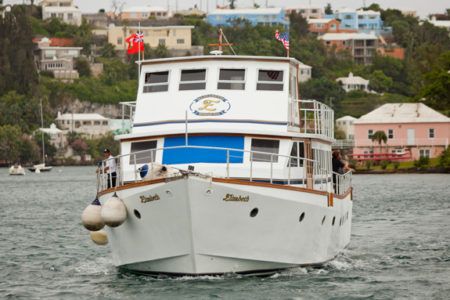 Photo: Captain Kirk's Coral Adventures 
Indicative Rate: $900/hour up to 160 people - $25 each additional passenger 
Location and Contacts
Kirk's Coral Reef Adventures. 17b West Side Road, Sandys, Bermuda 
Related Articles
Visitors' Reviews and Comments
Denise Natale (August 2016) 
I took your Aristocat snorkeling tour Monday, August 15, 2016. The weather was not good for sailing (no wind), but it was terrific for snorkeling. The captain and crew were very knowledgeable about all things Bermuda (in the sea and out) as well as being entertaining. We cruised out about 4 miles from shore and dropped anchor in a sandy area surrounded by coral reef.  
The crew pointed out that they do NOT bait the fish and if we wanted to see any, we would have to be quiet swimmers. This is the ONLY way to observe the reef in my humble opinion. We were able to watch the fish and the coral going about their daily routine as we swam above them for an hour. The water was warm, the reef was breathtaking, alive and amazing. Thank you for an excellent 10-star tour!