Bermuda Rum Cakes
Rum cakes as the name suggests has alcoholic rum as one of its ingredients and you will distinctly be able to make out the rum flavor as soon as your teeth sink into the soft and delicious cakes. Over the years, rum cakes in Bermuda have become extremely popular with both locals and tourists. They are usually prepared with fine Black Seal Rum. 
Other than the taste and its different flavors, the cakes usually come packed in a heat sealed packing and therefore have a long shelf life (usually about 3 months in normal room temperature and much longer when kept in refrigerator). So it's an ideal goodie to take back home and enjoy for days. 
Most rum cakes are dark in color although you will get ones that are lighter in color as well. The recipe is usually kept as secret by the owners and bakers, but usually have appropriate proportions of flour, eggs, salt, milk, dark rum, sugar, baking powder, fruit juices, and sometimes even butter to get the glaze. So as you can well understand, this won't be a low calorie food by any means. But who cares? 
Bermuda Rum Cake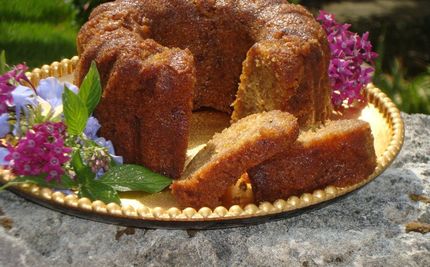 Photo: Horton's Bermuda 
Bermuda Rum Cake Company
Located at the Royal Naval Dockyard (Cruise Port) this is an establishment that has been baking rum cakes for a long time in its mini bakery. You can walk in and watch the bakers making the cakes. The staff will offer you free samples for tasting. The bakery is located in the same building as
Dockyard Glassworks
and owned by the same owners. 
Here are some of the great flavors that you can find at Bermuda Rum Cake Company: 
1) Traditional rum cakes made in lemon and vanilla flavors. 
2) Chocolate. This is probably the lowest calorie rum cake you will get here. 
3) Rum Swizzle - made with the favorite island drink Rum Swizzle and would have tart cherries, lemon, vanilla, apricots and pineapple. 
4) Coconut. would have pineapple, lemon and coconut. 
5) Rum and Ginger cake with a hint of apricot. 
6) Black Rum Fruit Cake with dark molasses, dried fruits and walnuts, etc. 
Location and Contacts 
Bermuda Rum Cake Company. 1 Maritime Lane, Royal Naval Dockyard, Sandys. 
Only 6-7 minutes walk from the cruise pier. 
Phone: 441/234-4216, Fax: 441/234-3813 
They are open all days a week, 9:00am to 5:00pm (till 9pm if cruise ship in port). 
Horton's
X CLOSED 
They are the original bakers of Bermuda Black Rum Cakes which is a great favorite of the locals. Linda Horton first started baking the cakes at her home kitchen. Over time her company has gone on to win several awards for the rum cakes they bake. The Bermudian Magazine named them "iconic" and awarded them "Best of Bermuda". Horton's are sold at authorized retailers island-wide. 
You can meet Mrs. Linda Horton on Fridays from 11:30am - 2:30pm and sample her black rum cakes at the Bermuda Craft Market (in Royal Naval Dockyard) where her gourmet rum cakes are featured. 
Location and Contacts 
Check out their website www.hortons.bm for retail locations to purchase the rum cakes in the island. You can also buy the cakes online from their website and they will ship it by courier. 
Office address: Horton's Ltd. P.O.Box CR 192, Hamilton Parish, Bermuda CR BX  
Related Articles
Visitors' Reviews and Comments
Anne Niblock (May 2016) 
Hi can I buy rum cake in Hamilton or do I have to get it in the dockyard area. Don't want to carry them all day. Hamilton where my ship is will be better. Please tell me where. 
Raj (bermuda-attractions.com) May 2016 
Hi, you can get Bermuda rum cakes all across the island in several stores. In Hamilton the Horton's Rum Cakes are available in stores like Phoenix (Reid Street), Brown & Co. (Front Street), The Miles Markes, The Supermart etc. They are the original bakers of rum cakes in Bermuda. Look for the Horton's logo and picture of a pink cottage on the box. You can also buy them online from Horton's website. 
Jaquie (February 2016) 
I have to guide you all, I have been in Bermuda 3 times already, the rum cakes you want to take home with you are the ones across the maritime museum, dockyard, they are made with the goslings rum which is the Bermuda rum and these are made in Bermuda. Also on my first visit I purchased the Bacardi ones to find out one of them have mold and the reason for this is that they are made in the states so the trip is long so they go off pretty quick. The gosling rum cake have different flavor so you know now where to go.