Bermuda Dockyard Glassworks
Do you love glassware?
If you love glassware, then Dockyard Glassworks is a great place to visit. They have a Glass Blowing Studio where you can watch the local and guest artisans making intricate glassware items using glass blowing techniques. You don't have to buy, you can simply see the demonstrations. 
And then if you are ready to buy, go down to the Glass Gallery where you will find a range of handmade glass items. The Dockyard Glassworks specializes in handmade art glasses, art glasses made in classic blown studio, and sculptural glasses made using Italian technique. 
You will find wonderful selection of classy glassware. You can buy items reflecting Bermuda life, including whistling tree frogs, honeymoon hogs, multi colored angelfish and local birds. You also get plates, pitchers, objects d'art, jewelry. They have it all. They are all so beautifully crafted and are so colorful.  
Roses from Bermuda Dockyard Glassworks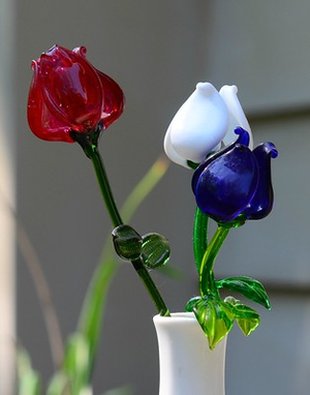 Photo: slgckgc, flickr, cc by 2.0 
Some of them can be quite pricey. So don't look at the prices to begin with. Rather watch flame-work artists, lamp workers and bead makers at work creating those beautiful items. 
You can sit in the spacious studio's armchair theatre and watch how the beautiful glassware items are created right in front of you. In the flame working section you will see lampwork artisans making beautiful original glass jewelry. 
And now if you look at the prices, you will understand the real worth of the items and why they are priced such. At the lower end, there are little glass frogs, fish and other small items. priced from $10-$25 or so. Some of them are filled with colored sand. 
Inside Dockyard Glassworks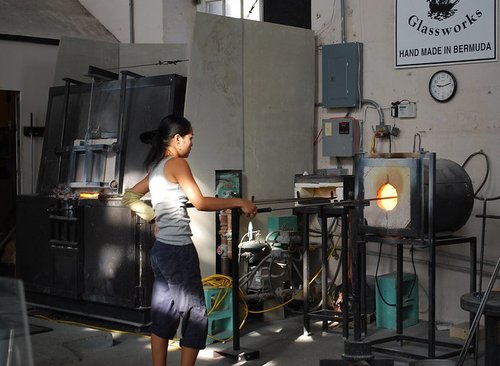 Photo: slgckgc, flickr, cc by 2.0 
Or at the more expensive side, you get plates, pitchers, glasses and so on. Here the prices can be hundreds of dollars, particularly in the glass jewelry section. So it all depends on what you buy. The dolphin on the picture above was priced at $125. 
Note that no pieces are the same. And when you buy a glass piece, they usually give you a small booklet that talks about the artist who created the glass item. 
Note that the
Bermuda Rum Cake Company
, owned by the same owners also operates out of the same building as Dockyard Glassworks. So there are two attractions here. After visiting the Glassworks, just walk into the Rum Cake Bakery and watch how the bakers are producing the famous Bermuda Rum Cakes using Bermuda Black Seal Rum. You can also taste some of the samples offered. 
Open Hours
The Dockyard Glassworks is open daily from 9am to 5pm (opens at 10am on weekends). It remains open until 7pm when cruise ships are in port.  
Location and Contacts
Address: 1 Maritime Lane. Royal Naval Dockyard (i.e. the Kings Wharf cruise ship port area), Sandys Parish. Phone: 441/ 234-4216. Email:
[email protected]
Bus Routes: #7 and #8 (operating between Hamilton City and Dockyard). 
Road Map/Location 

By Raj Bhattacharya 
Raj, a seasoned travel writer and Bermuda destination expert, has extensive global travel experience. This website reflects his profound insights, garnered over nearly two decades of dedicated findings and research on the island. Raj has assisted countless Bermuda-bound visitors by providing direct, personalized responses to their queries and imparting his wealth of knowledge through this platform. This site serves as an indispensable guide for those seeking informed and reliable insights into Bermuda's treasures. 
Related Articles
2) Check out
Bermuda Glassware and Ceramics
to explore all the exquisite glassware items and crystals that you can get in Bermuda and the best places to buy them. 
3) Things to see & do at Royal Naval Dockyard 
Visitors' Reviews and Comments
Jennifer (August 2017) 
I would definitely recommend the Dockyard Glassworks -studio 8 to anyone who wants a fantastic interactive and creative experience! Matt and Heidi were fantastic hosts for our group - so accommodating and helpful! We created some truly amazing pieces of jewellery! A fabulous atmosphere and environment!