Bermuda Ceramics and
Glassware shopping
This is located within the Royal Navy Dockyards. If you like Glassware items, this is the right place to go. Before you buy, you can watch flame-work artists, lamp workers and bead makers at work creating the beautiful items. Find out all about the dockyard glassworks and what you can expect here from the link above.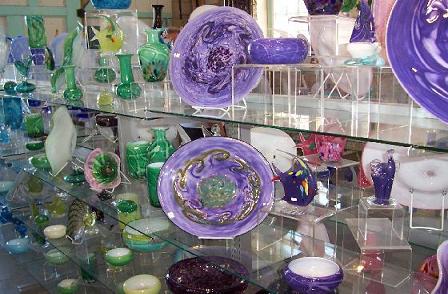 The Island Shop 
You should visit The Island Shop in Hamilton for unique ceramic and linen products. All products are designed by Bermudian artist Barbara Finsness. Some of the visitors comments that I have read include "Finally, a beautiful shop to buy our gifts..." and "... I want to buy everything in your store." 
Barbara's designs are colorful and tropical. The shop was the winner of Best of giftware in The Bermudian magazine. Each item is specially made and labeled with Barbara's signature. There are several Branches of Island Shop. 
1) 47 Front St. (Old Cellar Lane), Hamilton, Tel: 441/292-6307 
2) 3 Queen St., Hamilton, Tel: 441/292-5292 
3) Somers Wharf, St. George's, Tel: 441/297-1514 
Jon Faulkner Gallery
(at the Royal Naval Dockyard) is local production unit of Bermuda. It produces mugs and dinnerware with a number of patterns, many with island themes. Bermudian pottery is often decorated with depictions of native wildlife. These Local-made products and antiques may be more than 100 years old and are the only items you can purchase duty-free. 
The Bermuda Glass Blowing Studio
(at Bailey's Bay, Hamilton Parish) melds the skill of the glassblower and the heat of the furnace to produce a range of articles such as plates, small animals, and beautiful Christmas decorations. China, silverware, crystal and porcelain are plentiful in Bermuda at attractive prices. They are also available in many department store in Bermuda. X Closed 
A.S. Cooper & Sons Ltd. has been the premier store for fine crystal, dinnerware, figurines and gifts since 1897. They have expanded in the retail market and opened a new building at Front Street in Hamilton. Update June 2020: AS Coopers has gone into provisional liquidation. All its stores are closed since March 18, 2020 and waiting for buyers. 
Vera P. Card  
The shop has a wide collection of fine crystals and glassware and offers  watches, figurines, crystal, clocks and gifts from around the world. Address: 7 and 20 Water St., St. George's Tel: 441/297-1718 or 295-1729 
Bluck's 
Another big name in Bermuda is Bluck's. They are in business for over 165 years. This is the shop when you are looking for superior china, art glass, crystal and unique gifts. The store is dedicated to elegance and high-quality products. Recently Bluck's introduced Venetian glass stemware, Blue Czech cut-crystal barware and gorgeous linens. They also have stunning L'Objet gold napkin rings and photo frames encrusted with hundreds of Swarovski crystals. Address: 4 Front Street West, Hamilton. Tel: 441/295-5367. 
Related Articles
1) Check out
Bermuda Shopping
to know all about shopping in Bermuda and the best stores.