Jon Faulkner Gallery
Erstwhile Bermuda Clayworks
Well known Bermuda Clayworks located at the Royal Naval Dockyard complex within an old workshop has been taken over by Jon Faulkner and is now known as Jon Faulkner's Gallery. This is the place to go if you are looking for exquisite and colorful ceramic or pottery items. 
Jon Faulkner has been a resident potter at Clayworks and actually founded Bermuda Clayworks in 1997. After 10 years he sold off his shares to concentrate on the craft of pottery making to perfect his skills. Now that's done, he has taken over the gallery once again in 2017 after two decades. 
The gallery has a working studio and retail ceramic galleries. There are full-time resident artists as well as international ceramists creating the pieces. One of the most interesting pieces are the house designs or the handmade house plaques. There are several of them ready to be purchased off the shelf. The sizes vary between small oval 11.00" X 8.50" to large oval 14.50" X 11.00". You can also customize it and let them know if you want a different image on the plaque. 
Jon Faulkners Gallery, Bermuda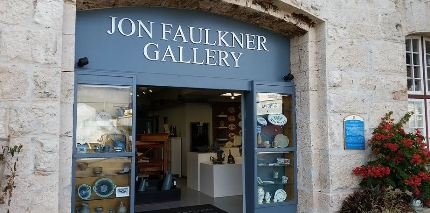 Source: Jon Faulkners Gallery 
The Gallery also has an on-site 'Paint your own Pottery studio'. The studio is open daily from 9am to 6pm. You can visit the studio, pick up a pottery item of your choice and paint it yourself if you want or purchase a pre-painted item. A pottery item could cost between $16 to $48. If you do not have enough time till it's finished, they can also ship it to you. 
A House Design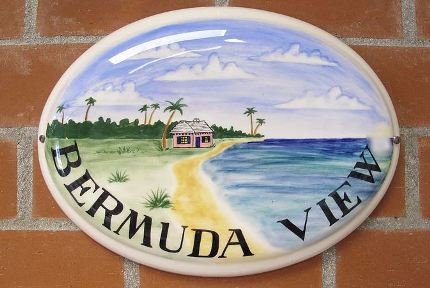 Source: Jon Faulkners Gallery 
| | |
| --- | --- |
| Spiked Sugar and Tea Pot  | Twisted Vas  |
Open Hours
Open year round. Summer: 9am - 6pm; Winter: 10am - 5pm 
When it was Bermuda Clayworks until July 2017
Bermuda Clayworks was well known for its handmade and customized house plaques. However, it also continued with its tradition of making tableware items with vivid colors. New designs were added every year. There were several galleries that showcased items on various themes. 
For example The Loft Gallery displayed a range of pottery items themed on Bermuda. The Jon Faulkner Gallery housed exquisite and contemporary salt glazed ceramic items. The Main Gallery featured various designs including the ceramic jewelry and wall hangings created by skilled local artists. International shipping was also offered. 
Location and Contacts
Check out
Dockyard Map
to see the location of Bermuda Clayworks (now Jon Faulkners Gallery) on Camber Road and several other attractions nearby within the dockyard. 
Address: 7 Camber Road, Royal Naval Dockyard, Sandy's Parish. 
Bus #7 and 8 operate between Hamilton and Dockyard. From Hamilton one can also easily reach dockyard by blue route ferry. 
Road Map 
Related Articles
Visitors' Reviews and Comments
Review and share your experience.