2-stop Reef & Shipwreck snorkeling, Bermuda
This 2-stop adventure snorkeling cruise is offered by KS Watersports which is a well known name in Bermuda offering a range of water activities. This snorkeling boat tour lasts for a total of 2.5 to 3 hours. The boat used is a smaller one compared to the usual tour boats and can accommodate up to a maximum of 10 persons. So it's great for families, couples and smaller groups.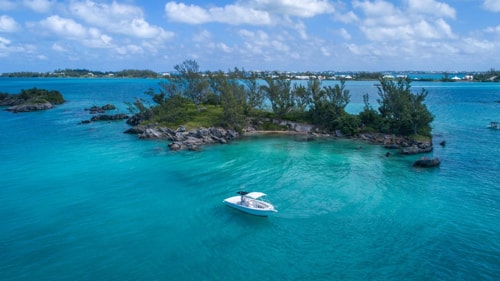 The advantage of a small boat is that it can get to shallower water areas and coves where the larger tour boats can not go. The small boats are also faster and get to the spots quickly. The boat first takes you to a beautiful offshore reef location which can only be reached by a boat. Here you will snorkel and see lovely corals, sea fans and plenty of colorful fish and marine life. 
The next spot is a partially submerged shipwreck. You can swim and snorkel around the shipwreck, explore the ocean floor and discover many submerged and lost articles. You can also swim with fish. 
The boat passes by the coastline. The knowledgeable and friendly captain will show you several important landmarks on the coastline and let you know about them and the associated history.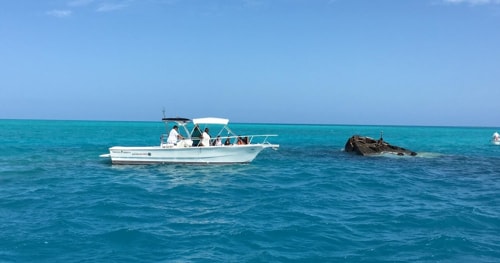 The snorkel cruise includes all snorkel gears including mask, snorkel and flippers. They also provide safety flotation snorkel vest to each person. This snorkel adventure is suitable for both beginners and moderately experienced snorkelers, however you should know swimming and be able to get down to the water using an access ladder affixed to the boat. 
You should bring along towel, bottled drinking water, sunscreen (non-spray type only), bathing suit, and if you want to take underwater photos, get waterproof camera. Shared locks are provided at the departure locations where you can keep your small belongings that you do not want to carry on the boat. 
Departure locations
This snorkel cruise leaves from several locations in the island... you should arrive 30 minutes before departure. 
Hamilton Princess Hotel Marina at Hamilton City 
Fairmont Southampton Hotel Waterlot Inn Dock at Southampton 
There is a similar snorkel cruise that leaves from Royal Naval Dockyard (cruise port)... they use a different boat there with a capacity of 18. The boat leaves from next to the Dockyard ferry dock. 
You can check some of the best snorkel cruises offered in Bermuda through the Viator button below and book a snorkel tour online. 
Rates by Viator 
Contact info
KS Watersports, Bermuda 
Phone: (441) 232-4155 
Related Articles
Visitors' Reviews and Comments