Flight 19 disappearance in Bermuda Triangle
The saga of Flight 19 remains as one of the most mysterious disappearances in Bermuda Triangle. Flight-19 was the code name for Five Grumman Avenger bomber planes that took off from the Naval base at Florida on December 5, 1945, but never returned. 
U.S Navy's final report mentioned "Reasons Unknown" when citing the cause of the incident. Thus Flight-19 also became known as 'The Lost Patrol'.  
So what was actually Flight 19 and what really happened? Flight 19 was a training flight with five TBM Avengers or Torpedo Bombers and was led by Commander Charles Taylor. Each was a 3-seater plane, very robust, safe and US Navy's best bombing planes to destroy enemy submarines. It could carry up to 2,000 pounds of bombing ammunitions and had a range of 1,000 miles. 
Grumman TBM Avengers similar to Flight 19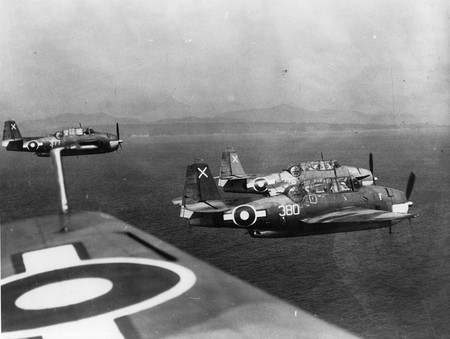 Other than Taylor, there were 13 others in the flight (in different planes) but were all trainees. Taylor was the only experienced pilot. On December 5, 1945 at 2:10 p.m., the five Avengers of Flight 19 took off one after the other from the Naval Air Station (NAS) of Fort Lauderdale at Florida for a routine training session. It was a clear day. 
As per plans, the flight's path was to first go towards East into the sea for 56 nautical miles up to Hens and Chicken Shoals to practice bombings. Then they were supposed go further east for another 67 nautical miles towards the Bahamas. At this point they would turn north and go for 73 nautical miles. Then turn back, head south-west and fly 120 nautical miles to get back to the Naval Base in Florida. This way they would cover a triangular area over the sea. 
The triangle with the red line on the picture below was the planned route of the flight 19. The weather over the route was reported as excellent, a typical sunny Florida day.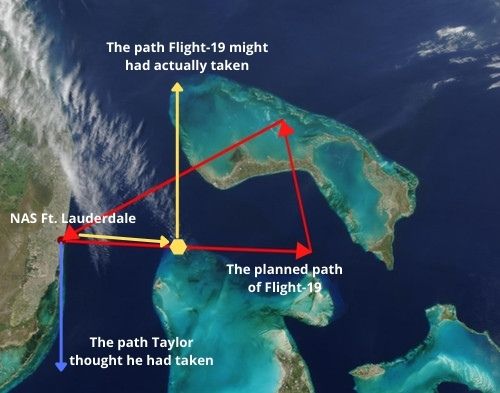 At about 3:30 p.m., Taylor sent a message to the control tower that his compass was malfunctioning and he thought he was somewhere around the Florida Keys, which is a chain of islands south of Florida (i.e. further south of the location where they took off). So instead of heading towards East, he thought that they actually flew southwards due to compass problems. 
Immediately an instruction was given from the tower to turn north and fly towards Miami, only if he was sure that they were at the Florida keys. However, Taylor's idea of being close to the Keys was wrong. They had probably gone to the East as originally planned, but for some reason he got confused. As he guided the flight more towards north, further out to the sea the avengers traveled. 
At 3.45 p.m., Taylor's voice was heard again at the control towers. This time he sounded worried and confused ... "Cannot see land, we seem to be off course". At this stage there was another transmission that was picked up when one trainee student said to the other "If we would just fly west, we would get home." He was right. But who would care? After all they had to follow a stubborn leader. 
While these days the pilots use modern navigational equipment like the GPS, in 1945 a pilot had to rely on his starting point, speed, time of flight and the direction indicated by the compass to know where he would exactly be during the flight. If any of these deviated, there was a high chance that the flight would be lost. 
However, let me also state an interesting fact here before we go further into the Flight 19 story. While Taylor was an experienced pilot, he did have a history of getting lost. He was lost thrice during the World War II. And in two of such occasions, he had to ditch his plane into the sea to get rescued. Secondly, he did not have good knowledge about the area around east and south of Florida. 
So, an interesting twist to the story?  
Yes. In fact, at about 4:45 p.m. on that day, it was quite clear to the men on the Base Station that Taylor was hopelessly lost, and he was still trying to go further North and then East again. He was then instructed to hand over the control to one of the trainee pilots. Apparently he did not. 
At 5:50 p.m. the ComGulf Center somehow managed to trace the Flight 19 avengers on its radar. It was apparently at the east of New Smyrna Beach, Florida. By then communications had become so poor that this information could not be passed on to the lost planes. It was getting dark. The weather started to become rough too and the Avengers were very low in fuel. Hope was rapidly fading for the Flight 19 by then.  
Officers at the naval base station thought it was enough. At 7:27p.m, two Martin Mariner seaplanes were sent to search for the Flight-19 planes. These mariners were like flying boats that could also land on the sea. The last transmission from Flight-19 was heard at 7:04 p.m. 
Search continued all through the night and the next day. There was no sign of the Avengers. The rescue Mariners were supposed to meet at the search zone. But quite strangely the second Mariner never showed up,
it too had apparently disappeared
never to return again. 
So what actually happened?
So what eventually happened to Flight 19 Avenger Planes? How did they get lost in the triangle? Is there any trace of any of the five planes? Check out
What happened to Flight 19
to know how the search operation was carried out, the conclusions reached and what finally came out in the Navy Board's report. 
And what happened to the Martin Mariner plane that was sent for rescue operation but never returned? Read
PBM Martin Mariner's fate
to know the full story about this rescue plane that was seen by a tanker off the coast of Florida to have blown up and itself became part of the mystery. 
The well known and respected author Larry Kusche had explored the baffling mystery of Flight 19's disappearance by interviewing Commander Charles Taylor's navy comrades, friends and relatives and has documented his findings in his book The Disappearance of Flights 19 where he concluded that it was a series of mistakes on part of Commander Taylor that resulted into such a dreaded disappearance. 

By Raj Bhattacharya 
Raj, a seasoned travel writer and Bermuda destination expert, has extensive global travel experience. This website reflects his profound insights, garnered over nearly two decades of dedicated findings and research on the island. Raj has assisted countless Bermuda-bound visitors by providing direct, personalized responses to their queries and imparting his wealth of knowledge through this platform. This site serves as an indispensable guide for those seeking informed and reliable insights into Bermuda's treasures. 
Related Articles