Flight-19 Route Map and
Sequence of Events
Charles Taylor was in charge of the Flight-19, the five avenger bomber planes. It was a training flight. However they were soon lost and never returned to the Naval Base. The map below shows the following details after Flight 19 took off from the Navy Air Station (NAS) Fort Lauderdale of Florida on December 5, 1945: 
The original route that the flight should have taken and the activities they should have carried out before returning to the base. 
The actual flight path that could be traced from the transmission received from the flights at various stages. 
Flight-19 Route Map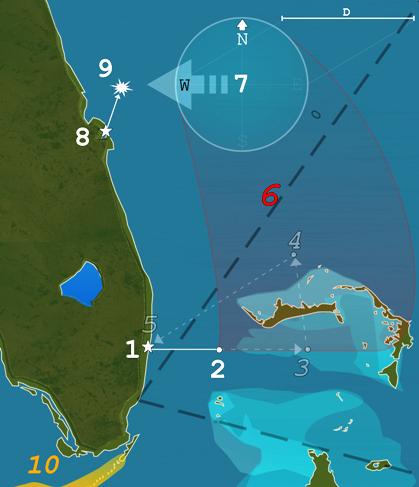 Photo: Anynobody, cc by-sa 3.0 
D: The line D on top corresponds to 100 nautical miles (or 190 km) of distance in the map. This will help you understand the scale and the distances along the flight paths. 
1: Navy Air Station (NAS) Fort Lauderdale in Florida. The five avenger bomber training planes of Flight 19 led by Commander Charles Taylor take off at 14:10.  
2: They were supposed go out into the sea towards East for 56 nautical miles to reach point 2 (Hen and Chickens shoals) and drop practice bombs until around 15:00.    
3. After practice bombing, the flight was supposed to proceed further along East for another 73 nautical miles (140 km) to reach point 3. 
4. Then they were to turn north and fly for 120 nautical miles (220 km) to reach point 4.  
5. After reaching point 4, the planes were supposed to head back to the NAS air base.  
6. Between 15:00–17:50 exact position of the flight remains unknown. No one knows for sure where the planes exactly were. 
7. At 17:50 the flight's position was established from radio transmission. They were within 100 nautical miles (190 km) of 29°N 79°W. However the control tower lost trace of the flight soon after that. 
8.
At 19:27 when the hope was rapidly fading off, the rescue
Martin Mariner PBM-5
(No. 59225) takes off from Banana River Navy Air Station for search operation.   
9. At 19:50, the rescue Martin Mariner itself explodes near the point 28°N 80°W 
10. The small islands of Florida Keys, where Taylor thought he was. 
Check out
Flight-19 Mystery
know about the entire story of the Flight-19 avenger bomber planes that never returned to their naval base. 
Related Articles