Willowbank Resort Bermuda
Category: $$   Location: Sandys 

 

Owned and operated by the Willowbank Foundation, Willowbank resort is a Christian spiritual retreat in Bermuda complete with devotions for those who wish to have them. Located on the scenic peninsula overlooking picturesque Ely's Harbor in Sandys parish, Willowbank offers great water views from most rooms. Open since 1960, Willowbank's governing principles are firmly rooted in the historic Christian faith. However, the resort welcomes all visitors without regard to religious affiliation. 

An essential part of the spiritual life at Willowbank is the 'Serendipity' time held daily Monday through Saturday. Throughout the year, guest speakers, known as the Pastor in Residence, lead a time of devotion and Bible study. Serendipity is optional to all guests, and is held for one half hour following breakfast. 

 

Spread across six acres of historic grounds, Willowbank has two private beaches, outdoor pool (heated in winter) and 2 plexi-pave tennis courts. There are 65 rooms in the property. While all rooms have contemporary furnishing, the management has purposely not provided TV or phones to enable a serene and free ambience. Room #44 is particularly excellent with its great views. 

 

Willowbank Resort Bermuda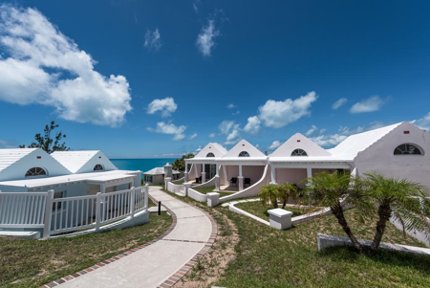 With ringing of the historic ship's bell, an elegant dinner prepared by the chefs are served in the Loaves and Fishes dining room every evening. There is also a daily full breakfast buffet. Typical breakfast menu includes hot cereals, fresh fruit salad, yoghurt, muffins or Danish pastries, bacon, ham, sausages, hash browns, French toast, waffles and pancakes. As part of the British heritage, traditional afternoon tea is served with sandwiches, cakes and excellent English tea brewed fresh every day.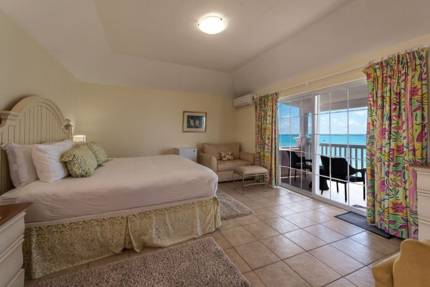 Dinner at Willowbank resort is served nightly in one sitting. The dining room accommodates 125 persons and is comprised of tables where eight, six or four guests dine together in a family style. There is open seating and no assigned or designated tables, so guests are free to meet new people or join friends each night as they prefer.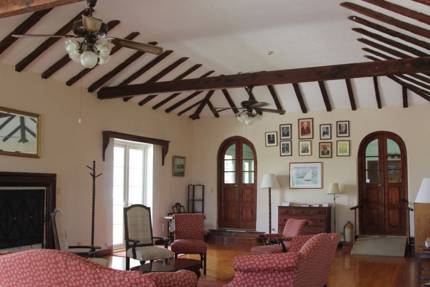 The Willowbank breakfast buffet is served each morning between 8:00 a.m. and 9:15 a.m. They offer several hot breakfast selections as well as fruits, assorted breakfast cereals, pastries and yogurts. There is no bar in the property. However, one can take alcohol in one's own room. 
Willowbank has received the Bermuda Government's Tourism Longtail Merit Award in July 2001 and Environmental Health Standards Award in July 2000. 
Willowbank Bermuda Private Beach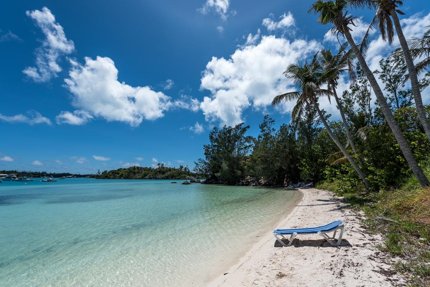 If you are like one of us who stayed at Willowbank, you would probably not be able to forget Herbie Night - the Breakfast Chef. He worked here for over 40 years, and captured the hearts of many guests who visited Willowbank including children. On July 21, 2010, Herbie passed away. Here is a tribute:
Herbie the Chef
Rates 
Double occupancy room rate is $275 per night. There is a separate meal package available which covers breakfast, dinner and afternoon tea. Currently it's $50 per person per day. There is additional 9.75% Tax applicable on the room rates. 2 times of daily rate is required to be deposited for reservations at least 21 days in advance. Deposit, less $10.00, will be refunded if cancellation is received 21 days prior to arrival date. 
UPDATE December 2011: After 51 years of operation in the island, Willowbank has sadly closed down effective November end, 2011. This resulted in 46 staff losing their jobs. In recent times I had been hearing that the service quality in the hotel had gone down substantially, the upkeep of the hotel was below standard, rooms were not maintained properly with some tourists complaining that their rooms were dirty, and the tea room was hardly open. It was probably a sign that something serious was going to happen shortly. 
Update April 2017: Good news!!! Having remained closed for about 6 years (since November 2011), Willowbank is now likely to re-open in May 2017. It has gone through renovations. The conference center at the hotel was occasionally used during the past 6 years, but the hotel remained closed. 
Location and Contacts 
Willowbank Hotel, 126 Somerset Road,  Sandys, Bermuda  
Phone: (441) 234-1616;  
Toll Free: 800.752.8493 (USA), 800.463.8444 (Canada) 
Related Articles 
Visitors' Reviews & Comments 
Kathryn Crotts (May 2017) 
Mark Twain said we stop over in Bermuda on the way to heaven. I think we stop over at Willowbank. Stunning views, lovely staff, Mac's cedar fires in the evenings, flowers, walks along the railway trail, all come to our minds as we remember the sweet times spent in Christian fellowship at one unique place dedicated to refreshing God's people. 
Rick Badwey (April 2017) 
My wife gave me the wonderful news today of the reopening.  Praise God for this wonderful blessing. Last time we came, we were childless.  We have two wonderful children we are anxious to take to Willowbank. We shared so much with them about our time there! 
Dick Hamilton Jr (April 2017) 
My wife, our children and I enjoyed many stays at Willowbank especially the opportunity to escape the rat race of our lives. The staff were lovely. Our last visit was 2009 when we had our children, their spouses and children and my mother. We celebrated our 42nd Wedding Anniversary. It was very special. 
Robin Tapia (January 2017) 
I was sad to hear of the closing of Willowbank in 2011.. My late husband & I spent our honeymoon there in 1968 & I always wanted to go back. There was a retreat advertised probably around 2011, that I considered going to. I was just now checking to see if anything was listed currently for another retreat, when I saw it was closed.. I'm hoping along with many others that it reopens someday. I won't hesitate to go next time. 
Barbara (August 2016) 
Loved, loved, loved all of our stays at Willowbank! We met lifetime friends from vacations there.  I keep checking to see if they have reopened.....still nothing.  This is the first place I have seen to ask about an update on Willowbank. The beach, the staff, the atmosphere, the accommodations, the property itself and the location, the disconnection from technology....we loved it all! A very special place for refreshment of the mind, body and soul! 
BrigGen. Dick Abel, USAF Ret. (November 2015) 
My wife and I have been to Willowbank many times. My role was as speaker for the morning devotions. We've brought our family with us. Our hearts were saddened to learn of it's closing. Is there any hope of Willowbank reopening any time soon? Do you have any phone numbers I could call reg. the future of Willowbank? Thank you very much for any info you can send me. 
Raj (www.bermuda-attractions.com) November 2015 
There is no news yet of Willowbank re-opening. It closed down in November 2011. 
Donald Hulick (August 2015) 
Years ago, First my wife and I, then all five of us (2 sons, one daughter, visited the Willowbank flying BOAC from New York. I understand it closed in November of 2011. We enjoyed the facility including the company of Herbie who we understand passed away. The location and ambiance were fantastic. Certainly the facility has been replaced or updated by now. 
Gene Sykes 
We stayed at the Willowbank on Sandy's in the early 1970's and I recently saw a post dated November 2011 that it was closing.  Is that true?  What's to become of the property and the trust? 
Raj (www.bermuda-attractions.com) 
Hi, Willowbank has closed down. The trustee has not announced any plans with the property, so there is still hope that it may open up in future once the funds are in place.