Willowbank Resort Bermuda
Category: $$   Location: Sandys 
Willowbank Resort has transformed.... It was earlier owned and operated by the Willowbank Foundation and was a Christian spiritual retreat complete with devotions. It opened in 1960 with the governing principles firmly rooted in the historic Christian faith although the resort welcomed all guests without regard to religious affiliation. Those days an important part of the spiritual life at Willowbank was the 'Serendipity' time held daily Monday through Saturday when guest speakers known as the 'Pastor in Residence' would lead a time of devotion and Bible study following breakfast. 
However having remained closed since November 2011 due to financial non-viability, it re-opened in April 2018 with a change in ownership and change in overall theme. It is now a mid-priced Bed and Breakfast accommodation with modern facilities and suitable for all including families, couples and businessmen. Earlier the rooms did not have TV to maintain silence and serenity. But now you get all contemporary amenities including flat TVs in rooms, free high-speed Wi-Fi etc. 
Willowbank Resort Bermuda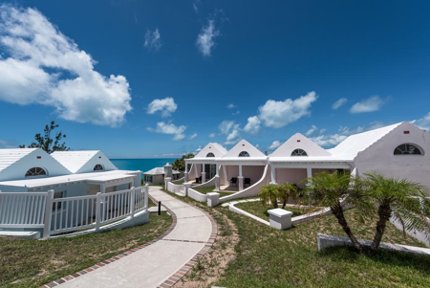 Willowbank is located on the scenic peninsula overlooking picturesque Ely's Harbor in Sandys parish, and offers great water views from most rooms. Spread across 8-acres of historic grounds, Willowbank has two lovely private beaches, outdoor pool (heated in winter), tennis court, fitness center. They also offer
Scooter Rentals
which is operated by the company Oleander Cycles. The resort provides a complimentary shuttle service to
Royal Naval Dockyard
and for dine-round. 
Lobby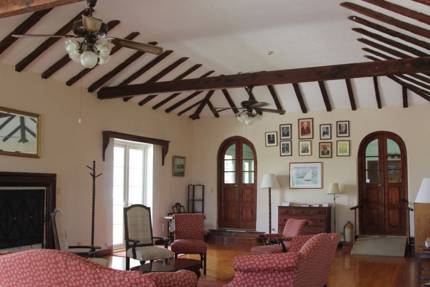 Photo: Willowbank 
Out of the two private beaches, Harbor Beach is great for kayaking and even wind surfing (it is actually an inlet for private boats), while Ocean Beach is great for swimming, snorkeling and sunbathing. The resort provides free snorkel gears and kayaks. Smoking is not allowed in the property. 
Willowbank Bermuda Private Beach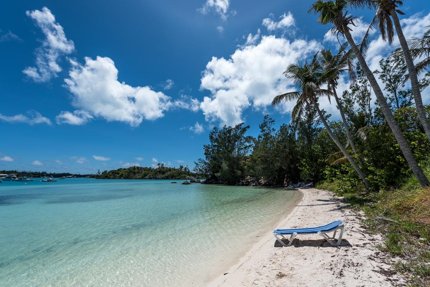 The resort also offers coordination to book several other activities nearby: 
Spa and beauty treatments including Massage, facial, Yoga etc, whirlpool, relaxation pool through Ocean Spa. 
Watersports such as guided boating and sailing tours, kayaking, snorkeling, Jet Skiing and fishing through the company H2O Sports. 
Golfing at one of the world's most well known 18-hole championship golf courses - Port Royal Golf Course which is 12-minute drive away. 
Sunset view from Willowbank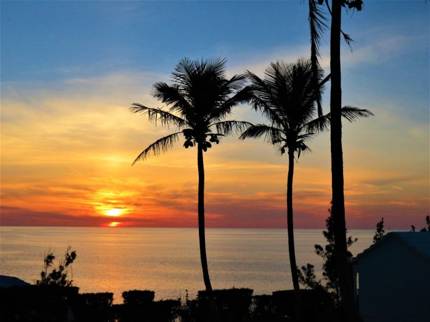 Photo: Willowbank 
There is also a large conference room with a seating capacity of 200 which is ideal for business conferences, private functions and even weddings. 
The property has been extensively renovated in 2018. There are three kinds of rooms... Ocean Front rooms, Ocean View rooms and Garden View rooms. All rooms are equipped with flat screen TV, free wi-fi, Queen or King beds, private balcony, tea/coffee maker, a fridge, hair dryer, clock radio, iron with ironing board, attached bathroom, phone etc. Safety box is available at the reception at extra cost. 
Ocean-Front Room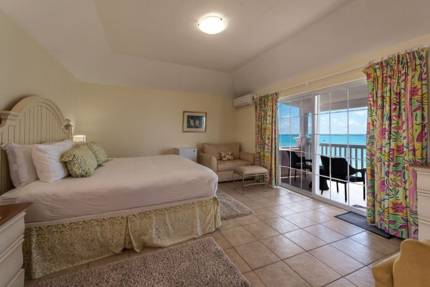 Photo: Willowbank 
Ocean Front rooms have the best view of the Atlantic and probably have the most coveted views of the sunset from its private balconies. Garden View rooms are scattered throughout the property. 
Breakfast is continental type and simple... cereals, oat meals, muffins, traditional bagels with creme cheese, fresh fruits, tea/coffee etc. There is no lunch or dinner served in the resort... it's a BnB. However you can buy a Dine-Around package and choose to dine at one of the five select restaurants in the island. A free shuttle is provided for dine-around. 
Old patrons of Willowbank would remember that food used to be different here in its earlier days... with ringing of the historic ship's bell, an elegant dinner prepared by the chefs would be served in the Loaves and Fishes dining room every evening. There was also a daily full breakfast buffet. Typical breakfast menu included hot cereals, fresh fruit salad, yoghurt, muffins or Danish pastries, bacon, ham, sausages, hash browns, French toast, waffles and pancakes. As part of the British heritage, traditional afternoon tea was served with sandwiches, cakes and excellent English tea brewed fresh everyday. Dinner was served nightly in one sitting. The dining room accommodated 125 persons and was comprised of tables where eight, six or four guests dined together in a family style. It was open seating with no assigned or designated tables, so guests were free to meet new people or join friends each night as they preferred. 
If you ever stayed at Willowbank during its hay days when it was a Christian spiritually themed resort, you would probably remember Herbie Night - the Breakfast Chef. He worked here for over 40 years, and captured the hearts of many guests who visited Willowbank including children. On July 21, 2010, Herbie passed away.
Here is a tribute to Herbie the Chef
. 
UPDATE December 2011: After 51 years of operation in the island, Willowbank has sadly closed down effective November end, 2011. This resulted in 46 staff losing their jobs. In recent times I had been hearing that the service quality in the hotel had gone down substantially, the upkeep of the hotel was below standard, rooms were not maintained properly with some tourists complaining that their rooms were dirty, and the tea room was hardly open. It was probably a sign that something serious was going to happen shortly. 
Update April 2017: Having remained closed for about 6 years (since November 2011), Willowbank is now likely to re-open in May 2017. It has gone through renovations. The conference center at the hotel was occasionally used during the past 6 years, but the hotel remained closed. 
Update April 2018: Willowbank has finally re-opened on April 1, 2018. It has gone through a major renovation. There is also a change in management. The hotel will offer TVs in rooms and also wi-fi.  
Rates provided by booking.com 
Location and Contacts
Willowbank Hotel, 126 Somerset Road,  Sandys, Bermuda  
Phone: (441) 234-1616; 
Related Articles
Visitors' Reviews and Comments
Liz (April 2018) 
Is it realistic to think you can walk from the Willowbank Resort to the Dockyard? If so, Would you recommend any interesting stops along the way and about how far is it? Thanks, 
Raj (bermuda-attractions.com) April 2018 
Willowbank to Dockyard (cruise pier) is about 4.5 miles and it's not quite practical to walk.... there is hardly any sidewalks along the way. 
Kathryn Crotts (May 2017) 
Mark Twain said we stop over in Bermuda on the way to heaven. I think we stop over at Willowbank. Stunning views, lovely staff, Mac's cedar fires in the evenings, flowers, walks along the railway trail, all come to our minds as we remember the sweet times spent in Christian fellowship at one unique place dedicated to refreshing God's people. 
Rick Badwey (April 2017) 
My wife gave me the wonderful news today of the reopening.  Praise God for this wonderful blessing. Last time we came, we were childless.  We have two wonderful children we are anxious to take to Willowbank. We shared so much with them about our time there! 
Dick Hamilton Jr (April 2017) 
My wife, our children and I enjoyed many stays at Willowbank especially the opportunity to escape the rat race of our lives. The staff were lovely. Our last visit was 2009 when we had our children, their spouses and children and my mother. We celebrated our 42nd Wedding Anniversary. It was very special. 
Robin Tapia (January 2017) 
I was sad to hear of the closing of Willowbank in 2011.. My late husband and I spent our honeymoon there in 1968 and I always wanted to go back. There was a retreat advertised probably around 2011, that I considered going to. I was just now checking to see if anything was listed currently for another retreat, when I saw it was closed.. I'm hoping along with many others that it reopens someday. I won't hesitate to go next time. 
Barbara (August 2016) 
Loved, loved, loved all of our stays at Willowbank! We met lifetime friends from vacations there.  I keep checking to see if they have reopened.....still nothing.  This is the first place I have seen to ask about an update on Willowbank. The beach, the staff, the atmosphere, the accommodations, the property itself and the location, the disconnection from technology....we loved it all! A very special place for refreshment of the mind, body and soul! 
BrigGen. Dick Abel, USAF Ret. (November 2015) 
My wife and I have been to Willowbank many times. My role was as speaker for the morning devotions. We've brought our family with us. Our hearts were saddened to learn of it's closing. Is there any hope of Willowbank reopening any time soon? Do you have any phone numbers I could call reg. the future of Willowbank? Thank you very much for any info you can send me. 
Raj (bermuda-attractions.com) November 2015 
There is no news yet of Willowbank re-opening. It closed down in November 2011. 
Donald Hulick (August 2015) 
Years ago, First my wife and I, then all five of us (2 sons, one daughter, visited the Willowbank flying BOAC from New York. I understand it closed in November of 2011. We enjoyed the facility including the company of Herbie who we understand passed away. The location and ambiance were fantastic. Certainly the facility has been replaced or updated by now. 
Gene Sykes 
We stayed at the Willowbank on Sandy's in the early 1970's and I recently saw a post dated November 2011 that it was closing.  Is that true?  What's to become of the property and the trust? 
Raj (bermuda-attractions.com) 
Hi, Willowbank has closed down. The trustee has not announced any plans with the property, so there is still hope that it may open up in future once the funds are in place.