Palmetto House Bermuda
Located in Devonshire and built around the year 1700, Palmetto House is one of the greatest examples of a true Bermudian architecture. During World War II, it used to be the clubhouse of the British army who were stationed in a nearby fort. The property is owned by
Bermuda National Trust
and is given on lease for private use to families who would respect and admire the historic value of the property. 
Over the years, many families have taken this property on lease and stayed here. Wing Commander Mo Ware and his wife stayed here for over 40 years. He was the former director of civil aviation. The property once kept on display his own small private airplane. 
Palmetto House, Bermuda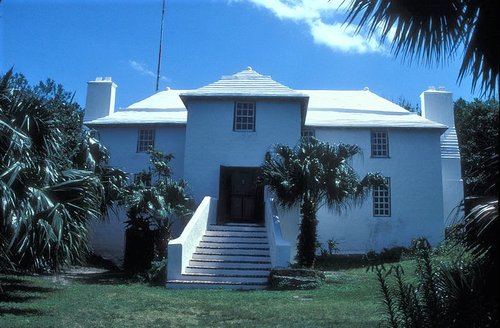 Photo: JERRYE AND ROY KLOTZ MD / CC by SA 3.0 
Bermuda National Trust has spent over a million dollar to renovate and restore the house to its original state. Most of it has been repaired and not replaced. They have kept most of the original beams. The roof and even the floors and windows were repaired and brought back to the original form. 
There is a grand staircase with "Welcoming Arms" at the entry of the house. This 2,050 square-foot property with great views of the north shore has the following features: 
It has a cruciform architecture 
Spacious living room with exposed wooden beams and fireplace 
Master suite with a fire place and a master bath with double sinks and toll top tub 
Two bedrooms sharing a bath on the second level 
Fantastic kitchen with a private courtyard 
Attractive gardens 
Separate guest cottage 
2010 lease was around $10,000 a month. 
Location
Palmetto House is located on the North Shore Road in Devonshire parish. Since the house is privately leased, public access is limited but not fully restricted. 

By Raj Bhattacharya 
Raj, a seasoned travel writer and Bermuda destination expert, has extensive global travel experience. This website reflects his profound insights, garnered over nearly two decades of dedicated findings and research on the island. Raj has assisted countless Bermuda-bound visitors by providing direct, personalized responses to their queries and imparting his wealth of knowledge through this platform. This site serves as an indispensable guide for those seeking informed and reliable insights into Bermuda's treasures. 
Related Articles
1) Check out
Bermuda Museums
for great museums and historical buildings in Bermuda. 
Visitors' Reviews and Comments
Mary Sawyers (September 2013) 
I lived at Palmetto House in the 1950's when my father was prison governor in Bermuda. How interesting to see the photo.