Barr's Bay and Park Bermuda
The waterfront Barr's Bay Park is located in Hamilton City of Bermuda overlooking the
Hamilton Harbor
. The Park is named after Barr families who lived in the city since the American Revolution in the 1700s. This scenic park has shaded trees and benches. You can view the harbor, and watch the boats and cruise ships pass by. It's a nice scenic place to relax and have a quiet time. 
Barr's Bay has a deep linkage to the
African Diaspora Trail
that traces the legacy of slavery in Bermuda. This is the place where the ship
Enterprise
carrying 78 slaves had to anchor in 1835 after being blown off the course by a strong gale. It was heading from Virginia to South Carolina and carrying slaves to be sold there. After 21 days at sea, the ship had to refill its stocks and provisions. It was here where the fate of the slaves changed forever.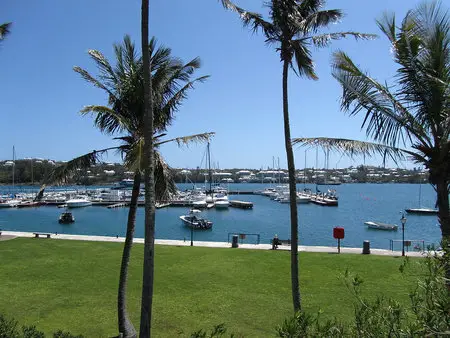 Barr's Bay Park, Bermuda. Photo: Jon Dawson, flickr, cc by-nd 2.0 
In the previous year (1834), slavery was abolished throughout the British empire including Bermuda. The customs authorities therefore refused to give clearance to the ship until a choice of freedom was given to the slaves. Soon movements were also lodged by local societies. After being kept in captivity on board the ship, the slaves finally landed at the Barr's Bay Park to great cheer from the local crowd. 
They appeared before the chief justice in the courtroom and were given a choice to either continue to South Carolina to be sold, or remain in Bermuda and become free. All except one woman and her five children chose freedom and stayed back in Bermuda. Today, thousands of blacks in Bermuda can trace their ancestry to those slaves who became free in 1835. 
The park has a sculpture "We Arrive" that was erected in February 2010, on 175th anniversary of the arrival of the ship Enterprise that brought the slaves. The statue was created by Bermuda's artist Chesley Trott. Today Barr's Bay park is a popular place for family picnics. The best is to come here on a weekend afternoon when traffic in Hamilton City is less. 
You can see the Whites island on the left of the harbor. Barr's Bay Park is also a great vantage point for watching the annual illuminated boat parade that takes place in December before Christmas. 
The park is open sunrise to sunset everyday and there is no admission fee. 
Location and Direction
Front Street, Hamilton City.  
Keeping harbor to the left, walk along Front Street past the
HSBC Bank
and take first left then first right. Walk down the short lane, between the red and the green building, to the Marine Police Station. You will see Barr's Bay Park ahead beyond the hedge. 
Road Map 
Related Articles
Visitors' Reviews and Comments
Review and share your experience.