Desmond Fountain and Bronze Sculptures
If you like bronze sculptures, then don't miss out visiting Desmond Fountain's art gallery or some of his public work during your trip to Bermuda. He is one of the most successful and internationally acclaimed artists in the island having received the recognition of Fellow of the Royal Society of British Sculptors. Born on December 29, 1946, Desmond spent his early childhood in west Africa. At the age of six, he received his first award as a sculptor and that too in an adult exhibition. 
He has his regular shows and exhibits in London, many parts of Europe and in North America. Yet he prefers to make Bermuda as the main base for making the original bronze sculptures. He needs this isolation to bring about his own originality and creativity in the work. 
If you want to see some his work that are displayed in the public, one of the most notable ones is in St. George's Ordnance Island where there is a 1.5 times the life size bronze sculpture of Sir George Somers, the founder of Bermuda. It was opened by Princess Margaret in 1984. 
Another great work is the 6.5-foot bronze statue of
Johnny Barnes
, the man who represented the spirit of Bermuda and was also known as the Mr. Happy Man. You will be able to see this statute on Crow Lane in Hamilton City and located close to Bermuda Underwater Exploration Institute. 
Sculpture of Somers by Desmond Fountain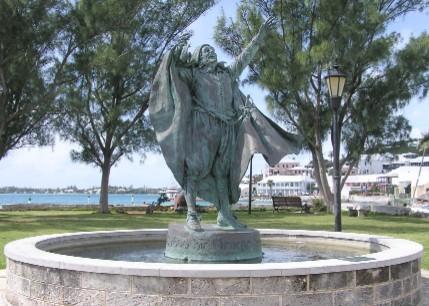 Other great work from him includes the sculptures of Princess Margaret, Felix Dennis, and Mark Twain. Desmond studied in Stoke-on-Trent College of Art in England, and majored in sculpture at Exeter College of Art. He did his post graduation in Bristol University. He was the founder of
The Bermuda Fine Art Trust
. It was through this trust that the
Bermuda National Gallery
was setup at City Hall in Hamilton. 
In 2003, Desmond received the Life Time Achievement Award from Bermuda government. While many of his creations are around life size figures of children and adults including portraits, medallions, water sculptures, etchings etc., one of his favorite and most successful theme is based on women nudity. His early exposure to open nudity in west Africa, created his interest in human forms. 
Child Sculpture by Desmond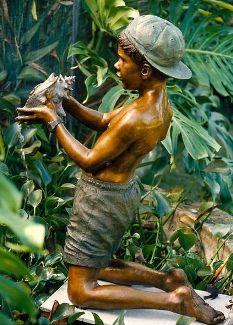 Even during his student days, his life size seated nude sculptures attracted the attention of British media. He uses an old method known as "Cire Perdu" (lost wax) to create his sculptures. This is one of the most expensive methods as well. But Desmond insists on this as it helps him to create his work with exact precision that he wants. 
Desmond Fountain's Work
His creations can be found in many places all across the island including Bermuda National Gallery (Hamilton), Masterworks Museum (Paget), City Hall & Art Center (Hamilton), Windjammer Gallery and several other places. His art displays are also showcased in several galleries in the US. 
Related Articles
Visitors' Reviews and Comments