Birthday Wish For Johnny Barnes
A visitor from Germany who met with
Johnny Barnes
in Bermuda tried to send birthday greetings to the Mr. Happy Man wishing him on his 88th birthday. She sent the note to the Visitor's Information Center at Hamilton City hoping that it would be hand delivered to Johnny. But unfortunately the card had bounced back since she did not mention the full address of the center, or probably such mode of delivery is not possible. 
So she wrote to me making a request to put up her wishes and the picture on my website. She hopes that people of Bermuda and Johnny himself may get to read the greetings which she wants to convey to the ever smiling man who continues to show love and affection to all. 
This is what the visitor wrote to me: 
... I sent a letter to hand over congratulations to Johnny Barnes 88th Birthday-Anniversary on June, 23rd. Unfortunately the letter came back with the remark "Undeliverable Address". I sent the letter to "Visitors Service Bureau, Front Street, City of Hamilton, Bermudas".  
Please give me your e-mail-address so that I'm able to send you a JPG-File to give the congratulation to Johnny Barnes. It maybe too late but perhaps in time. Thank you and kind regards from Munich/Germany 
Here is what she wants to convey to Johnny Barnes on his 88th birthday: 
Visitor with Johnny Barnes waving together 
while standing by his bronze sculpture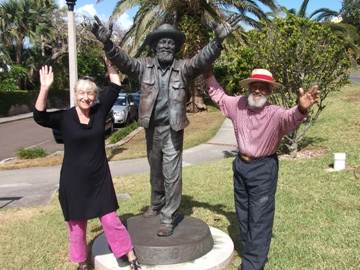 Related Articles
1) Check out
Johnny Barnes
and know about the Mr. Happy Man of Bermuda 
2) Check out
Paget Parish
where Johnny Barnes greets everyone at the Crow Lane Circle 
Visitors' Reviews and Comments
Review and share your experience.