Bermuda Golf Academy
Located in Southampton parish, Bermuda Golf Academy is not a regular golf course. But it provides some great facilities if you are looking for some practice or learning sessions. It's not always easy to get tee time at the regular golf courses. The academy provides an excellent alternative to keep your practice going at a reasonable rate while you prepare your game for a regular course. There are night lighting provisions and you can play both during day and night time. 
Bermuda Golf Academy (Driving Range)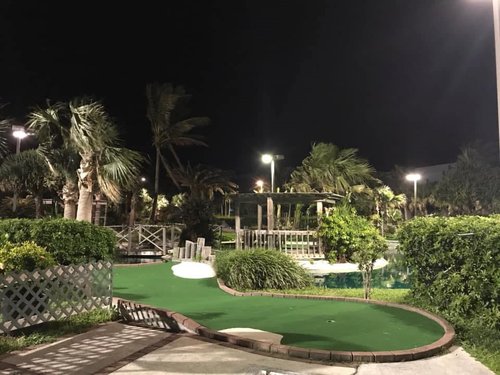 Photo: Bermuda Golf Academy 
The main features of Bermuda Golf Academy are
It covers a total area of 12 acres. 
40 practice bays with driving range of 320 yards. 25 of them are covered so that you can also practice even if it rains. 
There is a 3,000 square feet practice green area. 
Night Lighting equipment are set up for nighttime play. 
There is an automated system that tees up the golf balls automatically and also cleans them up, and if necessary rejects the ones that are unusable. 
There is a 18-course miniature golf course. It takes about 40 minutes to complete a round of fun golf in this miniature course. It's well manicured. Fees: $12 for a round for adults, $8 for children and senior citizens. A basket of balls costs $6 during the day. 
There is a sophisticated video and recording system available that can analyze your swings and postures. The owner of the academy Richard Farge offers personalized instructions and lessons based on such analysis. 
Club rentals are available. 
There is a restaurant East Meets West at the complex that serves breakfast, lunch and dinner offering Indian, Chinese and American cuisine, as well as Sushi. It is a combination of a restaurant, a bistro and a budget take out service. X CLOSED 
Academy Open Hours
10am - 10pm daily (Monday closed. Open until 7:30pm on Sundays). 
Location and Contacts
On Industrial Park Road (off Middle Road), Southampton, Bermuda 
Phone: 441/238-8800 
Bus route #8 comes to the point where Industrial Park Road begins. You will need to walk from here. Note that you can not carry golf clubs in a public bus. If you have your own clubs, take a taxi instead. Otherwise, you can rent the clubs at the Academy. 
Road Map 

By Raj Bhattacharya 
Raj, a seasoned travel writer and Bermuda destination expert, has extensive global travel experience. This website reflects his profound insights, garnered over nearly two decades of dedicated findings and research on the island. Raj has assisted countless Bermuda-bound visitors by providing direct, personalized responses to their queries and imparting his wealth of knowledge through this platform. This site serves as an indispensable guide for those seeking informed and reliable insights into Bermuda's treasures. 
Related Articles
1)
Bermuda Golf
: Know about all other golf courses and clubs in Bermuda.