Vernon "Ghandi" Pendlebury Burgess
Burgess was one of the legendary trumpet players of Bermuda. Born in St. Davids at the eastern end of Bermuda, he started to learn playing trumpet at an early age. Later he went to New York School of Music for his studies. During his career, he performed with legendary figures in music like Ben E. King, Nina Simone, Dexter Gordon and Lionel Hampton.  
He is also known to have backed the Temptations and Frankie Avalon in various performances. According to a book My Blue Heaven written by Bermuda's former Minister of Culture Dale Butler, Burgess was the first Bermudian to become a music director in an American cruise ship. There were many companies that offered him recording contracts which he turned down for reasons not known. Such offers came from companies like Columbia Records, Decca and Blue Note. It is said that the Blue Note recording contract was later offered to Miles Davis. 
Locally in Bermuda, Burgess was the musical director in the luxury hotel Southampton Princess and also in the Forty Thieves nightclub. Burgess once said that performing in the Empire Room of the hotel Southampton Princess was his greatest job ever where he entertained hundreds of guests. However unfortunately, the hotel later turned that gorgeous room into a convention center. It was in this Southampton Princess hotel where Burgess lived for 12 years in a suit that the hotel had offered him along with free food and maid services. 
Vernon "Ghandi" Pendlebury Burgess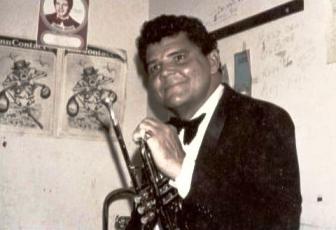 During his long span of successful career as a musician, Ghandi Burgess had many accomplishments and received many accolades. Here are some of them: 
1) Queen's Certificate and Badge of Honor 
2) International Performing Arts Humanitarian Award 
3) He was the first to be inducted into the Bermuda Music Hall of Fame 
4) He was named in the 'outstanding jazz trumpet' section by Downbeat Magazine 
The trumpeter Vernon "Ghandi" Pendlebury Burgess, a father of 15 children, died in September 2009 at the age of 84. 

By Raj Bhattacharya 
Raj, a seasoned travel writer and Bermuda destination expert, has extensive global travel experience. This website reflects his profound insights, garnered over nearly two decades of dedicated findings and research on the island. Raj has assisted countless Bermuda-bound visitors by providing direct, personalized responses to their queries and imparting his wealth of knowledge through this platform. This site serves as an indispensable guide for those seeking informed and reliable insights into Bermuda's treasures. 
Related Articles
2) Check out
Bermuda Music and Dance
to know about music and dances that are now part of the island's cultural tradition. 
Visitors' Contribution
Howard Willett (March 2017) 
I met Ghandi when I worked in Bermuda from 1986-1990 I am a singer harmonica player in Toronto now. Ghandi was the kindest of gentlemen. he welcomed me to the Bermudian music scene and allowed me to sit in in the famed Sparrows Nest back of town on Saturday evenings. I so enjoyed that. He introduced me as "Brother Howard" I was so honoured and proud. I was saddened by his passing. A Bermudian musical stalwart and wonderful gentleman.