Guided Kayak Eco Adventure Bermuda
This tour operates from the dockyard at the western end and therefore quite convenient for the cruise ship passengers. You will be first taken to a beach site by a short boat shuttle. While cruising you will see the rural areas of Bermuda and the on-board guide will provide running commentary of the places you pass by. Along the way you will see a partially submerged shipwreck - MS Vixen. 
Once you reach the beautiful beach site, the guide will first give you safety instructions and a life jacket. The kayaks used are all double seaters and have glass bottom panels so that you can also view the beautiful underwater corals and colorful marine life through the glass panel below your feet. 
Guided Kayak Eco Tour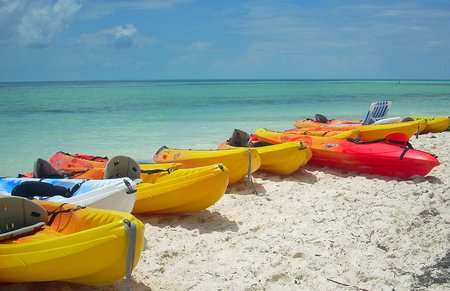 Photo: Mangrove Mike, flickr 
Depending on the weather the guide chooses a course for the kayak. Usually it is along the western coast line. Along the way, you will come across many rock formations on the coast, see tiny uninhabited islands, secluded beaches, coves and caves and enjoy the bird life. The guide will all along explain the landmarks you are passing by. In fact you will also see several homes of the rich and famous. 
At some places the guide will ask you to look below through the glass panel. Other than corals and fish, if you are lucky you can even see many green turtles. 
Once back, you can enjoy a swim by the beachside and have complimentary soft drinks. 
Tour Info
1) This is a group tour. The total tour duration is about 3.5 hours. The tour is conducted by Fantasea Diving and Watersports. The tour leaves daily from Island Tour Center located at Dockyard. 
2) Tour includes a professional guide, boat cruise with narrated commentary, complimentary soft drinks, kayak, life jacket etc. You should carry your own towel and wear a swim suit inside if you plan to have a cool off swim at the end. 
Rates by Viator 
Location and Contacts
Fantasea Diving and Water Sports 
Dockyard Watersports Center, North Arm, Sandys, Bermuda 
Check in at Island Tour Center, Dockyard; 15 Minutes prior to scheduled departure time 
If your cruise ship is docked at the dockyard (Kings Wharf), you can just walk across to the tour departure point. Buses #7 and #8 run between Hamilton and Dockyard (about 1hour one way). From Hamilton you can also come to the dockyard by Blue Route direct ferry (20 minutes). 
Related Articles
Visitors' Reviews and Comments
Review and share your experience.