Ardastra Gardens, Zoo and Conservation Center, Bahamas
located centrally in Nassau, Ardastra originally was only a nature preserve when it opened in 1950s but later expanded to public zoo and gardens as well. It's spread over 4 acres of lush tropical gardens and there are cute animals, birds and reptiles. Interesting animal events are held that keep drawing thousands of tourists including families with kids. 
Red Lorry Parrot at Adrastra Zoo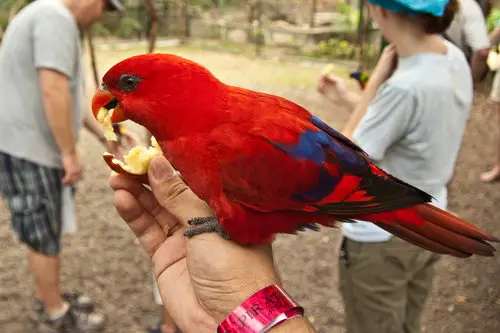 Photo: Bryce Edwards, Flickr, cc by 2.0 
You will find domestic pigs and rabbits, Madagaskar Lemurs, snakes, Peafowls, Lorry Parrots and most interesting of all - Bahamas's national birds... the Caribbean Flamingo. 
Three times a day you can hand feed Lorry Parrots (with apples). But the main attraction here is the Flamingo Show that also take places three times a day. 60 trained flamingos march together in front of you... on reaching one end they take 180-degree turn to parade back... an awesome sight. 
Marching Flamingos at Adrastra Zoo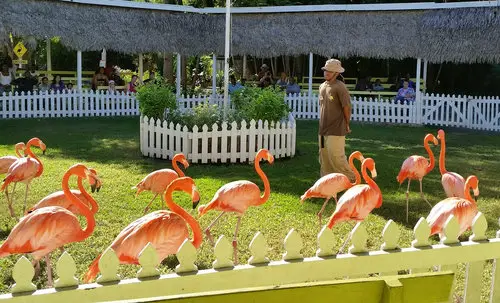 Photo: John Krupsky, flickr, cc by 2.0 
The zoo and the garden is wheelchair accessible. No wheelchair accessible bathrooms though. There is a gift store to take back souvenirs from Ardastra. 
Terrapins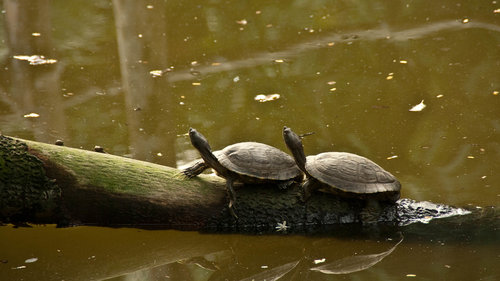 Photo: Bryce Edwards, Flickr, cc by 2.0 
Ardastra is located on Chippingham Road off West Bay Street about a mile west of downtown Nassau. You can take a bus from downtown heading west and get off at the corner of West Bay Street and Chippingham road, walk up Chippingham road and follow the sign. From Cable beach you can take bus #10 towards east. From Paradise Island you need to take a taxi. 
Road Map Location of Ardastra Zoo 
Admission fee: Adults $18, child (4-12) $9, below 4 free. 
The zoo is open daily (except Christmas day, Boxing day and New Year's day) from 9am to 5pm. 
The last entry is at 4pm. 

By Raj Bhattacharya 
Raj, a seasoned travel writer and Bermuda destination expert, has extensive global travel experience. This website reflects his profound insights, garnered over nearly two decades of dedicated findings and research on the island. Raj has assisted countless Bermuda-bound visitors by providing direct, personalized responses to their queries and imparting his wealth of knowledge through this platform. This site serves as an indispensable guide for those seeking informed and reliable insights into Bermuda's treasures. 
Related Articles
Visitors' Reviews and Comments