Tour of John Watling's Distillery
If you like to explore a live local distillery making hand-crafted rum and other spirits in small batches and bottling since 175 years as a family business now in 6th generation, then this will be a perfect place to visit. This is a complimentary tour offered by the distillery with free tasting of hand made premium rum which is one of the best in Bahamas and in Caribbean. 
John Watling's Distillery, Nassau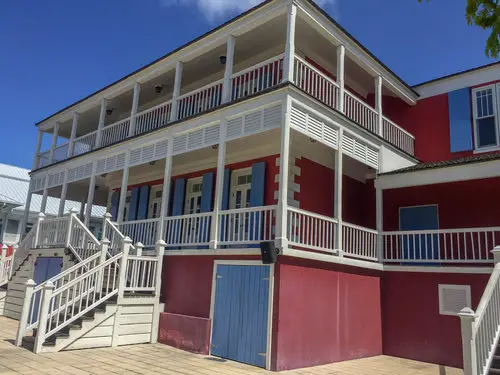 Photo: Alisa_Ch, Shutterstock 
The distillery is located in the beautiful Buena Vista Estate which was set up in 1789 and overlooking the Nassau Harbor. It's an easy walk from downtown Nassau. The distillery is named after a pirate on whom the Watling's Island was so named and which was later renamed to San Salvador. 
The tour will take you through the estate which is set up on a 2 acres of lush tropical garden and you can see many antiques and other exhibits that are centuries old. 
You will be then taken to the storehouse where you can see expert Bahamians bottling rum in old fashioned way by hand and in small batches. You can also see numerous white oak barrels that store rums for years. The rums are all fermented and distilled here from sugar cane molasses imported from Caribbean and made using traditional English technique. 
Open daily from 10am-6pm (except for National Holidays) and on Friday's until 9pm. 
Entry: Tours and Tastings are free. However you can purchase their signature rums. 
Road Map Location 
John Watling's Distillery, Ltd. 
c/o Buena Vista Estate, 17 Delancy Street, Nassau, N.P., Bahamas 
Website: www.johnwatlings.com 
Related Articles
Visitors' Reviews and Comments