Warwick Paradise Island Hotel, Bahamas
Category: Mid-Range, All Inclusive 
This sophisticated beachfront resort faces the idyllic Paradise Island while some of its rooms overlook the Nassau Harbor. Armed with multiple restaurants, fitness center, Spa, outdoor pool and entertainment center… the Warwick Paradise island is one of the best mid range hotels in Paradise Island. The hotel has its own private beach as well. This is one of the newest "just for adults" hotels in Paradise Island and is known for its personalized guest service. 
The location is convenient as it's a short walk from the ferry terminal and is just 2.9 km from Prince George Wharf (via Atlantis Bridge) and 3.8 km from National Art Museum Bahamas (via Bay St). The buzzing Cabbage Beach is just a short distance away. 
Rooms
The Warwick Paradise Island Property has an impressive range of room's right from mid range accommodation to luxury suites. You will get a good choice of views too so choose a room that overlooks the Island or Harbor or private beach according to your preferences. 
Complimentary room service and free WI Fi is available in all rooms. Other amenities include in room electronic safes, complimentary Wi Fi, Mini Refrigerator, ironing Board, Clock Radio, flat screen HD TV's, individually regulated AC etc. The rooms are fitted with conveniences like Dual Bedside USB Ports, International sockets, in room coffee makers, elegantly fitted bathrooms. 
Warwick Paradise Island Hotel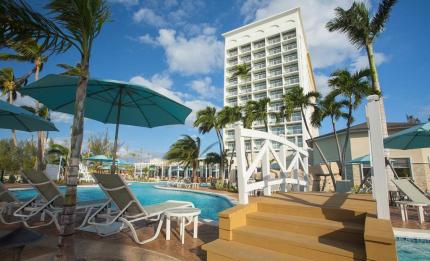 Water View Rooms 
The beautiful 300 sq. feet Water View King Rooms all have king sized luxurious beds and great views of Nassau Harbor. The Water View Double Rooms are similar to the Water View King Rooms apart from the fact that there are two double beds instead of a large king sized bed. 
Island View Rooms 
The luxurious Island View King Rooms sprawl over 300 sq. feet and offer spectacular views of the lush green Paradise Island. Like all other King Rooms, these have an ultra-comfortable king sized bed, luxurious bathroom. Island View Double Rooms are endowed with subtle luxury and modern amenities. They are exactly similar to the Island View King rooms. As the name suggests, the Double Rooms have double beds instead of a king sized one. 
The Accessible Island View Rooms are on the second floor and are specially designed for guests who have wider accessibility needs. The 300 sq. feet rooms have king sized beds and views of the lush green Paradise Island. The bathrooms have grab bars and roll in showers apart from the usual luxury fittings. All other facilities and room amenities are similar to the other Island View Rooms. 
Harbor View Rooms 
Enjoy views of the colorful Nassau Harbor from the private balcony of your harbor deluxe balcony king room. Close to 300 sq. feet, these rooms have floor to ceiling glass sliding doors and a large king sized bed. 
The Harbor Deluxe Balcony Double Rooms are exactly similar in size and facilities to the Harbor King Rooms. All Harbor Deluxe Balcony Double rooms have two comfortable double beds. 
Harbor View Room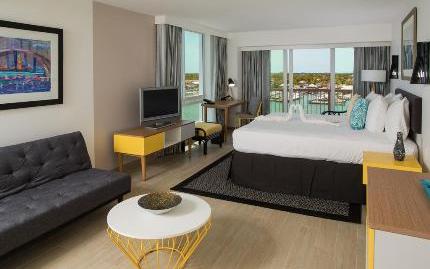 Watch the Nassau Harbor and the Warwick's exciting private beach from the private balcony of the 325 sq. feet large Harbor Premium Balcony Double Rooms. These rooms have a comfortable futon, two large double beds and floor to ceiling glass sliding doors. 
With a large futon sofa and a sprawling king sized bed, all the325 sq. feet large Harbor Premium Balcony King Rooms have a private balcony that overlooks the Nassau Harbor and the private beach owned by the resort. 
One Bedroom Harbor Front Suite 
Own your very own piece of Paradise Island… a huge 650 sq. feet luxurious suite with two balconies facing the lively Nassau Harbor. There is a bedroom and a living room with all kinds of amenities like individually controlled AC, stocked mini fridge, electronic safe, and iHome clock radio with connector, flat screen HD TV, hair dryer, ironing board etc. 
Dining
There are a range of great restaurants and bars at Warwick Paradise Island that span across casual dining to fine dining. 
Veranda offers artistically arranged buffet and is perfect for a poolside lunch or a relaxed casual dinner. Its art deco architectural style complements the relaxed chic mood of the restaurant. There is a different menu every night with a focus on fresh salads, fruits and homemade bread platters. 
Abbiocco 
For a finer dining experience, walk in to Abbiocco which literally means "the delicious drowsy feeling after a large meal". This is an Italian fine dining restaurant with a quaint old world charm. The menu is traditional Italian with antipasto bar, cured cheese counters and grilled dishes. 
If you love Asian food then Tings on a Stick, Warwick's brand new Asian restaurant can be your thing. The restaurant has a distinct casual feel and prior reservations are not required. Traditional dishes from Indonesia, Malaysia, Japan and China are served. 
Chickcharnie's Pizzeria and Grille 
(open from 10.30 a.m. to 6.00 p.m.) 
You can enjoy comfort food like juicy burgers, hand rolled pizzas, salads and quesadillas at Chickcharnie's Pizzeria that's basically a poolside dining place. Local delicacies like jerk wings and Conch Fritters are also available here. 
Edgewater Grill 
If intimate dining is what you are looking for then Edgewater Grill might serve your purpose. This is one of Paradise Island's best known seafood restaurants and is famous for its fine selection of steaks. This is an open air restaurant that has both indoor and outdoor seating options (you can choose to sit directly on Nassau Harbor) and a good wine list. The 10,000 sq. feet Sunset Terrace is a great place for a cozy after dinner walk where you can enjoy the lively Nassau harbor scenes. 
Hog Bar 
(open from 10.00 a.m. to 10 p.m.) 
Very popular amongst Nassau and Paradise Island tourists, this beachside watering hole offers an exciting array of tropical and mixed drinks. Hog Bar is inspired from Hog Island (the erstwhile name of Paradise Island) which supposedly hosted herds of wild pigs. 
Rum Cay Lobby Bar 
(open from 6.00 p.m. to 1.00 a.m.) 
The Rum Cay Lobby Bar is an active partner in the nightly entertainment at Junkanoo Beat. True to its name, you will find a good selection of rums here apart from beers, local drinks and tropical beverages. This is the place to hit for a night long party in Warwick Paradise Island. 
Other facilities
All Inclusive Offer: The Warwick Paradise Island Hotel is an all inclusive Hotel which means that many other facilities along with accommodation are offered to the guests in a package deal. All guests (only adults) are provided all meals and snacks along with a wide selection of alcoholic/ non alcoholic beverages. Nightly entertainment deals, free use of the fitness center, entertainment at Junkanoo Beat and a range of other activities are also a part of the all inclusive experience. 
All guests of Warwick Paradise Island can avail of the following facilities: 
10,000 sq. foot Warwick sea terrace that provides stunning views of the Nassau Harbor marina. The sea terrace has a boardwalk, Edgewater Grill restaurant and a large fire pit that makes it perfect for evening gatherings. 
Swimming and snorkeling in the attached private beach lagoon and sunbathing at the Shipwreck Beach (Warwick's private beach). 
330,000 gallon pool that overlooks Nassau Harbor. Beach chairs, lounge recliners, beach towel service, a steady supply of drinks and a healthy dose of poolside glamour makes this an irresistible experience. 
Activities and beach games like basketball, volleyball and tennis. 
Free touring bikes (Panama Jack) are available for guests and pass holders. A weekly guided bike tour of the Paradise island is available (only for guests). 
Day long use of the fitness center (located on the second floor) that has a cybex multi gym, treadmills, weight benches and free weights. 
Amber Spa 
(open from 9 a.m. to 7 p.m.) 
Phone: 242-363-1218 
Amber spa that provides a bouquet of holistic healing therapies, therapeutic massages and beauty treatments. The hotel's official website offers Summer Savings offer that can fetch you good discounts on Spa treatments. The Spa Service and Promotions section of the website offers discounts on spa products and facials. Popular massages include Swedish massage, deep tissue massage, pressure point massage and hot stone massage. 
You also get to browse through and shop for an exclusive range of Mila d'Opiz Swiss Beauty Products that are composed of pure mineral extracts and glacier water. These products are only available at the Amber Spa in Paradise Island, Bahamas. 
Junkanoo Beat 
Warwick Paradise Island offers a huge entertainment complex with superior sound systems that will remind you of the 70's disco music. Cultural dance programs, karaoke nights, live band performances, special DJ nights all make this place the perfect option for enjoying the party life of the Bahamas. If you are not really a party animal then try your hand at the indoor pool table or table tennis junction. 
Note: Day and Night Passes are provided to non- guests who can then avail all the above mentioned activities/ hotel facilities along with Breakfast and lunch facilities in Verandah and Chickcharnie's Pizzeria and Grill, and Free use of the Hog Bar with options of wine, tropical drinks, beer and liquor. The pass rates and terms and conditions are published on the hotel's official website and are issued only to adults. Free WI fi is also a part of the deal. The hotel offers special packages for weddings, vow renewals, honeymoons, events and conferences. 
Overall Opinion
The Warwick Paradise Island has a lot of entertainment facilities and is obviously one of the most well-known properties in Paradise Island. The food in the restaurants is almost always fresh and the staff behaves impeccably with guests. Despite being a new property, the facilities and amenities offered makes the Warwick one of the best options for an adult only holiday experience. The cabbage beach is in near vicinity and the hotel offers a private beach (Shipwreck Beach that also has actual abandoned ships moored on the beach) facility too. There are numerous entertainment options nearby including the Paradise Island Casino. 
However, there are some issues especially in peak holiday season when the hotel gets overcrowded and there are staffing issues. Sometimes problems like a faulty shower or a shortage of chairs by the poolside take a lot of time to get resolved. The hotel issues day and night passes to non-guests which increases the pressure on the staff further. The Italian restaurant at the hotel (the most sophisticated dining option) is almost always fully booked so you need to reserve a table quite in advance. 
Despite the cons, the Warwick Paradise Island remains one of the most recommended adult only accommodation option in Paradise Island and is successful in providing an all-inclusive enjoyable holiday experience. 
Rates provided by booking.com 
How to reach
The Warwick Paradise Island is just 19 km away from Nassau International Airport (lynden pindling) and can be reached in about 32 minutes via John F Kennedy Dr.  You can choose to take a taxi from the airport to the hotel. The Warwick also offers airport pick and drop services provided you make a prior booking. 
Road Map
Contact Info
Warwick Paradise Island 
Harbor Drive, Paradise Island, the Bahamas 
Phone: +1 242-363-2560 
Check in Time : 4.00 p.m. 
Check Out Time: 11.00 a.m. 
Related Articles
Visitors' Reviews and Comments