Sandals Royal Bahamian, Nassau
Category: Luxury, All-inclusive 
Sandals Royal Bahamas despite its exotic name is true blue European in its décor and treatment, the hotel has its own offshore Island Sandal Clay and is the favorite holiday destination for many celebrities and members of the royal family like the duke and duchess of Windsor. Located right at the center of the Cable Beach tourism hub, Sandals is about 10 km away from Downtown Nassau and you can take a Jitney bus to town anytime you want. 
The Sandals Royal Bahamas has 10 specialty restaurants and 2 giant sized colonnaded pools that directly overlook the sea. Their Spa Red Lane has been the recipient of several awards and the hotel provides glamorous facilities like VIP Airport transfer (guests can avail of airport transfers in Mercedes or Rolls Royce), private butler serve and ultra-luxurious brand new River Pool Swim up Suites. 
If you want to holiday in style in Nassau then the Sandals Royal Bahamas is second to none when it comes to offering a decadent and glamorous holiday experience. 
This is an all-inclusive couple's only resort that is just 7 km away from Nassau International airport and 9 km away from Atlantis Aqua venture Water Park.  
Sandals Royal Bahamian, Nassau 
Photo: Sandals 
Rooms
When it comes to choosing a room, the Sandals gives you an exceptional range of choice. There are rooms for virtually every taste. Rooms are categorized into four broad levels of luxury depending on one's affordability and within each category; there are variations between rooms with minor difference in prices.  Here are the rooms with most affordable category first. 
Luxury Level 
The luxury level rooms are the most inexpensive out of all types. The amenities included in the master bedroom are a four poster king sized bed, intimate seating area and HD TV. The bathrooms either have a large single vanity or couple vanities, backlit mirror and rain head shower/ tub combination. 
Balmoral Ocean View Grande Luxe suite rooms are on the upper floors of the Balmoral tower. These have ocean view private balconies. 
The Balmoral Ocean view Luxury rooms are located all through the second to the sixth floors of the Balmoral Towers.  The Balmoral Ocean view Premium rooms are on the fifth and sixth floors of the Balmoral Towers. 
Balmoral Ocean View Luxury Room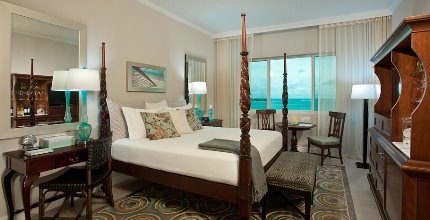 Photo: Sandals 
Balmoral Honeymoon Zen Garden Rooms are on the second and third floors of the Balmoral Towers and all of these have tropical garden views from a private balcony. All rooms have serene pastel accented décor with elegant furnishings. The Balmoral Zen Garden Rooms on the second through the fourth floor of the Balmoral Tower are exactly the same as Zen Garden Rooms though the garden view can be accessed through an oversized window and there is no balcony. 
The Balmoral Premium rooms are very near the best restaurants and bars in Sandal Royal and they overlook the lovely French Courtyard. 
Royal Village Luxury Rooms are on the first and second floors of the Royal Village and these have a private patio/ balcony that offers gorgeous garden views. These rooms are more of romantic retreats. 
Royal Village Honeymoon deluxe rooms boast of mahogany fittings and décor while a view of the tropical garden is available from the large windows. 
Royal Village Deluxe Rooms are the most affordable set of rooms in the Sandal Royal Resort and they have all modern amenities as described in luxury suites. The window view looks down upon the tropical gardens. 
Club Level Suites 
The Club Level Suites are moderately sized luxury suites with private balcony/ patio that are more affordably priced than the Butler level suites. Private Concierge Service from Club Sandals, Assistance with reservations and check-ins are also a part of the Club Level Suites packages. The suites have a spacious bedroom with a large four poster king sized bed, intimate sitting area, HD TV and a stocked bar. The bathrooms are en-suite with matching couple vanities, back lit mirror ad rain head shower/ tub combination. 
Some of the Balmoral Beachfront Club Level Rooms face the Sandal Clay Island while some command an ocean view. The luxurious Balmoral Beachfront Club Level Rooms are in the second, third and fourth floors of the Balmoral Club Towers. 
The Balmoral Poolside Walkout Club Level Rooms are on the ground floor of the Balmoral Tower with views of the pool and the beautiful tropical garden. The rooms have warm earthy accents, mahogany furniture, Murrano lamps on bedside tables and rugs with striking geometric designs. Globe trotters will appreciate the special light weight Matelassé coverlets with metallic detailing and open weave curtains. The bathrooms are ensuite with twin his and her sinks, porcelain tiles. Each room has a private patio which is very near a large pool and a beautiful misting pool. 
Balmoral Honeymoon Ocean view Club Level Rooms are located on the second floor till the sixth floor of the Balmoral tower. These rooms have private balcony with ocean view and the bathrooms have a single large marble vanity instead of twin vanities. 
Balmoral Zen Garden Walkout Club Level Rooms are on the ground floor of the Balmoral tower with views of the tropical garden. These walkout rooms have oversized patios, modern bistro that opens up to a fragrant garden. 
Royal Village Honeymoon One Bedroom Club Level Suites are in the secluded romantic Royal Village section of the resort and the suites command views of the pool and the garden. The pastel shaded walls, accent lighting, warm wooden flooring complement the traditional yet contemporarily styled furniture and the large Plasma TV. 
Windsor Ocean view Penthouse Club Level Suites are on the top floor of the Windsor tower and these offer a partial ocean view as well as pool view from private balconies. The rooms have comparable amenities with the Penthouse Suites being slightly larger in size. 
Windsor Ocean view Club Level Suites are on the third to fifth floors of the Windsor tower. As the name indicates there is an ocean view from the private balcony while some suites have a pool view as well. Though slightly smaller in size than the penthouse club level suites, these are styled in exactly the same way. 
The Windsor Honeymoon Ocean view Club Level Suites are also similar in every way to the Club level suites with some minor differences in styling and furniture arrangements. 
The Windsor Grande Luxe Walkout Oversized Club level Junior Suite are on the ground floor of the Royal Windsor tower and they command excellent views of the pool and tropical garden... each suite has a private patio with colorful shrubbery and a tea table with chairs. 
The Windsor Honeymoon Club Level Oversized Junior Suite is located on the first to third floors of the Windsor Tower with amazing views of the tropical garden and pool. The suite is furnished in pastel shades with colorful accent furniture that creates a contemporary look. Each suite has either a fully furnished walkout patio or a private balcony.  
Other Butler Suites 
All the Love Nest Suites also qualify as Butler suites as all of them offer complimentary 24 hour private butler service and room service.  Unlike love nest Suites all Butler Suites do not include VIP airport transfer in an ultra-luxury car though a private round trip Airport transfer is included. . The suites are a little smaller than the Love Nest suites and have a four poster king sized bed, flat screen TV, large dresser, fully stocked bar in the suite besides other amenities. The en suite bathroom has matching his/ her vanities and a rain head shower/ tub facility. 
Balmoral Honeymoon Beachfront Butler Suite that's located on the top floor of the Balmoral Tower has a private balcony with comfortable seating arrangements that offers gorgeous ocean views and Sandal Clay Island views. 
Balmoral Beachfront Walkout Butler Suite that's located on the ground floor of the Balmoral Tower is just a few steps away from the beach. These beautiful Walkout Suites have beach views and the Sandal Clay Island can also be seen from the fully furnished patios. 
Royal Village Butler Villa Suites with outdoor Tranquility Soaking Tub are freshly renovated luxury suites with views of the tropical garden and pool that are in the Royal Village section of the hotel on the first and second floors. Designed to be harmoniously natural and in tune with the healing essence of nature, these suites are predominantly decorated in chic white with colorful vibrant floors and sophisticated modern furniture. Each suite has either a patio or a balcony with a tranquility Tub for two veiled by privacy curtains that lets a couple enjoy a relaxing bath while admiring the garden view. Each ensuite bathroom has controlled walk in shower, huge back lit mirror and a long vessel sink. 
Love Nest Suites 
True to their name, the Love Nest Suites offer great privacy and ultimate luxury that will appeal strongly to couples who are on a honeymoon/ romantic sojourn. All love suites have private butler service and 24 hour room service and guests can avail VIP airport transfers. There are 7 sub types of rooms under the Love Nest Suites and most suites have a master bedroom, living area and a washroom. The master bedroom has a four poster king sized bed, giant flat screen TV while the living room has a well-stocked bar, flat screen TV and the washroom has a great rain shower head-tub combination gleaming backlit mirrors, his and her vanities etc.  
Windsor Honeymoon Hideaway Swim up Crystal Lagoon Zen on the ground floor of the Royal Windsor Tower offers splendid views of the pool and the tropical garden. There is a furnished private patio that has zero entry access to the beautiful Zen Garden River pool. 
The Windsor Oceanfront Penthouse One Bedroom Butler Royal Suite is located on the top floor of the Royal Windsor Tower and offers ocean views from the attached private balcony. While the room layout remains essentially same, the living area here is open and the bathroom has an exotic roman tub and a single large vanity. 
The Windsor Oceanfront Walkout One Bedroom Butler Royal Suite is in the ground floor of the Royal Windsor Tower and offers ocean views from a private patio and access to the resorts beautiful pool. 
The Windsor Oceanfront One Bedroom Butler Royal Suites are located on the second, third, fourth and fifth floors of the Royal Windsor Tower. Each of the suites are in close vicinity to the pool and gourmet restaurants. Ocean views can be enjoyed from a private patio. In comparison the Windsor Ocean view One Bedroom Butler Royal Suites (also in the second to fifth floors) offer ocean views from a private balcony. 
The Windsor Ocean view Walkout One Bedroom Butler Royal suites are on the first floor of the royal winder tower. These suites have contemporary décor and color schemed in muted earth tones. Thee bedroom is linked to the living room through a pretty French door. There is a private patio that looks upon the ocean as well as the private pool of the hotel. 
The Windsor One Bedroom Butler Royal Suite are located on the second and third floors of the Royal Windsor Tower. These suites have a private balcony that looks upon the beautiful hotel garden and a separate living room, bedroom and an en suite bathroom 
Dining
The Sandals Royal Bahamas have 10 specialty restaurants each with its own flavor and unique style of décor. All the Sandals restaurants and cafes have unlimited servings offer and this includes free flowing 6 varieties of Robert Mondovi Wines. The full menus of all 10 restaurants are available on the Sandals Royal Bahamas official website. All restaurants in the resort serve Appleton Estate Jamaican Rum that's a specialty partner of the Sandals brand. The Baccarat and Kimonos need prior reservations. 
Private Candlelight dinners are available at limited locations in the resort at an added charge. Unlimited supply of Robert Mondovi Twin Oak wine is a part of the deal. Private waiters, white linen clad tables, tropical flowers and four course meals add to the glamour. You can choose the location that can be the terrace or gazebos in the pier or the beach. Be very specific about any favorite brands of alcohol while ordering or order in advance as the resort tends to stick to their partner brands. 
Baccarat is the French restaurant with art nouveau décor, large bay windows and white gloved service. Guests can enjoy views of the moonlit pool at night. The signature dish Filet de Boeuf and signature drink is inspired by France's Vanilla vodka. Timings: 8.00 a.m. to 11.00 a.m. (Breakfast), 6.00 p.m. to 9.30 p.m. (dinner) 
Crystal Room is a Mediterranean styled restaurant with a dazzling vintage Baccarat chandelier and cuisine from Italy, Greece and Louisiana as the main attractions. The signature dish is gyros with delicious tzatziki sauce. Timings: 6.00pm to 9.30pm (dinner), closed on Wednesdays. 
Casanova is an Italian restaurant that's perched on a beautiful walkway and offers a diverse menu that boasts of specialties like Seafood Pizza with fontina cheese, fettucino alfredo and lasagna al Forno and Pan fried Grouper Filler with butter sauce. Casanova's most popular dessert torta di noce rustica is also a must try. Timings: 6.00pm to 10.00pm (dinner). 
Spices is a Pan Caribbean restaurant with an open show kitchen and beautiful tropical surroundings. The menu spans a variety of seafood to a Jamaican jerk entrees. The Red Pea Soup and the Grilled Ginger and Pineapple Martini are must try's at the Spices. Timings: 7.00am to 10.00am (buffet breakfast), 12.30pm to 3.00pm (lunch). 
Kimonos offers Teppanyaki styled experience with 1940's styled cooking and a menu filled with dishes from the Far East with fusion twists. The décor is Asian and has red and golden accents with Shoji sliding screens and mahogany framed doors. Restaurant specialties are teriyaki beef, pepper shrimp and a range of salads. The Kimonos offers live entertainment and dishes are sometimes prepared right there on the table which adds to the dining experience. Timings: 6.00 p.m. to 9.30 p.m. (dinner). 
Schooners is Located on Sandal Clay, the resorts very own private Island the Schooners specializes in Seafood and offers Caribbean style cooking with a wide platter of stewed and caramelized meat dishes. The design elements are typically tropical and vibrant with jewel tones in the cutlery. Bahamian favorites like Smuddered Grouperin Lime and olive, Goombay roll stuffed with conch and served with mango soya sauce and Guava Duffs are the specialties of this restaurant. Timings: 11.00 a.m. to 3.00 p.m. (lunch everyday), 6.30 p.m. to 8.30 p.m. (dinner on Sundays, Tuesdays and Thursdays). Restaurant accessibility dependent on weather, boat transfers available at 5.45 p.m. and 7.45 p.m. 
Beachside Café serves comfort food like salads, sandwiches and grilled dishes and the ambience is distinctly casual. True to its name the café is right next to the beach and diners can enjoy the turquoise ocean views while munching on Panini's, kebabs etc. A wide range of cocktails are also available. Timings: 11.00 a.m. to 5.00 p.m. (lunch). 
The Cricketers Pub is a distinctly English themed non-smoking pub that serves traditional English dishes like Shepherd's Pie, Bangers and Mash and Fish and Chips. The décor is earthy and rustic and staff are lively and entertaining. Try the varieties of ales on offer that includes Newcastle Brown and Guinness along with spirits, soft drinks and wines. Timings: 3.00 a.m. to 7.00 a.m. (breakfast), 5.00 p.m. to 3.00 a.m. (dinner). 
Gordon's on the Pier is an elegant, formal and romantic sunset dinner restaurant that's actually situated on a pier overlooking the Caribbean Sea. The moonlight, the sea sights and the liveried butlers all add up to the ambience. Try the specialties like Grilled Crustacean platter, saffron flavored Bouillabaisse etc. while you are here. Timings: 6.30 p.m. to 9.30 p.m. (dinner). 
Bella Napoli Pizzeria specializes in brick oven pizzas with a range of toppings like seafood, sausage, gorgonzola and some unusual choices like ripe banana and chocolate. Distinctly casual in feel, the predominantly white and red modern décor makes Bella Napoli a fresh departure from the exotic restaurants of Sandals Royals. 
Apart from these places, the resort is splattered all over with bars. There is a bar right there on the beach, on the island, on the pier overlooking the ocean and around the beachfront pools. Drinks are available 24 x 7 and in room alcohol supplies are restocked daily. All the resort bars are open at 10.00 a.m. and close at 3.00 a.m. 
Other facilities
All guests of Sandals Royal Bahamas can avail of the following facilities and activities: 
All Inclusive Features: the Sandals Royal Bahamas is a couple's only all-inclusive resort which means that couples checking in to the hotel get access to several facilities and amenities in a package deal. Free shuttle service, transport to and fro the Sandal Clay and use of the water sports facilities and the fitness center is a part of the all-inclusive deal. Guests get free parking, safe deposit boxes, free WI fi and access to the resort's golfing and horse riding facilities.  
All meals and drinks are included (conditions apply) and guests get to avail sauna bath, hot tub soaks, mist pool and all other water facilities in the resort. Airport transports and use of the Sandals departure lounge are free though guests staying in certain kind of rooms will have to pay extra for transfer by luxury cars. Red Lane Spa treatments, gift shop purchases, phone calls, emergency doctor services, laundry etc. are extra and not part of the all-inclusive deal. 
Scuba diving training program for beginners and good quality scuba diving equipment is included though guests must have a doctor sign and stamp the physician section on the section called medical questionnaire form before they are allowed to dive. 
Exotic Offshore Island Escape at the Sandals Clay Island which you can reach by a sailboat, kayak or a launch. The island has a beach club with a complimentary membership for guests and there is a large whirlpool, private pool, swim up bar. Parties keep happening on the island and there are shaded hammocks and secluded cabanas for quieter relaxation options. 
There are two beaches on the island; one has hard-core action sports happening round the clock while the quieter one has a range of snorkeling options. The only catch is… if you want to return to the mainland resort, the last ferry leaves at 4.45 p.m. the other alternative is also great… staying back to party!! At night bonfires are lit and guests party all night long with the Junkanoo band. Fire pit seating areas are available in several areas on the island. 
Red Lane Spa… Sandal's award winning spa is in the Sandal Clay Island and it offers unique treatments like heart rock massage, sea salt scrubs, coffee body wraps, tropical fruit facials etc. on massage tables that are laid down at the beachside. There are special massage therapies for brides, mothers to be, couples etc. 
Sandal's Fitness Center organizes all kinds of land sports and water sports activities for guests. Aerobics, aqua fit classes, cybex equipment, exercise bikes and all modern gym equipment are available for free use. 
While snorkeling and scuba diving are the most popular choices, many guests choose to go kayaking/ canoeing/ windsurfing and paddle boarding. There are 7 pools and 6 whirlpools at Sandals apart from a large misting pool for the use of the guests. Trainers and guides are available on request. If you would prefer remaining on land then croquet, beach volleyball, lawn tennis, lawn chess, board games, pool tables are at your disposal. 
Nightly entertainment options like amphitheater, live music and dance, Caribbean nights, piano bar, charity casino, art auctions and theme parties are all a part of the entertainment package. If you are fond of hardcore partying then you might find the scene at Sandals a little quiet as the ambience is mostly relaxed with only couples around. 
Adventure tours are available at an added charge for guests and they include Sea lion encounters, Dolphin royal swims, deep sea fishing, submarine adventures, stingray encounters and shark drives. 
There is an in house boutique in the resort that offers duty free shopping. 
Weddings, vow renewals, business conferences are arranged on pre booking and excellent facilities for the same are available. 
Day passes are available for non- guests and the details of the same can be verified from the hotel helpdesk or the website. 
Overall Opinion
Apart from all great amenities the resort offers, its prominent location on the Cable beach (the most popular beach in Nassau) is certainly the first thing that guests look for when choosing against its competitors. 
The Sandals Royal presents an interesting experience with great customer service and commendable facilities. The staff always has a smile on and they go out of their way to accommodate guests. The icing on the cake is definitely the private island with its beach and range of activities. Guests can have a fun time admiring the exotic marine life around the island. The beach on the island has limited number of comfortable private cabins but they are all first come first served so you need to grab one early. Sandals has its own welcome center in the airport and the ride to the resort is over in a flash. 
The gym has a great penthouse view and the views from the upper levels of all the towers is great. The Windsor Tower views are better than the Balmoral tower. For dining experiences, Gordon and the Baccarat are the best and breakfast at the Baccarat is really exceptional. The private Cable beach on the main resort is kind of small but the ones on the Island are really great. 
On the flip side, sometimes guests have to wait for a long time to be assigned rooms and there is no entertainment option/ drinks facility in the lobby. If you are not assigned a butler then you have to get your drinks yourself from the bar as there are no waitresses around. There are only special partner brands of liquor that are freely available so arrange for your own favorite spirits if you are choosy. 
Overall, this is one of the best places to savor your holiday in Nassau especially if you are travelling with your significant other. 
Rates provided by booking.com 
How to reach
You need to take a taxi from the airport to the resort and its just 7 km away so you will reach in no time. If you have a prior booking at the resort then call for the resorts, airport transfer service (this will be included in your booking package).  
Road Map
Contact Info
West Bay Street, Cable Beach, Nassau 13005, New Providence Island 
Phone: 00 1 855-248-3531; 1-888-SANDALS 
Related Articles
Visitors' Reviews and Comments