Bay Street Nassau, Bahamas
This is one place you don't want to miss out when in Nassau if you plan to experience the real vibe of the island. Bay Street is the oldest and the main street of Nassau. This is also the main hub of Nassau and located at the downtown Nassau. It's very close to the Prince George Wharf where the cruise ships dock (less than a minute walk). 
Bay Street, Nassau, Bahamas 
Photo: byvalet, Shutterstock 
The street was originally constructed on reclaimed land from the northern coastline of Nassau. Although the street runs parallel to the harbor, rows of shops and restaurants of all kinds on both sides of the street restrict the harbor views. The street extends to both west and east well beyond the downtown area and those extensions are known as the West Bay Street and East Bay Street respectively. 
However most shops, restaurants and hawkers selling all types of items can be seen on the main stretch of the Bay street in downtown area. Many buildings on the street where the shops are housed were built during the British era and still reflect the British colonial architecture. 
So what can you plan to buy while on Bay street? The street is full of stores selling both high-end and low-end products of all types including watches, jewelry, glasses, purses and bags, cosmetics, dress materials, perfumes, dinnerware, hand crafted local products, souvenirs and gifts and lot more. 
Bay Street Nassau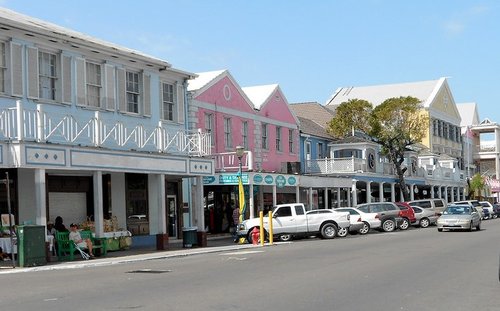 Photo: Roger W, flickr cc by-sa 2.0 
If you are looking for locally made rum cakes, then Bay street is the place to look for that. Prices are certainly less compared to Paradise Island. 
And there are all brands if you are looking for quality stuff. But even for cheap items like local handmade items, local art and craft ... Bay Street is a good place to explore. There are duty free stores as well. If you spend some time here with patience and explore several stores, you can really get a good deal. And there are vendors and hawkers on the street selling cheap items including trinkets, souvenirs etc. Be prepared to be approached by vendors who might try to push sell their products. 
While Bay Street is the main hub for shopping and dining in Nassau, unfortunately at some places the buildings look worn out and you may even be disappointed seeing trashes around. Nevertheless this is a bustling place and certainly worth a visit to feel the life in Nassau. 
Bay Street Nassau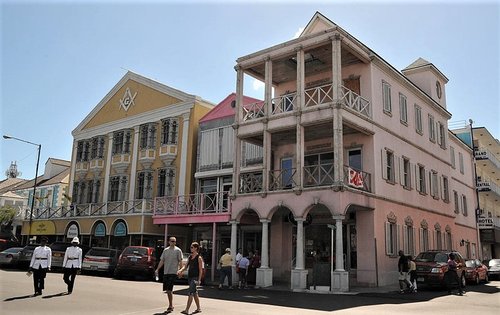 Photo: JERRYE AND ROY KLOTZ MD, cc by-sa 3.0 
From Prince George Wharf if you walk towards west you will come across the famous Straw Market housed in a large building just before you reach British Colonial Hilton Hotel. 
Straw Market
is full with every little thing you want including the hand weaved straw products like bags, baskets, dolls, hand crafted gift and souvenirs plus vacation clothing, caps, sun glasses and lot more. Prices are reasonable and can be definitely bargained for less. 
Bay Street itself stretches for less than a mile. However in west it meets with Marlborough Street near British Colonial Hilton Hotel and then continues as West Bay Street. Towards east it continues as East Bay street after the junction with Christie Street. 
Almost at all major crossings or junctions along Bay street you can see police men and women controlling traffic (the street at times sees heavy traffic jams). The well dressed police staff in their white and black costume with black and red cap look impressive and you can always approach them (while they are not busy) to join for taking a picture ... which they usually happily oblige. 
Note that most stores on Bay Street close by 5.30pm and some of them may even close earlier if there is no cruise ship on port. This indicates that most tourists who roam the street are cruise passengers. 
Road Map 
Related Articles
Visitors' Reviews and Comments