The Reef Atlantis
Paradise Island, Bahamas
Category: Luxury 
The Reef is one of the luxury hotels on the furthest edge of the huge Atlantis resort. The Reef is actually a luxury residential tower located right there on the Paradise Beach and it has a huge casino that's the highlight apart from access to the sprawling Atlantis water park and a marine habitat. 
The Reef Atlantis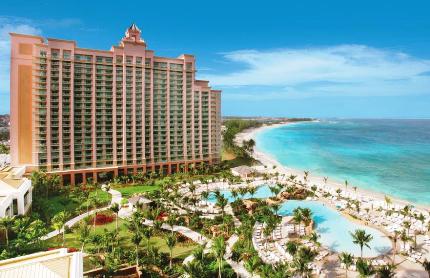 If you have been to the Atlantis before, you will notice how the Reef and Cove look almost similar with common architectural design. These two hotels share two exclusive heated pools. Hotel rates at the Reef are pricey though lower than that of Cove. The Reef is situated on the Paradise Island and is known as one of the most popular luxury accommodation options in this area. 
Rooms
The rooms at the Reef promise a luxurious yet homelike experience. There are options of gracious community like living or private accommodation. Options of rooms include beautiful studios to sprawling three bedroom suites with fully functional kitchens to penthouses. Room options at the Reef boast of sleek modern décor with clean cut lines in the furniture and accessories while the color scheme is mostly kept nude or pastel with occasional splashes of color. Ocean view accommodation options in each category are the most expensive followed by the pool view and then the terrace view. 
Studios 
The studios at the Reef have standard deluxe amenities and exude a rather homely feel. The living area is largish with a comfortable queen sized sleeper sofa while the sleeping area has a king sized bed. The 573 sq ft large studios have open floor plans which makes the whole place look bigger than it really is. There is a fully equipped kitchenette and a big master bath too. 
The studios are divided into Terrace View, Ocean View and Harbor View and you can book your choice depending upon the kind of scenery you want to enjoy from your windows. 
Suites 
Suites have separate living rooms with adjoining balconies apart from a master bedroom, full fledged kitchen and large bathroom. Each suite has cable TV and I POD docket. 
You can choose the 1 bedroom suites which will have either harbor/ terrace or ocean views. There is a special Topaz one bedroom ocean view suite that has huge ceiling to floor glass windows allowing you to admire the beauty of the ocean nicely. The Topaz suite is larger at 1195 sq ft while the other suites are 974 sq ft. If you are travelling with family then you can go for the 2 bedroom family suites which again have choices between terrace/ ocean and harbor views (room area 1497 feet). A 1718 sq ft large Topaz 2 bedroom suite is also available. 
One Bedroom Suite 
Penthouses at the Reef are super luxurious with wrap around terraces that command beautiful views of the ocean. You can chose between the two bedroom penthouse (2579 sq ft) which has two master bedrooms (each with their attached bathroom) and the 3 bedroom penthouse (3102 sq ft). Each option has a full-fledged kitchen and a dining space. 
Unlimited access to the Cove Pool, personalized concierge service, Bahamian welcome amenity and daily breakfast are a part of the deal if you book the penthouse. The wrap around terrace is fully furnished with luxurious settees and sofas while the rooms have floor to ceiling windows. The master bathrooms have matching double vanities, separate shower area and infinity tub and there is a compact guest bath too. 
The kitchen and the dining area has a washer and dryer while there is a huge flat screen HDTV and Bose Sound System in the room. Each penthouse has two separated locked entrances; while one opens into the suite the other opens into a studio with separate bathroom. 
Dining
Unfortunately, the Reef doesn't have any in-house restaurants though it's pretty close to the Cove Atlantis so guests at the Reef can easily walk to the Cove to use their restaurants or several others nearby. All Atlantis Guests have free access to any of the 21 restaurants and 19 bars located at the six Atlantis properties though if you are a guest at the Reef then you would have to take a shuttle to visit the restaurants at other properties except those in the Cove. 
Some great fine dining restaurants in the Atlantis are Nobu, Café Martinique, and Bahamian Club etc. Good casual dining places are Poseidon's Table, Murrays Deli and Bimini Road (serves Caribbean Food) etc. cascades Grills, Plato's, Shark Bites, and Splashers Snacks are some of the places where you can go to grab a quick bite. 
If you happen to visit the main Casino then check out the brand new Moon Bar whose unique feature is a self-contained marine habitat with live marine jellyfish right behind the counter!! Another great option for guests at the Reef is to drop in to the Sea Glass bar at the Cove which has a great selection of nice table games as a value added offering. If you are looking for some foot tapping music then Atlantis's ultra-lounge Dragon's should meet your requirements. 
What the Reef does have is a true blue Starbucks in the lobby area and this is especially helpful for caffeine addicts. Each accommodation option in the Reef has a kitchenette so many guests (especially those who travel with families) find it pleasurable to cook occasionally. 
You can drop in to the grocery store at the Cove or in the Royal towers where you can get a decent variety of snacks, cereal food and breakfast items (for stocking your kitchen/ kitchenette) at the convenience stores. If you are a seasoned cook who loves to shop for fresh produce then do consider taking a cab to the bridge near Paradise Island which has several great grocery stores. 
Room service is available and there is a room menu which is filled with delicious sounding and frightfully expensive entrees. It's highly recommended that you stock up your kitchenette for handling emergency hunger pangs. 
Meal Plans 
If you don't want to cook your meals in the kitchenette then you need to buy a meal plan. Casual dining plans are the cheapest option and you can choose to have a two course dinner at any of the 9 specified restaurants. Breakfast will be an American or Continental option. For kids below 11 years breakfast and dinner is free. 
The Gourmet Dining plan is a little more expensive and you can have a continental/ American breakfast and three course dinner at any of the 15 restaurants and taste dishes by signature chefs. Kids below the age 6 will have free breakfast and dinner while older children under the age 11 will have to pay a lower fee. Premium dining Plan is the most expensive option and all facilities of Gourmet plan are offered apart from which breakfast and dinner at Mosaic are also available. 
The food at most of the listed restaurants is good but VAT and 15% compulsory gratuity has to be paid extra and that hikes up the cost of everything. 
Other Facilities
The Cascades Pool is one of the few family friendly pools in Nassau/ Paradise Island zone. The Cascade is restricted to guests with families staying at the Cove and the Reef and beautiful ocean views are available from the pool. One can easily access the Paradise beach from this pool. 
Apart from the Cascades there are more than 20 swimming zones and 11 different pools owned by the Atlantis. Guests can also access the Cove Beach and the Atlantis beach. The Splashers Pool is great fun for kids while the zero depth entry pool by the Reef is also a good peaceful option for relaxation. However be warned that if you are with kids then you cannot walk across any adult pools and have to take longer convoluted routes to reach other portions of the water park. 
Atlantis offers free shuttle service to all its guests and you can use this shuttle to reach restaurants, nightclubs, amusement parks, pools, beaches, etc. in all Atlantis owned locations and even Marina Village shopping area. 
Guests can avail massages, beauty treatments and rejuvenating therapies at the Mandara Spa which is situated near the Royal Towers on the road leading to the Cove Atlantis. You can directly call the Spa for a booking at 242-363-2000. 
There is a 10,000 sq. feet gym that offers Pilates, yoga, rock climbing, tennis and golf lessons apart from regular gym equipment. Two people per room each day can access the gym for free. 
The Atlantis property is splattered all over with boutiques offering tempting duty free shopping and you will find your favorite brands like Cartier, Gucci, Michael Kors, Versace etc. 
The water park and all its ancillary areas are completely accessible to guests of the Reef. There are options of rides for kids of all age groups, couples, families and even seniors. Other interesting experiences include accessing the Dolphin Cove at Reef Paradise Beach which allows guests to swim with dolphins and sea lions. For less adventurous, relaxing on the slow moving river that winds through the tropical foliage is a good option. Another interesting experience is the artificially recreated lost city of Atlantis that offers an exceptional snorkeling destination. 
You need to check the Atlantis Reef section on the Atlantis Website to get details of all meal plans. Usually there are offers of free kid's meals along with purchase of adult meal plans. 
Lots of entertainment options are available like Casino, water sports, kids/ teens clubs, couples only cabanas, Atlantis Theater, library, yacht and fishing charter services, paid guided tours in and around Nassau and Paradise Island. 
Recently launched weekly Junkanoo Bahamian Fest plus Feast is a joyous street parade and a cultural event that's organized every week by the Atlantis management. The art walk in marina village which has food and wine tasting sessions is also a new addition. 
Inclusions in the Resort Fee 
If you stay at the Reef Atlantis then you would have to pay a compulsory Resort Fee (check the latest fee on the Atlantis official website). This resort fee will include the following facilities 
Free use if Wi-Fi in all rooms and lobbies 
Use of the huge Waterpark 
Use of the fitness center (up to 2 guests per room per day) 
In room coffee and tea services and supplies 
2 bottles of packaged water per day per room 
Daily access to Atlantis Movie Theater 
Daily Casino Lessons 
Unlimited Local Calls 
Overall Opinion
At the Reef, the Condo suites are way more expensive than equivalent suites at the Coral or the Royal so it may strike you as pricey though there are more expensive options like the Cove around. However you have to remember that the kitchenette is an added bonus especially if you have kids and seniors in your group. Breakfast at the Starbucks in the lobby and dinner ordered in from Dominoes is also a good option (food at the Atlantis restaurants is mostly expensive). 
You basically have two options at the Reef; buy a meal plan or visit the local markets for grocery shopping. If you are opting for the former option then read the names of participating restaurants. Be aware that tips and gratuities are not included in the meal plan so read all your bills before you sign. 
As mentioned, the pool in front of the Reef cannot be used by other guests and day pass holders so that may be an advantage. You should take care while walking around the pools as decks can be quite slippery and sometimes no attendants are present. 
The Reef is really a pretty hotel but it's quite American in appearance and doesn't have that "Caribbean atmosphere". If exotic is what you are lusting after then you might be a little disappointed. 
For shoppers the Reef is great… Marina village is a short shuttle ride. The Straw Market is quite near… you can just take a ferry downtown and then come back with a cab. For families, the Reef is probably the best option in Paradise Island as lots of kid's oriented activities are available and beaches, markets, amusement parks are all nearby. You also don't have to deal with cruise day passengers and other day pass holders who swarm all over the place during season times. 
Lots of commercials and TV episodes get filmed in the Atlantis complex and while watching these shootings are super fun, you might feel annoyed to see that some areas of the Atlantis are off limits during these times. If you go around October then the rush is low and the whole place is almost deserted… this also means that there are no lines for slides and no reservations required for restaurants. It's rather surprising that the Reef doesn't lower ancillary charges during off season. 
One thing that stands out are the prices… there is a steep fee for everything right from babysitting to movie renting to laundry, and if you are on a budget you might start feeling jittery. The Reef is a pricey destination and you need to plan on ways of economizing rather carefully to avoid overspending. 
Rates provided by booking.com 
How to reach
The Nassau International Airport is 14.8 km away from the Reef Atlantis and you can simply book a cab from the airport to the Hotel. The hotel is located in Paradise Island which is connected to Nassau by bridges. You can also opt for the shuttle service operated by the Atlantis. 
The Reef Atlantis has its own in-transit lounge that's located on the first floor near the elevator. You can use this lounge for early check-ins or delayed departures (check in is at 4 p.m. and check out at 11 a.m.). It has facilities for showering, storing personal goods, dryers, restrooms etc. and guests can continue using all resort amenities… 
Road Map
Contact Info
The Reef Atlantis 
1 Casino Drive  Paradise Island  N-3728  Bahamas  
Phone: +1 242-363-3000 

By Raj Bhattacharya 
Raj, a seasoned travel writer and Bermuda destination expert, has extensive global travel experience. This website reflects his profound insights, garnered over nearly two decades of dedicated findings and research on the island. Raj has assisted countless Bermuda-bound visitors by providing direct, personalized responses to their queries and imparting his wealth of knowledge through this platform. This site serves as an indispensable guide for those seeking informed and reliable insights into Bermuda's treasures. 
Related Articles
Visitors' Reviews and Comments