Top Restaurants
Nassau & Paradise Island, Bahamas
You can find a range of fine dining / upscale options in both Nassau and Paradise Island. There are many internationally acclaimed and celebrity chefs who have their own restaurants here like Nobu Matsuhisa, Todd English, Jean-Georges Vongerichten etc but mostly in large luxury hotels. 
However there are several standalone restaurants that have achieved great heights with quality food, service and ambience... several of them are favorites to both tourists and locals. 
If you are choosing an upscale dining option, a standard meal for two would typically cost about $250 - $300 along with wine or beer. Some formal restaurants would require men to wear jackets. 
Options for cuisine are plenty in Nassau and Paradise Island. You can get great cuisine in the island such as Bahamian, Italian, Jamaican, French, Chinese and even Brazilian. 
Below are the best restaurants in Nassau and Paradise island by popularity. 
Great Upscale andáMid-Range Dining
Cafe Matisse 
(Category: Upscale, Cuisine: Italian, Location: Nassau) 
Although located off the main road (the street would seem like an alleyway), once you enter it's a different world of charm and hospitality. Other than fully air-conditioned inside-dining, you can also dine alfresco under garden umbrellas in the lovely courtyard or if in a group, in a private dining room. Food is excellent, served in adequate portions, there are good choices for vegetarians and even vegans. They have a full bar and good selection of wine. Menu is quite extensive and changes every 6 months.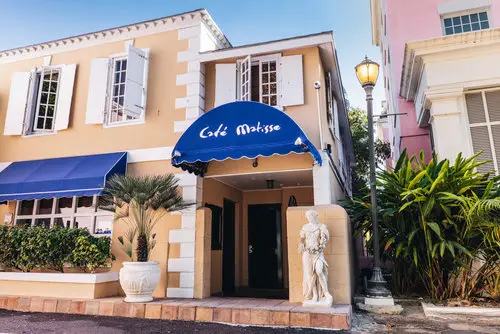 Photo: Cafe Matisse, Nassau 
In appetizers try out one of the following... sliced veal, beef carpaccio, shrimps, lobster salads, fried mixed seafood, crispy fried calamari or stone crab (comes cracked for easy eating). The vegetable or pumpkin soup is also a good option. In entrees here are the favorites... roasted rack of lamb, slow cooked lamb shank (with mashed potato), filet mignon, sliced beef tenderloin, mixed seafood platter (you get assorted lobster, crab, scallops, shrimp and calamari), grilled salmon, lobster tail etc.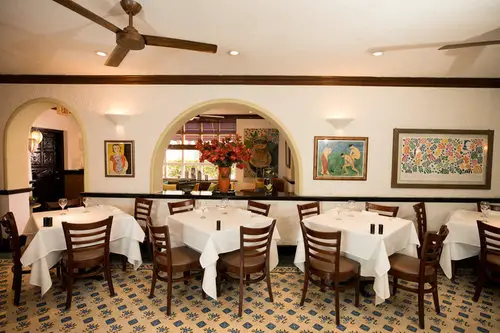 They have many different preparations of pasta and some pizzas as well. You can additionally order a side like French fries, mixed salad etc. Keep some space for desserts... great choices of mousse, strudel, semifreddo, pudding, cakes etc. You can also have a coffee of your choice. 
A dinner for two wold typically cost $200 with wine. The restaurant is family and kids friendly. 
Bank Lane, Nassau. Phone (reservations): (242) 356-7012 
Open Tuesday - Saturday. Lunch 12 noon ľ 3pm, Dinner 6pm ľ 11pm. 
Sapodilla 
(Category: Upscale/Fine Dining, Cuisine: Caribbean, Location: Nassau) 
If you care for fine dining and do not mind spending money for real quality food, then this should be in your 'must visit' list. Many do so especially on special occasions like birthdays or anniversaries. The restaurant is part of a sprawling estate and setup in a lush manicured garden setting... the estate also has a wetland reserve which is home to ducks, cranes, turtles, fish etc.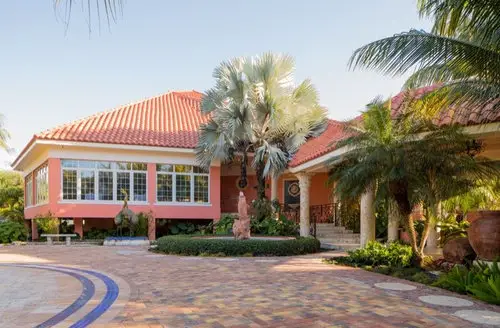 Photo: Sapodilla Nassau 
They offer free pick up and drop... the driver Giles is very experienced, knowledgeable and friendly and will offer a lot of island information along the way and also take you through a tour of the grounds when you return. As soon as you enter the premises and then the restaurant... the ambience is magical... warm lighting, wonderful fine artwork on the walls, live piano, excellent well behaved andáprofessional staff and the furnishing all add to a great dining experience.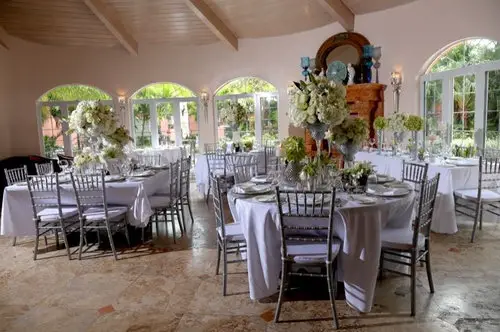 Photo: Sapodilla Nassau 
There are four separate dining rooms and even private cabanas for couples complete with private butler service. There is also a bar and a cigar lounge. 
In appetizers try out the jumbo shrimp cocktails, honey gingered duck breast, smoked salmon, calamari, crab etc. In soups one of the favorites is roasted pumpkin soup or the classic French onion soup. If you order a salad, they usually prepare it table side. Try out the conch salad ... the island special. While they have several pasta dishes, some favorite entrees here includes lamb chops or shanks, veal or pork chops, crusted fillet mignon, beef sirloin, and in seafood go for the cracked lobster or fillet of grouper or snapper. They have good vegan and gluten free options as well. 
Sapodilla Fine Dining Restaurant, West Bay Street, Nassau, Bahamas. 
Open Hours: Tuesday through Saturday, 6.00pm - Midnight 
Phone (reservations): (242) 327-2161, 327-0611 
Nobu 
(Category: Upscale, Cuisine: Japanese, Location: Paradise Island) 
This is a well known and very popular restaurant of Chef Nobu Matsuhisa. Located steps away from Atlantis Casino floor, the entry to the dining room is through a glowing green archway prominently displaying the name 'Nobu'. The main dining room is quite large although there are two smaller dining spaces on two sides as well. Open beams and dim glass lamps hanging from the ceiling, round wooden tables with wooden chairs create a nice ambience. There is also a large bar and hibachi table.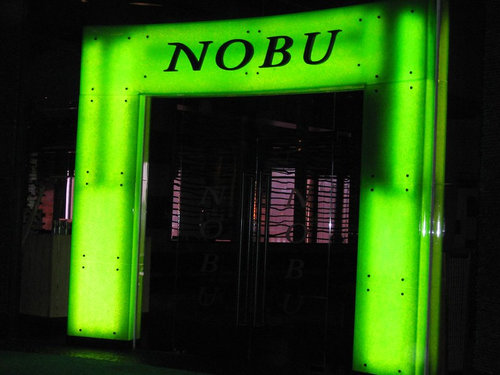 Photo: Trisha Fawver, cc by-nd 2.0 
The restaurant serves extensive menu of Japanese items including Sushi and Sashimi. In fact the menu is so long that you might need to talk to a waiter to help you with the selection. Some of the signature dishes includes Yellowtail Sashimi with Jalapeno (a cold dish), Black Cod with Miso (hot dish) as well as some of the chef's creations from the wood burning oven. 
Other great dishes includes rib eye, lobsters, mixed seafood, tuna taco, beef Sashimi, king crab tacos etc in cold dishes, and shrimp andáMain lobster spicy lemon, scallops wasabi pepper, beef toban etc in hot dishes. There are also a number of items in tempura, sushi and tataki. You can also try out a hand made roll like lobster, crab, yellowtail etc. 
In desserts you get choice of ice creams, chocolate andábanana cakes etc. 
Nobu Bahamas Atlantis, Paradise Island 
Hours: Sunday - Thursday (5:30pm - 10pm), Friday andáSaturday (5:30pm - 11pm) 
Phone: Phone: +1.242.363.3000 
Graycliff Restaurant 
(Category: Fine Dining, Cuisine: Caribbean andáBahamian, Location: Nassau) 
Located little out of the touristy area of Nassau, the restaurant is located in a grand historical mansion originally built in 1740 and had been a private home for rich andáfamous although it went through several major renovations over the years. If you are planning for a high class fine dining, then this is a great place to choose. It is also a hotel. Once you arrive, you will be taken to the cocktail lounge (used to be the library) to savor a complimentary cocktail and listen to live piano as your table is prepared.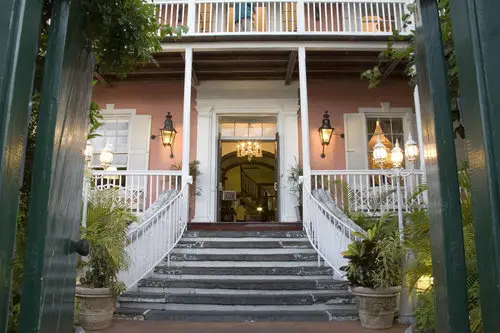 Photo: Graycliff Restaurant, Nassau 
There are four air conditioned dining rooms with immaculate interior and furnishing, and there is also a garden sitting. Waiters are all well dressed and well mannered to offer the type of service you expect. In starters you can try out seafood chowder, lobster bisque, pillows of decadent pasta, escargot, shrimp cocktails, salads etc. 
In main course some favorites here includes veal chop, lobsters, steaks, mixed grill of filet mignon, lamb chop, mahi-mahi with grilled vegetables etc. In dessert try out the Grand Marnier or coconut soufflÚ, or the Bahamian bread pudding with ice cream. Budget about $300 for a meal for two. 
Apart from the fine dining restaurant, Graycliff also has a steakhouse (known as Humidor Churrascaria Brazilian Steakhouse) where you can thrive on seasoned andágrilled meat of various types. There is also a Pizzeria making 12 different hand tossed thin crusted pizzas, and also a Beer Garden. 
Do take some time to visit one of the world's most famous wine cellars here (250,000 bottles from 15 countries making it the 3rd largest collection in the world). Graycliff also offers wine tasting and wine luncheons that includes guided tour of the wine cellar. Traditional afternoon tea is offered from Monday to Friday between 1:30pm to 4pm at Graycliff. 
Graycliff Hotel andáRestaurant, West Hill Street, Nassau. 
Phone: 242-302-9150; Toll Free: 1-855-472 9254 
Dune 
(Category: Upscale, Cuisine: French/Asian, Location: Paradise Island) 
Located at the
One &áOnly Ocean Club
in Paradise Island, the restaurant with its new light decor offers stunning view of the ocean through the windows. There is also alfresco dining with roof cover. This is part of a 5-star hotel and therefore commands high price for high quality food and service. The cuisine is French-Asian with Bahamian influence. It's run by the world known Chef Jean-Georges Vongerichten.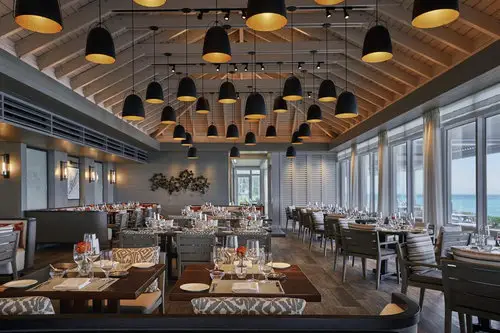 Here are some great appetizers to choose from: Bahamian Conch Salad, Yellowfin Tuna Tartare, Shrimp Cocktail, Chicken Samosa, Crispy Crab Cake, Salt and Pepper Calamari, Lobster Spring Roll etc. In soups andásalads try out the Warm Asparagus Salad or the Steamed Shrimp Salad. And of course other than several different cocktails, spirits and even local rums, they have good selection of wine. 
While there are several types of pizzas which the children would prefer, some of the favorites in main courses are: Local Snapper, Slow Cooked Salmon, Sauteed Grouper, Local Lobster prepared with light curry sauce, Seared Lamb Chops, Peking Duck, Grilled Prime New York Strip etc. In desserts choose from Dune Sundae, Rice Pudding Ice Cream, Chocolate or Banana Cake. 
Dune Restaurant, One &áOnly Ocean Club, Paradise Island, Bahamas. 
Open daily. Breakfast: 7am to 11am; Lunch: 12pm to 3pm; Dinner: 6pm to 10.30pm 
Shima (The Island House) 
(Category: Upscale, Cuisine: South-East Asian, Location: Nassau) 
Great ambience at this roof-top restaurant with mahogany furnishing in the main dining room which opens out to a large terrace where you can also dine open air. The view from the terrace is awesome ... you can see the Lyford Cay Marina and the ocean beyond. You get views even from the dining room if you sit close to the terrace. Another terrace features the bar lounge and overlooks the pool. There is also a separate sushi bar with seating for eight.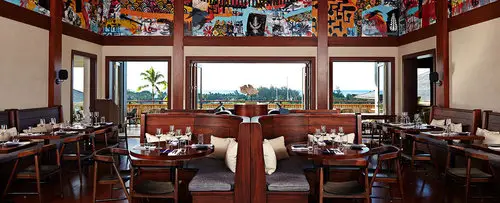 Photo: Shima, The Island House 
The restaurant specializes in Thai, Indonesian and Vietnamese cuisine. You can order starters and entrees and share it with your partner or group. The portions are really large. From the raw bar you can try out Thai crab salad roll, kingfish, tuna or salmon sashimi, shrimp tempura roll etc. Also in starters are pork andácrab cakes, tempura chicken, pork andápeanut dip, pork andáprawn dumplings, shredded duck leg etc. 
If you are a soup lover, try out Malay andáChinese fusion dish... Laksa (served with chicken and shrimps). In entrees the popular items are fried rice or noodles, Thai style butter chicken, beef short ribs, barbeque lamb etc. And there are several types of curries on chicken, pork and beef. They have vegetarian dishes as well in the menu. The wine list is quite good. Budget around $250 for two including wine. 
Service is good... but it can get noisy inside at times. The overall ambience is nice though. Book a taxi in advance as you may not otherwise get one on your return. 
Open: 5:30pm to 10pm (Tuesday through Saturday). 
Shima Restaurant is part of the hotel The Island House. 
Mahogany Hill Western Road, Nassau, New Providence Island 
Black Angus Steakhouse 
(Category: Upscale, Cuisine: Steakhouse, Location: Nassau) 
This is a nice steakhouse and part of the hotel Melia Nassau Beach Resort. The interior is modern and quite impressive. Listen to contemporary jazz and hip as you dine. You get multiple prime cuts... some of the highlights in the menu includes Bahamian Lobster Tail, Grilled Sea Bass with Orange Sauce, Fire Glazed BBQ Pork Ribs, and Beef Empanadas with Chimichurri Sauce. The Tuna Tartar is also excellent and they all come with great flavors. If you are going for the 8oz steak then try out the black truffle and garlic sauce... delicious. You get good choices of desserts and wine as well. 
4914 W Bay Street, Melia Nassau Beach Resort, Nassau New Providence Island 
Open: 6pm to 10:30pm; Phone: +1 242-677-6000 
Wild Thyme Restaurant 
(Category: Upscale, Cuisine: Caribbean, Location: Nassau) 
The restaurant is housed in an impressive colonial style building which has been recently refurbished. With wooden floors and great furnishing, the interior is quite charming and the service friendly. You can dine indoor or outside at the porch. The dining room is not very large though. There is enough car park.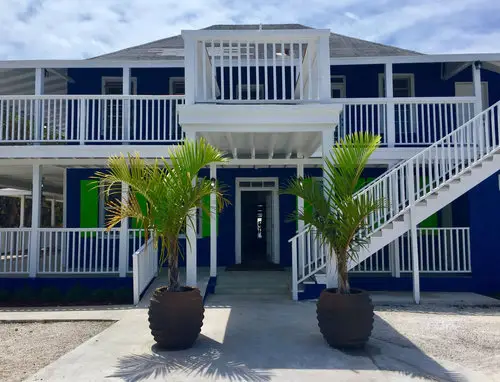 Photo: Wild Thyme Restaurant, Nassau 
In appetizers try out the Ceviche made of Mahi , Conch, Shrimp, Habanero etc. Other options include seafood cake, coconut shrimp, conch fritters (a local favorite), spiced chicken wings, calamari etc. If you like soup, go for curry conch chowder or the lobster bisque. In salads, one of the favorites here is the lobster salad other than Caesar and green salads. 
Photo: Wild Thyme Restaurant, Nassau 
In main courses the choices include seafood risotto, 8oz fillet mignon, pan fried snapper, grilled salmon, Chilean sea bass, jerk chicken (a Caribbean specialty), roasted duck, rack of lamb, spinach andáricotta stuffed pasta etc. 
If you like cocktail, try out their signature concoction Berry Mule which is a mix of vodka, ginger, berries and lime juice. In desserts options are white chocolate guava bread pudding, lemon andávanilla bean tart, chocolate raspberry cake etc. Coffee and tea are also available. They have a kids menu too. 
Open 11:30am to 11pm (serves lunch, dinner and Sunday brunch). 
33 East Bay Street, Nassau, New Providence 
Phone: (242) 393-4107 or (242) 393-4108 
Luciano's of Chicago X CLOSED 
(Category: Upscale, Cuisine: Italian, Location: Nassau) 
A restaurant in a wonderful mansion on a prime location by the harbor side. You can dine alfresco with lovely view of the yachts and harbor, or inside (you can still take a window side table for the views). The menu is essentially Italian with Bahamian specialty. 
In appetizers try out grilled calamari, beef carpaccio (made with thin slices of beef tenderloin) or the Bahamian conch cake. You have choices of salads including Caesar, spinach salad, roasted beets etc. You can then order from a wide range of pasta. Also look for the 'Todays Features'... conch chowder, grilled pork loin, seafood lasagna, fish cakes etc. 
However do try out one of the house specialties like clay pot roasted chicken, beef braciole, lamb shank or the veal chop... they are all delicious. You get nice seafood as well like black mahi mahi, lobsters, groupers, snappers etc and there are nice choices of steaks andáchops as well. Gluten free options are available. They have good selection of Italian and International wine. 
Service is usually good but there can be some waiting time once you order if the restaurant is full. 
Luciano's of Chicago, East Bay Street, Nassau 
Open Hours: Lunch 11:30am - 3:30pm (Monday through Friday), Sunday Brunch 11:30am - 3:30pm, Dinner 6:00pm - 10:00pm (Monday through Sunday) 

By Raj Bhattacharya 
Raj, a seasoned travel writer and Bermuda destination expert, has extensive global travel experience. This website reflects his profound insights, garnered over nearly two decades of dedicated findings and research on the island. Raj has assisted countless Bermuda-bound visitors by providing direct, personalized responses to their queries and imparting his wealth of knowledge through this platform. This site serves as an indispensable guide for those seeking informed and reliable insights into Bermuda's treasures. 
Related Articles
Visitors' Reviews andáComments