One & Only Ocean Club
Paradise Island, Bahamas
Category: Luxury 
One of the oldest properties in Nassau-Paradise Island belt, the One & Only Club was the dream child of Axel Winner Green… a Swedish Industrialist as he aspired to build a Estate of the grandeur of Chateau de Versailles there back in 1939. The dream was brought to life by Huntington Hartford II who owned the fortunes of the Great Atlantic and Pacific Tea Company. He built the first version of the ultra-luxurious One and Only Ocean's Club with an array of 32 rooms and a 18 hole golf course in 1962. 
The Ocean Club, Paradise Island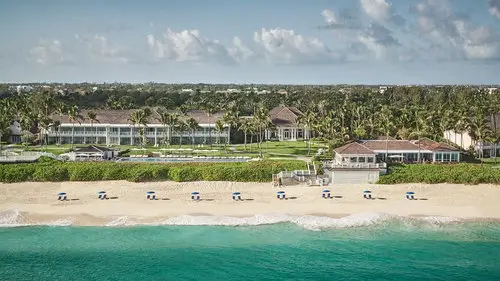 The Club was the playground of the royalty as film stars, dukes, ambassadors, royal families and diplomatic VIP's roamed its grounds. It's said that 10 million dollars was invested in those days by Hartford in the Club… the marble statuary was brought in from France and a gorgeous 12th century
Augustinian Cloister
was brought in piece by piece from France as well. 
Today the club is a Four Seasons Resort and known as
The Ocean Club
. The Club is not the average touristy place in the Bahamas… still today it gives off an aura of elegance and heritage that draws in a very special class of tourists. The club is a great setting… its perched right there on the
Cabbage Beach
… you can reach the Club in 40 minutes from the Lynden Pindling International Airport.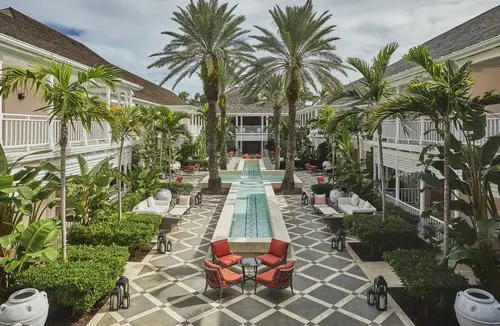 Rooms
There are basically 4 major types of accommodation segregations in the hotel; Crescent Wing, Hartford Wing, two bedroom cottages and 3 bedroom villas. Each of these options have choices of views; you can choose one with a garden/ pool / ocean view with the ocean view rooms being the priciest in each category. 
In Crescent Wing…. The interiors have all been done up by Adam D Tihany …the famous designer who has tried to create replicas of traditional sophisticated versions of Bahamian private homes. All rooms and suites have hardwood doors that open up into balconies or patios with lovely ocean views. The crescent wing section has hammocks splattered all across the garden for the use of guests. 
The wing is more spacious than the Hartford wing and all Facilities are luxurious with a lot of stress on design and décor. There are Mahogany beds, comfortable lounge chairs, bathrooms with twin sinks, walk-in showers and large bathtubs. 
The crescent wing has one luxury beachfront room, 2 luxury suites and 3 double bedroom beach-facing suites. While the beachfront room is 550 ft. sq. in size, the beachfront suite is 1100 sq. feet and has a separate living and sleeping area along with dining space and terrace. 
The 1650 sq. feet two bedroom suites are basically a combination of beachfront suite and a beachfront room with a separating door that can be locked from inside. 
Hartford Wing is distinctly modern in look and feel, designed as it is by Jeffry Beers… the famous designer. The Bahamian color scheme with turquoise and cool blue accents against cool ivory scheme has been kept intact. The Hartford wing is smaller but has nearer access to pools, restaurants and the lobby while the Hartford courtyard with its relaxing options sits at the center of the cluster of rooms.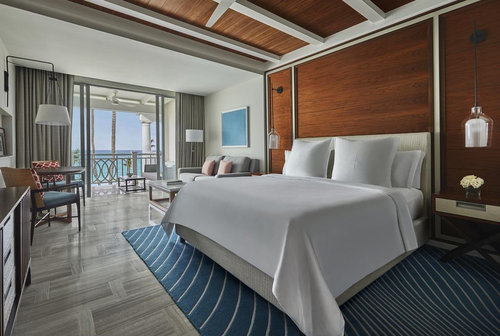 There is 1 garden view room, two ocean view rooms, three ocean view one bedroom suites and four ocean view two bedroom suites in the Hartford Wing... all accommodation options have white wood beams that provide a striking contrast to the wood paneled ceiling. The washrooms have separate bath and rain shower along with double vanities. The beds are king sized and have modern aesthetics with an abundance of fluffy pillows and there is also a queen sized sleeper sofa. 
While the garden view room and the two ocean view rooms are 475 sq. feet, the one bedroom ocean view suite is 975 sq. feet and has a separate parlor meant for entertaining guests. The 1425 sq. feet ocean view two bedroom suites have 2 queen sized beds and a queen sized sleeper sofa with its sculpted terrace, bedrooms and 2 bathrooms making the space great for large groups.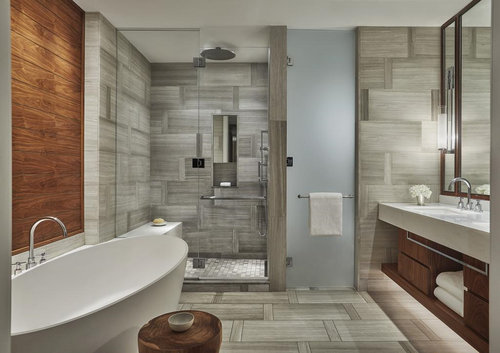 There are two garden cottages; each offering reclusive luxury with their own private garden filled with bright flowers, luxurious living and dining areas, 2 bedrooms and a private courtyard with a plunge pool. Each cottage is 860 sq. feet and can accommodate up to 5people. The décor is egalitarian with French doors and warm toned linen and upholstery. 
The guests of Hartford Wing, Crescent Wing and Garden Cottages are offered a selection of added facilities like faster in room check-ins, free beach bag and luxurious lady Primrose amenity bags. Every evening between 5 p.m. to 7 p.m., cottage guests are served sunset champagne with cold strawberry platters. 
Three ocean facing Villa residences are available with one 3 bedroom and two 4 bedroom options that blend in luxury with privacy on the white tropical beachfront. Each Villa is offset by gorgeous hibiscus and paper rose shrubbery. The 3 bedroom villa is 4400 sq. feet with its own infinity pool, Flat screen TV, DVD Player, Bose sound system. Committed villa service teams with butler, housekeeping, chef etc. are allotted and the doors are all glass sharing views of the sky, ocean and pool. 
Other exclusive features include vaulted ceilings, imported marble floors, and jetted bathtubs and luxuriously shaded dining patios. A fully stocked kitchen is also made available. There are two master bedrooms, two master baths and a separate double bedroom with a bath in the 3 bedroomed villa. 
The 4400 sq. feet 4 bedroom villa has 4 bedrooms (3 king sized and 1 queen sized) along with 4 bathrooms. There are outdoor rain showers, private sun decks, large kitchen, poolside dining options apart from other amenities mentioned above. 
The Villas have a bouquet of special complimentary services like complimentary Don Perignon, complimentary luxury magazines and newspapers, champagne bottle with cheese platter, free beach bag, daily replenished fresh fruits, customized wet bar. Every evening a platter of Chef special Canapes are served in each villa and the guests get preferred seating at all resort restaurants while kids have their own welcome amenities. 
Guests lounging on the poolside get sorbets and frozen fruits for free while those indoors can avail the Kashwere spa robes and slippers. The kitchen is freely stocked with staples while the fridge has nuts, pretzels, chips, candies, tortillas, granola bars and dips. The complimentary Molton Brown amenities are an added bonus…SUV Airport transfers to Atlantis and the Club are also included. 
Check-in's at the hotel are usually very nice with cool towels, welcome drinks and a complimentary tour of the hotel property. Some better priced rooms also come with complimentary presses so no ironing headaches for you!! 
Dining
This hotel has its own curated bouquet of restaurants and bars….all of which are egalitarian options in the higher price bracket. If fine dining is your preference and you don't mind paying premium then check out the following: 
Dune
is artistically set atop a white sand dune bluff that offers a beautiful ocean view. Set up by the famous Chef Jean Georges Vongerichten…the Dune has an eclectic French-Asian menu with a strong Bahamian twist. The restaurant is open from 7.00 a.m. onwards till 10.30 p.m. and it's a nonsmoking place. Dress up for dining at the Dune… it's Resort Casuals for breakfast and lunch and resort formals for dinner and drinks. You need to reserve a place in advance in season time ….call up +1 242 363 2501. Know more about Dune Restaurant by
visiting this page on top restaurants
. 
Dune Restaurant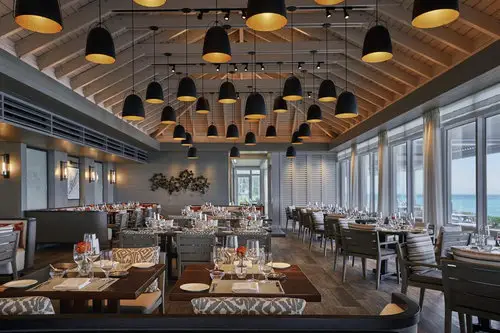 Ocean is a tropical restaurant done up in an all-white theme that's perched right above the lovely shoreline. On offer are seafood based dishes and tropical cuisine along with a range of cocktails. This is a relatively casual dining option and reservations are not always required. 
Versailles Terrace is quite obviously spread out on the terrace with a typically French décor and French menu with Mediterranean twist. Health junkies can rejoice as there are lots of healthy entrees with a splattering of poolside favorites. 
The Dune Bar is done up in all white with the lamps and drinks providing the only splashes of color. The menu is set by Jean Georges and is dominated by cocktails and light meals. The bar is open from 11 a.m. to midnight…the ambience is perfect for intimate drinks and a glamorous evening. 
The Martini Bar and Lounge has been one of the better known bars of Paradise Island. With dark wood furniture, burnished floors and a colonial décor…the Martini Bar is open all day right from 7 a.m. when complimentary cups of steaming coffee is served. Known for its James Bond connection…the Martini is the birthplace of the Vesper Cocktail. Mornings see croquet sessions on the lawn while guests indulge in board games in the evening. The bar is open till 1.00 a.m. and you can call +866520001 to know the status. You need to dress in appropriate resort attire to drop in to the Martini. 
Other Facilities
Aptly titled "one and only spa", the in house spa is a place where you can go for ultimate pampering. There are no less than 8 Balinese inspired villas which offer unique treatments and each one has its own garden. The villas have private changing rooms equipped with waterfall showers, jet baths, and daybeds and there are special massage tables and whirlpool baths for couples. 
The spa villa experience is quite expensive but you have every conceivable luxury like eating strawberries and champagne as a post spa pampering episode. Get greeted by trained staff bearing pitchers of Balinese tea and fresh fruit. Massage and beauty treatments start from 110 minutes and can g up to five and a half hours. There is a lot on offer right from seaweed massages to tri enzyme facials to pro collagen treatment to Balinese Boreh treatments etc. 
The spa has to be booked by prior reservation on +1 242 363 2501 
There is a separate salon offering hair, nail and beauty treatments and there is a whole lot of exotic tropical stuff used by them which sound extremely tempting. The social manicure bar appears to be a popular section. Both the spa and salon are open every day from 9 a.m. to 7 p.m. 
There is a gym with private instructor options and specialized training equipment from technogym, Kinesis systems and one on one training. You can choose to do cardio, Pilates, circuit training etc. or you can choose to participate in fitness sessions that begin from 15 minutes and can go up to hours. 
The gym is open from 9 a.m. to 8 p.m. and there are lots of complimentary stuff like free half an hour kinesis classes, yoga classes on the beach deck, Gatorade and bottled water and fresh towels. Guests can book bicycles for touring the Paradise Island (first come first served). 
There are jogging and biking trails all throughout the resort and these are pretty well maintained. 
Shoppers can revel in the in house Carlo Milano Boutique that sells stuff from runways across the world. For more affordable shopping experiences head downtown or hop off to
Marina Village
. 
The Ocean Club Golf Course is 18-hole par 72 and stretches over 7100 yards and is challenging because of the strong crosswinds. There is a Golf academy that offers PGA certified instructors and golf lessons. The Pure Silk Bahamas LPGA Classic is hosted on the ground every Jan 23rd to 29th so there's really no better place to get a golf lesson!! Only guests of the One and only and the Atlantis are allowed in the course!! 
There are 6 tennis courts and four of them re even equipped for night play. Get the equipment from the fitness center (free of cost)…there are also resident tennis professionals available to coach you. The courts are open from 7.30 a.m. and unlike the golf course their use is complimentary. 
There are three swimming pools and a stretch of private beach where you will have private attendants to serve you sorbets and fresh tropical snacks. 
The Kidsonlyclub is complimentary and has everything from an arts and craft room to book corner to gaming area and a 3d educational facility. Kids between 4 to 12 years of age can join in …staff are fully trained... there are special activities like kids meals, excursions, family pool activities etc. 
The facilities are open from 10.00 a.m. to 5.00 p.m. you can call 856552001 to know all details.  
There are facilities for diving and snorkeling and you can even explore the wall (tongue of the ocean) and the majestic Bahama Bank beaches. Instructors and diving / snorkeling lessons are available for a fee. Wake boarding, wake surfing, jet skiing and many other water sports facilities are offered. 
The hotel offers private half day or full day charters or even overnight ones on request. You can explore the mysterious reefs and cays that surround Paradise Island in a fishing charter or a private yacht. Special fishing excursions are also available sometimes. 
The hotel has superior amenities for handling conferences, meetings, conclaves etc. there is a special team for handling destination weddings, honeymoons and vow renewals. 
Overall Opinion
The Bahamas is an expensive destination and the One and only Ocean Club is pricier than most other options around. That being said, the hotel does offer world class amenities and service. You will get an oasis like calm in most areas of the property that's quite different from the loud atmosphere of the Atlantis. If your room has the butler service then be prepared to bask in exquisite attention …the guys will go out of their way to accommodate requests. The room décor is understated and elegant and lacks the typical Caribbean style and this may seem as a welcome change. 
There are unexpected delights like free sun care products for guests to use while on the beach and rose petal decorations in honeymoon suites. Staff will come running to re adjust your umbrella and stock up your chair with cushions. The lobby has premium versions of scrabble, trivial pursuit and it's a good place for the whole family to bond. Expect extras like packing and unpacking service and nightly turn downs. 
One and only has a business arrangement with Atlantis and all guests can use most Atlantis facilities at no added costs. The hotel has more than 2 shuttles running daily taking guests to the Atlantis and back. The room cards issued by the hotel can be used to buy stuff in the Atlantis too. 
When you are booking rooms, be very specific about what you want… some of the rooms in the Hartford Wing overlook dumping areas and bathrooms. 
Also, it's quite annoying to see that a hotel of this standard offers dinner at only one restaurant… the Dune and that too is not exclusive for One and Only guests. Of course, you can walk or take a shuttle to the Atlantis nearby to dine at any of the restaurants there but still… 
However, you will find that the service and amenities offered succeed in justifying the premium charges demanded by the hotel. 
Rates provided by booking.com 
How to Reach
One and Only Ocean Club is approximately 40 minutes away from Nassau international airport. Book a cab or call for the hotel's airport pick up service. The hotel is in Paradise Island that's connected to Nassau by bridges. 
Road Map
Contact Info
One and Only Ocean Club 
One Casino Drive 
Paradise Island 
Phone: +1 242 363 2501 
Related Articles
Visitors' Reviews and Comments