Royal Towers Atlantis
Paradise Island, Bahamas
Category: Mid-Range 
The Royal towers is centrally located in the Atlantis complex and its one location which offers easy access to almost all Atlantis facilities. The water park main exhibit is right in front of the Royal towers and the casino is very near too. There are lots of great restaurants and beaches nearby and the Marina village is a few meters away. 
Atlantis Royal Towers 
Photo: qwesy qwesy, flickr, cc by 3.0 
The Royal Towers commands a lot of space and most rooms and suites are very spacious. That being said, the Royal Towers fancier suites are pretty expensive though they offer amazing décor and facilities. The Royal tower is one of the oldest and grandest parts of the Atlantis and the facilities are well suited to families as well as couples. 
Rooms
The Royal towers rooms and suites are all luxurious with contemporary décor. You can expect the ocean theme… teal, blue, coral and lemon in all accommodation options and there is none of the typical Caribbean influence. There are six categories of rooms and suites in the Royal tower listed according to increasing tariffs. 
The Guest Rooms have either harbor/ terrace/ ocean views with the ocean view rooms having the prettiest ocean views and the highest tariffs. There are also two special categories of guest rooms… deluxe harbor views and deluxe ocean views. All deluxe view rooms have private French balconies, uninterrupted views of the ocean/ Nassau harbor and special privileges in the sun lounge. All the rooms are located through the 17th till the 24th floor and the elevation gives them better view advantages. 
Atlantis Royal Towers Closeup View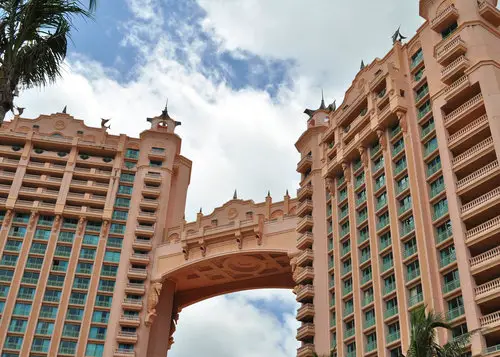 Photo: Noelle, flickr, cc by 2.0 
Common features of guest rooms are either one king sized or two double beds, flat screen large HDTV, a combination of shower and bathtub, digital safe, a separate sitting area, direct telephone lines with voicemail. You get 24 hour room service and tea/ coffee maker in the room too. 
Important room tip: choose the rooms on higher floors … they have better views even if they are not water views. Ask the reception to upgrade you …they usually do that to guests who ask first if upgrades are available. Some of the rooms need repairs and the AC unit doesn't work properly so check all facilities properly before you actually agree to stay in the allotted room.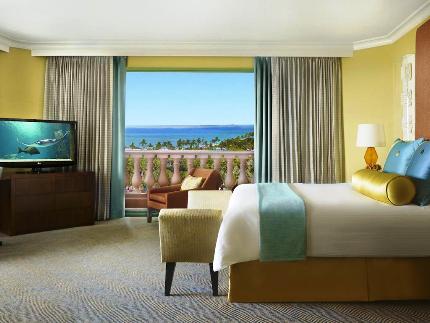 Regal suites have a master bedroom with a king sized bed, walk in closets, luxurious chairs and a private French balcony along with a separate parlor for entertainment and conversations. The parlor has a pretty sleeper sofa, armchairs and a 4 seater dinette. Regal suites are close to the in-house Mandara Spa, fine dining restaurants and the casino. You can book either a one bedroom suite with attached bathroom or a two bedroom suite with two attached bathrooms. There are choices of terrace/ harbor and ocean views too. 
Grand suites are a grand option with a splendid master bedroom with views and a walk in closet. There is a writing desk with chairs and the parlor is much larger with a six seater dinette, arm chairs, full sized couch etc. special amenities include a full service bar, separate walk in shower and whirlpool tub, vanity table and chair etc. all grand suites are ocean view…choose between the one bedroom and two bedroom options. 
Presidential suites offer lavish decorations, larger floor size, private pantries, separate dining area, study rooms and bars. There are his and her bathrooms each with matching décor, separate shower, vanities and whirlpool tubs. 
The Royal suites are done up in dull gold and opulent blue and strike up a decidedly Arabian nights meets modernism feel! The suites are perfect if you love the designer touch… finely cared furniture, gilt edged accessories, expensive carpeting and the privilege of seeing the beautiful ocean from all corners of the suite. The balcony and the parlor are both huge and have ample seating options. There is only a 2 bedroom option available and it's much larger and grander than the presidential suites. 
The Bridge suite is one of the grandest accommodating options in the Atlantis and there are only 10 such suites available… all in the 17th floor of the Royal Towers. There is a 1250 sq. feet living room with grand piano and entertainment center, the dining room has a gold and crystal chandelier and a designer 10 seater dining set and there are 12 foot ceilings with fill length windows overlooking the ocean. Each suite has a staff of 7 butlers and attendants who use a separate entrance. 
All presidential, royal and bridge suites have a bundle of special amenities like welcome hamper, in suite check in, customized concierge service and 24 hour butler availability. Choose between the 1 bedroom and 2 bedroom option…there is a guaranteed ocean view. 
Resort Fee and Inclusions
You need to pay a 49.95 dollar compulsory resort fee. The fee will entitle you to a bunch of facilities as listed below: 
You get access to most parts of aqauaventure with 18 water slides and 11 different pools. 
You can avail two river rides with rapids and exciting waves and enjoy on the three beaches owned by Atlantis 
You get free Wi-Fi, free local calls, and free self-guided tours in Atlantis complex, unlimited time in movie theatre, daily casino lessons and free shuttles between towers  
You will get two bottles of waters per day each room and 2 guests from each room can use the fitness center daily. 
There is an all-inclusive option where guests have to book a minimum 3 day package at specified accommodation options whereby a bundle of extra benefits is provided. Meals and drinks at select restaurants, supply of drinks at participatory outlets, guaranteed water views and access to climbers rush are some major benefits. The surcharge, room tax and gratuity are a part of the all-inclusive deal. 
Dining 
One good thing about staying at the Royal Towers is that there are no compulsory meal plans that you have to purchase. If saving money is your priority then eating at the casual dining places around the pool during the day and then dining out at any of the Atlantis restaurants nearby or trying out the nearby outside restaurants is a better option. 
You will have an extensive room service menu in the Royal towers which has lots of choices but is not affordable for all. There is also compulsory service tax and gratuity on every dining option in Atlantis. 
Location wise, the Royal Towers offers quick access to most of Atlantis's popular dining option. There is no in-house restaurant and that's rather disappointing. You will have Plato's that's a good patisserie that's just off the lobby. The place is ideal for breakfast, late night snacks and dinner. There are 4 large flat screen TV'S in there where you can catch the latest game. Some nights have karaoke and some have other entertainment options. You can call +12423633000 to know more about Plato's. 
There are some restaurants which are less than a km away from the Royal towers and these can be a good choice when you need a quick dining option. Dive Inn, Shark Bites, Marina Pizzeria, the Point restaurant and bar are very near casual dining places. You may also like Mosaic, the Murray's Deli, Virgil's Real BBQ and Jamba juice which are quite near. The Blue Lagoon and Poseidon are good fine dining options for those staying at Royal Towers. 
Voila's is a small affordable open deck eating place that's a stone's throw away from the Royal Towers. Food prices here are about 1/3rd in comparison to Atlantis food rates and the taste is uniformly great. For those who love bohemian style spicy food Voila's will work out great… free salsa lessons are offered once a night and Saturdays are live band nights. If you want to save money then plan some of your meals here. Marina village is quite near and you can explore the popular options there like Daiquiri shack and Carmine's. 
Other Facilities
The Water Park, casino, indoor/ outdoor games facilities (with some exceptions) and library are fully accessible to guests of Royal Towers along with children's playground. 
Unlike other accommodation options like Harborside, every little commodity like extra towels, toiletries, access to kids' TV networks, Wi Fi and tea and coffee extra supplies aren't charged at the Royal towers. Guests can access the outdoor pools, pool bar, water slides, hot tub/ Jacuzzi freely. 
Guests need to pay extra for availing massage, spa therapies, beauty treatments and additional use of gym and fitness center (apart from whatever's listed in inclusions). 
Access to kids clubs, water sports activities, snorkeling, fishing, tennis and golf, diving, nightclub etc. is chargeable. The menu has a kid's friendly section and you can order kids sized meals on request. 
You will have access to family rooms, no smoking areas, special facilities for disabled guests, safety deposit boxes, shuttle service (free inside Atlantis… chargeable outside), and room service. 
Unless specified as a room inclusion daily maid service, butler service and private concierge service is chargeable. However room service is free. 
Some popular attractions that are less than a km away from the Royal Towers are the Marine Habitat at Atlantis. The area around the Royal towers is filled with different pond like areas containing several varieties of marine life and an indoor air conditioned marine environment that's popularly known as the Dig. Show up at feeding times (great activity if you have kids) and you will get free interactive lessons about turtles and stingrays etc. snorkeling is allowed though there is a hefty fee. 
There are 2 indoor caves nearby and you can walk through the marine life observing them at close distance. The shark water slide area where you can slide through the tube and get thrillingly close to the water beasts is great fun. 
As guest of the Atlantis, you have access to all Atlantis facilities including nightclubs, bars, gaming zones, spa, beauty centers, shopping hubs, boutiques etc. 
Overall Opinion
The best thing about Royal towers is its location… especially its proximity to aqauaventure (the water park), Dig, Casino and the beaches. For most tourists these places are the focal points of their holiday experience. 
This isn't a new property and signs of age are everywhere right from some of the upholstery on the furniture to overflowing trash bins to dubious odors at some places in the games area and aquaenture to faulty A.C and leaking faucets. The usual check in times and waiting lines at waterpark, ice cream parlor, popular restaurants etc. is also too high at times. However once you consider the load of tourists who visit the resort daily especially at busy times... Things fall into perspective. There are small yet useful freebies you will learn of once you visit the resort like if you purchase fountain coke… you can keep the cup and refill it at any of the fountains across the resort. 
The food everywhere is expensive and to beat the costs, you might want to carry in a cooler full of water, drinks and packaged meals from the grocery store en route from the airport.  Also have your mid-day meals in the pool side dining options. The meal plan is good if you don't want to dine at a fancy place every night. 
The water park closes at 7 p.m. which is the biggest downside. The dolphin excursions are very crowded after 11 a.m. so aim for early morning trips. If you have visited Atlantis earlier… you would know the water park is very crowded during the day as the day cruise people arrive in masses. Grab your sun shade and pick your favorite spots really early otherwise you can get disappointed. The areas beside the pool get really hot during summer days and slippery too… invest in slippers with good grip to see you through. 
If you are with kids then book rooms on Royal Tower West that's close to kid's pool area. Otherwise the hotel is anyway close to the casino. The drive-up, lobby, grounds and corridors are beautifully maintained… much better than the rooms are in fact!! 
The best beaches are all nearby and it makes sense to hire a cabana for the day especially if you are visiting in summers. Otherwise you can always go a little early to the beach and book chairs with towels (go before 9 a.m.). All in all, the royal towers is a nice, convenient though a bit overpriced accommodation option especially for families with kids in the Atlantis. 
Rates provided by booking.com 
How to reach
The Nassau International Airport is about 14.9 km away and you can book a cab from the airport to reach the Royal Towers. If you are booking presidential suite or more expensive suites then check whether complimentary airport transfers are available (the rules keep changing). 
Road Map
Contact Info
Atlantis Royal Towers 
1 Casino Drive, Paradise Island, Bahamas 
Phone: +1 242-363-3000 
Related Articles
Visitors' Reviews and Comments