Atlantis Coral Towers
Paradise Island, Bahamas
Category: Mid Range 
The Coral towers is centrally located in the Atlantis complex and its one location which offers easy access to almost all Atlantis facilities. Each resort hotel at the Atlantis has shared access to Aqua venture Water Park, the grand casino, golf course and the shopping hubs. Coral Towers which is a part of the Autograph Collection has an important advantage… a good location. 
As a guest of the Coral towers you get easy access to Blu (brand new pool of Atlantis), various shops at Marina Village and Crystal Court and the marine life pools. It is important to note that the coral towers is being renovated between June 2017 to November 2017 and some areas including the in-house swimming pools will be affected (substitute access to outdoor pool will be provided), slides and few restaurants. The renovations were pending for a long time since guests have been complaining about the design flaws and dated look of the coral towers. 
Like Royal Towers, the Coral Towers is family and kid friendly though it offers rooms at lower prices than Royal. The nearest beach is Paradise Beach that is 1.4 km away. 
Rooms
There are two kinds of rooms that are newly renovated in the coral tower; Deluxe and Premium with Deluxe rooms being more affordable. 
All deluxe rooms have subtle ocean themed white and pastel shaded décor with coral and light gold accents. The room contains either a king sized or two queen sized bed, HDTV and cabinet small dresser and small dining table with chairs and a balcony. The balcony which has two chairs and a small table either overlooks the resort grounds or the harbor or the ocean (distant view) depending upon the position of the room. The bathroom has modern fittings and a combined shower tub along with vanity case. The bedding, tiling and décor are all newly refurbished. 
Coral Towers Resort, Atlantis 
The room sub types are deluxe king room, deluxe double queen room and deluxe 2 bedroom penthouse suites. The 2 bedroom penthouse suites have two bathrooms and 2 bedrooms and water views. 
The premium rooms are much larger and start from 420 sq. feet. The premium king rooms offer terrace and harbor views that overlook the marina. The balconies are fully furnished and there are extra amenities like settees in the room. The double queen rooms don't overlook the marina though all other features are same. The suites are of two types; the regal suites and presidential suites. You can choose between the 1 bedroom regal suite (546 sq. feet) and the 2 bedroom regal suite (600 sq. feet) both of which have a parlor with sleeper sofa apart from bedrooms, bathrooms and French balconies. 
Premium Room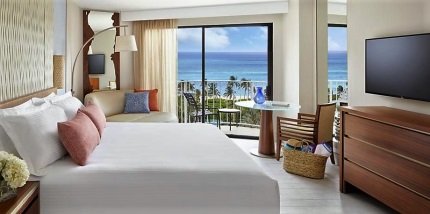 The 1 bedroom presidential suite is 600 sq. feet while the 2 bedroom version is 866 sq. feet. There are amenities like digital safe, direct phone lines, tea/ coffee maker and 24 hour room service in presidential suites. 
Room Tip 
The Coral Tower is a little far off from the ocean and the ocean views will allow you a distant view while the water views are mostly of the resort pools and marine habitats. Look for rooms on the higher floors…these have better views. Ask for a room with a balcony that's near the Beach End of the Coral Towers…if you can get a room overlooking the Shark Pond or any other active marine life pool it would be great. 
Exclusive Presidential suite Offer:  
All presidential suites have a bundle of special amenities like welcome amenity kit or a Bahamian hamper, in suite check in, pre arrival concierge service and 24 hour butler service. Choose between the 1 bedroom and 2 bedroom option…there is a guaranteed ocean view. 
Resort Fee and Inclusions
At the Coral Towers, all guests need to pay a 49.95 dollar compulsory resort fee. The fee will entitle you to a bunch of facilities as listed below: 
You get access to most parts of aqauaventure with 18 water slides and 11 different pools. 
You can avail two river rides with rapids and exciting waves and enjoy on the three beaches owned by Atlantis.  
You get free Wi-Fi, free local calls, and free self-guided tours in Atlantis complex, unlimited time in movie theatre, daily casino lessons and free shuttles between towers  
You will get two bottles of waters per day each room and 2 guests from each room can use the fitness center daily. 
It's important to note that compulsory gratuity and surcharge is charged over all restaurant meals. This hikes up the bills and leaves no incentive for the staff to work extra hard for pleasing the customers. 
Dining
One good thing about staying at the Coral Towers is that there is no compulsory meal plan so you can basically dine wherever you want. Coral Towers is near most of the great Atlantis restaurants and you can walk across to most of them. However Sun and Ice is the only in-house dining place which by the way basically deals in desserts i.e. ice creams, sorbets and gelatos. 
The place is newly renovated and presided by Chef Wayne Moncur who serves up some really awesome flavors. Sun and Ice favorites are Irie Nuts (peanuts, pecans and almonds), Yea Bey (soursop ad Caramel banana), sea grape etc. you can even taste rum and liquor sprinkled scoops like Bahama Rock, Funky Nassau and Rat Bat. Sun and Ice is open every day from 11.30 a.m. to 10.30 p.m. 
There is an in house Starbucks outlet so you don't have to go far to get your daily caffeine fix. The outlet is open from 6.00 a.m. to 11 p.m. 
If you walk off the lobby and go near the marina…you will find the Marina Pizzeria that serves a good selection of pizzas and pies. 
Murray's Delicatessen is another good nearby option and it has a nice breakfast spread with a menu inspired by a New York Deli. On one side of the Coral Towers is the Lagoon Bar and Grill that serves casual food options and a great view of the marine life in the Predator Lagoon. 
If you want fine dining then walk up to the road leading to the convention center…right before you reach Beach Tower are 3 other restaurants with sophisticated menus. While Chop Stix serves Chinese with a Caribbean twist, Casa D' Angelo serves Italian food and the Bahamian Club is a refined steak house. All are kid friendly but these will require you to dress up… at least in resort attire!! 
Alternatively you can buy a dining plan which will give you a fixed number of options of restaurants from where you can have your meals. This can be a little expensive and is not recommended if you are on a budget. 
Marina village is quite near and you can explore the popular options there like Daiquiri shack and Carmine's. 
If you want to try restaurants nearby the Atlantis then some popular options are Double Dragon Chinese Restaurant, Newsbit's Delaporte Restaurant and Blue Lagoon Seafood Restaurant. 
Other facilities
The Water Park, casino, indoor/ outdoor games facilities (with some exceptions) and library are fully accessible to guests of Coral towers along with children's playground. 
There's a kid's car racing facility called the Speedway that's right inside the coral towers. Children are given a short tutorial on operating the cars and then they can race a car or even choose to build their own version of a remote controlled race car. Each session of about 40 minutes costs around 25 dollars which is affordable by Atlantis standards. 
The Blu Pool at Coral towers is under renovation and will only be ready during fall season. Till that time the guests can use the River Pool at the Beach Tower which is quite near or whichever other Atlantis Pool they choose. You can't access the adult only pools near the Reef and Cove if you are with kids. 
If you are travelling with kids then you can bring your own stroller filled with kid's beverages and water near the pool (the resort allows it). There are pool bars and basic food outlets near the pool which supply drinks and snacks at more affordable rates than the regular Atlantis Restaurants. 
Guests need to pay extra for availing massage, spa therapies, beauty treatments and additional use of gym and fitness center (apart from whatever's listed in inclusions). 
Access to kids clubs, water sports activities, snorkeling, fishing, tennis and golf, diving, nightclub etc. is chargeable. It's recommended to book activities like Swim with the Dolphins and Kids Club membership in advance because there is a huge rush. 
The menu has a kid's friendly section and you can order kids sized meals on request. 
A service called Kids Concierge Service is open from 10 a.m. to 7 p.m. in the lobby of Coral Towers and they do bookings for kid's experiences like feeding stingrays, swim with dolphins etc. They take bookings for stroller rentals, kids clubs and supply kids menus besides providing info about children's activities happening around the Atlantis. 
You will have access to family rooms, no smoking areas, special facilities for disabled guests, safety deposit boxes, shuttle service (free inside Atlantis…chargeable outside), and room service 
Unless specified as a room inclusion daily maid service, butler service and private concierge service is chargeable. However room service is free. 
The Dig (a section of aquarium) and Aqua venture water park are both near the coral towers. While some slides at Aqua venture are being renovated… the Dig is still unaffected. Show up at feeding times (great activity if you have kids) and you will get free interactive lessons about turtles and stingrays etc. snorkeling is allowed though there is a hefty fee. 
There are 2 indoor caves nearby and you can walk through the marine life observing them at close distance. The shark water slide area where you can slide through the tube and get thrillingly close to the water beasts is great fun. 
You being a guest at Coral Towers get access to all Atlantis facilities including nightclubs, bars, gaming zones, spa, beauty centers, shopping hubs, pools etc. 
If you are travelling for business, you can find Coral Towers convenient…the conference facility is right next door. 
Payment integration at Coral Towers like the rest of the Atlantis is very convenient. Your room keycard can be used on the Atlantis premises to buy everything from drinks to perfumes to dresses. You can keep a track of your bill on TV in your room…make sure that you tally all the expenses and claim corrections/ mismatches at the reception. 
Overall Opinion
The best thing about Coral towers is its location… especially its proximity to Marina village, restaurants, aqauaventure water park, aquarium lagoon Dig, Casino etc. these would anyway be the highlight points of your holiday experience. The newly renovated rooms at the Coral towers are another advantage…it's always nice to have a spanking new room to oneself while on a holiday. The coral towers is also cheaper than the Royal towers and many other Atlantis properties. The Dunkin Donuts and tiny grocery store (water sold here is about 50% cheaper than the resort bottled water) near the main entrance of the tower, Sun and Ice and Starbucks inside the tower are other advantages 
As you drive up to the Coral towers…you won't be impressed with the design of the lobby, surrounding foliage and the driveway. Hopefully these areas will be renovated soon. 
There is no microwave in the rooms (even in the pricier suites) and that's bad because the Atlantis restaurants always serve up huge portions and you can't heat up the leftovers later if there isn't any access to a microwave. There isn't a kitchenette or any other option to rustle up your own meals. Guests on a budget at Atlantis usually look for a way to reduce the exorbitant food bills and at the Coral Towers there are few options to do that. 
As mentioned construction is on at the Blu (coral tower pool) so if you have to rent a Cabana then the pool near Beach Tower or the Royal Tower is the most convenient location. Beach towel supply is plentiful… this is one free service the Atlantis is not stingy about. Customer service standards are not always uniform… with the compulsory gratuity… the staff treat it as just an ordinary job as there is no incentive for great performance. 
Overall, the Coral Towers is good for people on a budget but the ongoing renovations have dampened things a bit. 
Rates provided by booking.com 
How to reach
The Nassau International Airport is about 19 km away and you can book a cab from the airport to reach the Coral Towers in about 35 minutes. The hotel is in Paradise Island that's connected to Nassau by bridges. You need to check whether complimentary airport transfers are available (the rules keep changing). 
Road Map
Contact Info
Atlantis Coral Towers 
One Casino Drive, Suite 21, Paradise Island, Bahamas 
Phone: +1 242-363-2000 ext. 66774 
Related Articles
Visitors' Reviews and Comments