Melia Nassau Beach Resort
All Inclusive, Bahamas
Category: Mid-Range, All-Inclusive 
The Mellia Nassau is located right on the Cable Beach and is at a convenient distance both from downtown as well as International airport. The resort has 3 large pools, 7 dining places ad 4 bars along with artificial sea facing waterfalls and 2 hydro massage tubs. Other facilities include gym, free WI fi, free shuttles to important entertainment hubs and added facilities like ballrooms, Gazebo and meeting rooms.  
Melia is an all-inclusive resort that is built to compete with Atlantis and though its facilities are less grand than Atlantis, it offers the all inclusive experience at a decent cost. 
Rooms
Rooms at this hotel have modern and minimalistic décor minus the typical Caribbean touch…this may work either as an advantage or a disadvantage depending upon your aesthetic preferences. Rooms overlook either the garden or the pools or the ocean. 
Melia Nassau Beach Resort 
Rooms have some common amenities like flat screen HD TV Sets with a selection of cable channels, hair dryer, mini bar (water, soda and local beer that's refilled daily) and a dedicated lap top safe. The bathroom has an amenity kit while the duvet and pillows in the bedroom are hypo allergic. Free coffee supplies and a coffee maker along with an ironing set is also available. All rooms have telephones with voice mail facility and a radio alarm clock. 
There is free WI fi in rooms, wake up alarm call services and free daily housekeeping. Room service is also free apart from certain rooms where a small fee is charged. You can ask for connecting rooms and extra beds and cots. 
The classic rooms with Island views are the most affordable option here with 333 sq. feet floor area and a predominantly white theme with dark wood finished furniture. You can see the New Providence island from the attached balcony or patio and there is either one king sized bed or 2 double beds in the room. 
The deluxe rooms with the pool views are 333 sq. feet in size and while their décor is slightly more elaborate. The design theme remains modern. Large French windows open up to balconies with comfortable chairs and side tables and views of the in-house pools. Available with either a king sized bed or 2 double beds. 
Ocean View Room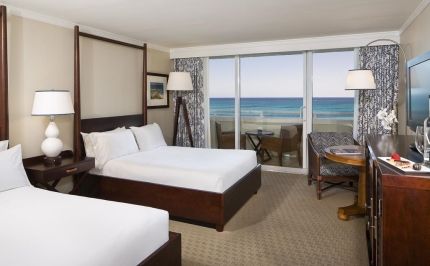 Extra facilities at The Level Floor 
All rooms on the Level have some unique facilities like access to the Level Lounge, and Level Beach area apart from iMac business center access (meeting room available for 2 hours per guest) and private speedy check ins. The lounge has nice facilities like free tea and coffee whole day, snacks and continental breakfast (level lounge)/ hot breakfast (O Grille Beachfront restaurant). 
All guests at the Level can avail preferred bookings at in house restaurant, wider selection of top liquor brands, no fee on room service (6 a.m. to 11 p.m.) and a special mystery gift. Rooms at the level have bathroom robes and slippers for guests. The preferential treatment begins right at check in with pre arrival concierge service, welcome drink and Oshimori towels. 
Two bedroom ocean facing suites are on the Level on the higher floors of the hotel…they have subtle ocean themed décor and wide views of the Atlantic Ocean. There is a living room with a sofa bed and the bedroom has 1 king or 2 queen beds. These rooms have aromatherapy features are 1300 sq. feet in size along with a balcony. 
Inclusions in the all-inclusive offer
Melia is an all-inclusive resort i.e. you cannot just pay for accommodation and stay here. There is a fixed fee according to each room type and that includes room accommodation along with the following things: 
Meals will be arranged in a combination of buffet and A La Carte system in the restaurants Aqua (Italian), Nikkei (Asian), O Grille (bbq), Estavida (Spanish), Cilantro (Mexican) and the Market Place (international). Guests can optionally dine at the Black Angus with a special discount code though meals here will be chargeable. 
A variety of evening entertainment activities are included and they comprise of live music, local dance performances, karaoke etc. 
Guests can send their kids to the kids club which have trained staff on duty the whole day. There is childcare services and tailored activities for kids between the ages 5 to 12. 
There is a 24 hour open fitness center that has weight machines, cross trainers, training bikes, flat screen TV's and bottled water and towel service. 
Guests can opt to play volleyball, basketball or water sports …there are even options for aqua aerobics.  While snorkeling, kayaking, water biking and paddle boarding are free…scuba diving facilities are provided at an extra charge. Dance enthusiasts can avail the free Caribbean dance classes. There are dedicated fitness classes, yoga sessions, stretching classes and even options for lighter things like Bingo and straw weaving. Entertainment shows, live music sessions and salsa nights are also held. 
Access to three temperature controlled pools with artificial waterfalls and 2 hydro massage tubs. There is an adult's only pool with DJ and poolside bar along with a selection of activities. Kids can have fun at the special kid's pool that's adjacent to the Kid's club. For quality family time…there is the family pool. 
Lifeguards are on duty from 7.30 am to 5.30 p.m. only and the beach towel service is on only during this time. Lots of lounge chairs and shades surround the pool. 
Access to the 5 in house meeting rooms and the 3810 m sq dance hall is free and guests can use the Gazebo for weddings (you have to pre book). 
Free Wi-Fi throughout the resort, in the outside spaces, lobbies and even on some areas of the beach. Unlimited number of local calls, luggage storage, concierge service. 
Free shuttles run to the Baha Mar Casino and the Golf Course and Tennis Court. Free beach towels. 
Some features of the all-inclusive do not seem like a service at all…the hotel website mentions services like 24 hour reception desk service, free security and connecting room facility as a service. Surprisingly common services that are usually free at all-inclusive resorts like airport shuttle, room service, tour desk are not free here. 
If you stay in a premium room then you get access to The Level which has a bundle of services free for guests staying at The Level floor. As mentioned earlier in the rooms section, access to private lounge and beach area, online newspaper access, personalized concierge service, breakfast, snacks and drinks, preferred restaurant bookings, discounts at Black Angus and special amenity hampers are a part of The Level experience. The Level Lounge that's exclusively for The Level Guests is a nice looking place with a selection of premium drinks and other facilities. 
The Melia all Inclusive is not very near the regular tourist attractions but you can check out some good places like Fort Fincastle, Clifton Heritage Park, Bonefish Pond etc. Booking a cab and then seeing all nearby attractions in a day trip is a good idea. The Atlantis Resort is about 12 km away and visiting its numerous attractions can also be an option though Melia doesn't have a commercial tie up with Atlantis. Alternatively you can go Downtown Nassau which is about 9 km away (there is a bus that will pick you up right in front of the resort). 
Dining
There are 6 restaurants and 2 bars that you will be visiting as a part of the all-inclusive offer for your meals. 
Cilantro 
It's a Mexican restaurant with a casual yet sophisticated feel about it. Your meals here will mostly be supplemented by a Margherita trolley. Signature dishes are pork tenderloin with braised chard, chicken fried tacos and grouper with green ceviche 
Timings: 6.00 p.m. to 10.30 p.m.  
Dress code: casual resort wear/ casual elegance 
Nikkei 
It offers a mix of Cantonese, Peruvian and Japanese food along with a dedicated Teppanyaki corner and a Sushi bar. This restaurant has a modern energetic feel to it with its white globe lights and minimal décor. Signature dishes include Japanese style chicken curry, fish bass with mango sauce, crispy Thai salad, avocado and salmon cevinche. 
Timings: 6.00 p.m. to 10.30 p.m.  
Dress code: casual resort wear/ casual elegance 
Aqua 
Quite deceptively named, this is actually a rustic Italian eating joint with non-descript décor and red and dark wood furniture. The menu comprises of decent selection of pizzas, pastas, aperitifs, soups and salads along with select red and white wines 
Timings: 6.00 p.m. to 11 p.m.  
Dress code: casual resort wear 
Estavida 
This is more of a sleek lounge with nice glass and all white décor. Set in the lobby of the resort, Estavida specializes in Tapas and many kinds of cocktails and has a lounge bar inspired menu. The apricot sangria and the Gin peel tonic is famous here. Arguably one of the best places in Melia to have a late night drink, 
Timings: 5.00 p.m. to 1.oo a.m.  
Dress code: casual resort wear/ casual elegance 
Market Place 
Again named rather unsuitably, this is easily the prettiest restaurant at Melia… all white and pastel décor spread  over a major chunk of the outdoor terrace with views of the tropical garden. The menu is international with selections all over the world though the focus is on pasta, vegetable dishes, rice preparations and dessert. One of the few dining places in the hotel that serves all 3 meals and is open all day!! 
Timings: 6.30 a.m. to 11.00 p.m.  
Dress code: not required/ casual 
O Grille  
This place is open and and right there besides the beach. The décor is appropriate with dried palm leaf shades and beach chairs. A Caribbean buffet is held every week and a selection of sea food and salads are the highlights of the menu. Don't miss the innovatively named Caribbean cocktails. 
Timings: 11 a.m. to 6.00 p.m.   
Dress code: casual resort wear/ beach wear 
Wet Bar 
This is the pool side bar serving mostly alcoholic beverages, cocktails and some mock tails and nonalcoholic beverages along with bottled water. Your order can be delivered directly in the pool or on the beach. 
Timings: 10.00 a.m. to 6.00 p.m. 
Black Angus 
The grandest fine dining place at Melia…this restaurant isn't included in the all-inclusive plan. You need to pay extra for your meals here…the décor is classy and the whole place gives off the vibe of a typical 5 star dining place. The menu has specialties like Bahamian lobster, grilled bass in orange sauce, glazed bbq ribs and red meat empanadas in Chimchurri sauce. 
Timings: 6.00 p.m. to 10.30 p.m.  
Dress code: dressy casual  
If you book the non premium rooms then mostly your breakfast buffet will be arranged at the Market Place which has an okay buffet spread. For The Level guests there are options of breakfasting at the Level breakfast area... this overlooks the beach and O Grille. The Black Angus is the best restaurant inside Melia followed by the Nikkei and Tapas…the menu at Aqua is a little limited while food quality is not very consistent in Cilantro. 
If you wish you can explore the nearby dining options…most of these restaurants can be reached in 20-30 minutes. Blue Lagoon restaurant (seafood), Double Dragon (Chinese), Sakura Sushi (Asian), Nesbit's Delaporte (International) and Spritz Wine Bar. 
Other facilities
If you are travelling with kids then you can bring your own stroller filled with kid's beverages and water near the pool (the resort allows it).  
Laundry, ironing etc is available at added charge. 
Guests need to pay extra for availing massage, spa therapies, beauty treatments at the Day Spa and Salon. 
Medical services and doctor on call are available. 
The menu has a kid's friendly section and you can order kids sized meals on request. 
A service called Kids babysitting Service is open from 10 a.m. to 7 p.m. is available at an added charge. You can contact the kids club for more details. 
There is an in-house gift shop and some boutiques and retail stores to shop from. 
Tour desk provides tour plans, guides and arranged day trips at an added charge. Taxis, rented cars and valet parking is chargeable. 
If you look at the entertainment facilities…the in house ones are just Karaoke, live bands and the occasional DJ night. For better entertainment options couples can take the free shuttle to the Baha Mar Casino 
Overall Opinion
Upgrading to The Level is a good idea if you can afford it. With so many premium options of drinks and all the extra benefits the difference in price will give you good returns. Also you get faster check in and personalized concierge service along with options of a nicer breakfast at O Grille (here your food is made to order unlike the Market Place which has a buffet). The Level Lounge and the Market Place are the least busy places and you can always grab a drink or snack at these places. For dinner all the restaurants are mostly packed so you need reservations (book well in advance at least). Otherwise you may find yourself dining every day at the Market Place. 
You will notice that while the staff is friendly, the servers are a little slow. The logical explanation is that they run on Island time and not hurrying is their culture. If you come here in the summers, bring your own water supply …the staff will come at hugely spaced intervals to check on you and it will become a problem to keep yourself hydrated. The resort doesn't charge any compulsory gratuity so you can tip nicely in order to ensure better service. The resort doesn't seem to be stingy with its towel service. 
Rates provided by booking.com 
How to reach
The Nassau International Airport is about 9 km away to the west and you can book a cab from the airport to reach the Melia All Inclusive in about 13 minutes.  
Road Map
Contact Info
Melia All Inclusive 
Nassau West Bay Street, The Bahamas 
Phone: +1 242-327-6000 
Related Articles
Visitors' Reviews and Comments