Grand Hyatt Baha Mar
Nassau, Bahamas
Category: Mid-Range / Luxury 
The Grand Hyatt's Baha Mar literally means paradise garden on the beach (the resort is on Cable beach). Best known for the grand Baha Mar Casino which can rival the one at Atlantis, there is also a lovely spa  ESPA Baha Mar apart from several pools, in house night club and many restaurants. 
There is a racquet club, a large event hosting space and a gaming space in the Baha Mar and the resort is known as one of the best luxury resorts in Nassau. Being a part of the Hyatt legacy, the Baha Mar promises luxurious living and high standards of customer service. 
Regular guests of Hyatt can use their privilege points and perks here…. the details of which should be confirmed with the customer service team there. 
This is one of the best known resort with 1800 rooms that is just 9km away from Nassau International airport and a short distance away from Atlantis Aqua venture Water Park.  The Grand Baha Mar is right next to the Melia Resorts. Several of the facilities including the famous water displays and the sea turtle section are being repaired and will be re-opened soon. 
Grand Hyatt Baha Mar, Nassau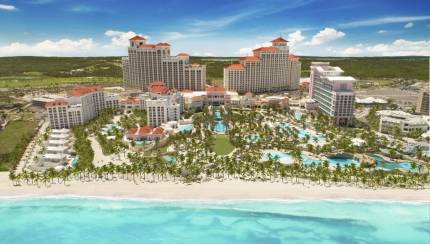 Rooms
The rooms at Baha Mar are elegant, modernistic with the island theme running prominently through its décor. The color palette is blue, white and light pastels with subdued lighting and bouquets of hot house flowers….the typical Caribbean elements are notably absent. 
The views encompass snow lake mountains, island or/ and the sea. The suites and rooms all have either a Juliet balcony or a full balcony. 
A bundle of common amenities is present in all Baha Mar rooms and these include the following: Each room has free Wi fi and 24 hours room service along with i-phone docking stations. There is a 48 inch flat screen TV, ironing board, coffee supplies and coffee maker and an electronic safe in the room. There is a hamper of luxury hair and skim amenities that's placed in each room and there is video on demand supply service. Each room/ suite has a stocked mini bar. 
Island View Room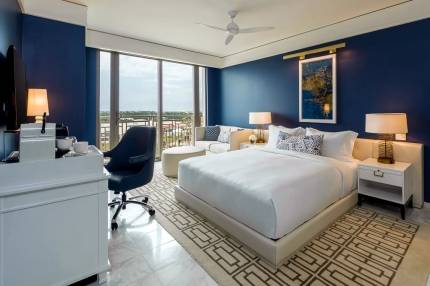 The 470 sq. feet big standard rooms either have one king sized or 2 queen beds. There is a side table, writing table with ergonomic chair and ceiling to floor windows in all such rooms. 
The view rooms are also 470 sq. feet in size and have either a king sized bed or 2 queen sized beds. The balcony opens up either to the ocean or the snowy fountain in the resort. There are floor to ceiling windows and a writing table-desk, side table, wardrobe etc. apart from other amenities. 
The 470 sq. feet deluxe rooms have one king or two queen beds and there is a settee apart from the regular writing table, wardrobe unit and side table. The balconies of deluxe rooms are fully furnished and mostly have ocean views. 
The 470 sq. feet grand club rooms have the choice between kings sized bed or 2 queen sized beds and there is a sofa, writing table and desk along with wardrobe and side table in the rooms. These rooms have access to the Grand Club Lounge which has a lot of special privileges. 
The suites range between 694 sq. feet to 1038 sq. feet in size and only have large king sized beds. There is a fully furnished large balcony and a separate sitting area with settees and sofa. The suites also have access to the Grand Club Lounge. 
The villas have one king sized bed or two king sized beds (depending upon the number of bedrooms) and the floor area ranges between 1220 sq. feet to 1935 sq. feet. Guests of villas will have access to private pools and cabanas. Villas have separate sitting areas and living areas apart from bedrooms. 
The grand baha mar residences are intended to create a holiday home like vibe as they are completely residentially inspired. You can opt for residences with 1 king bed/ 1 king and 2 queen beds/ 3 king beds/ 2 queen beds depending upon the size and structure of your group. The residences have full fledged kitchens and washers and dryers. The residences are available in 2 bedroom or 3 bedroom versions and their floor area ranges between 910 sq. feet to 4815 sq. feet. 
All bedrooms in Grand Baha Mar have attached bathrooms with modern amenities and bathtub shower combos. 
Dining
The Grand Hyatt Baha Mar gives guests a wide choice when it comes to cuisine. There are 8 restaurants, 12 bars and 2 cafes each with its own flavor and unique style of décor. Most restaurants are open daily and some have poolside and beach side service. The range is good and whether you prefer Mediterranean or local Bahamian or European or comfort food…you are sure to get something that will appeal to your palette. There is also a 24 hour in room dining menu. 
The 3 tides is one of the most popular restaurants here and the 3 open theater kitchens make for an interesting watch. Dotted over with lively Bahamian art, the 3 tides serve international food with a special section for pizzas and a nice raw bar. The restaurant is open from 7 .00 a.m. to 10.00 p.m. daily and serves all 3 meals i.e. Breakfast, lunch and dinner. 
Katsuya is notably one of the best Japanese food joints in Nassau and is under the supervision of master sushi specialist Chef Katsuya Uechi. The restaurant looks nice and the interiors are designed by the famous Philips Starcks. The Katsuya is open from 5.30 p.m. to 11.00 p.m. from Tuesday to Saturday. 
The Drift is a typically casual poolside café that serves pan Latin and north American cuisine. This one offers quick poolside service and a good range of beverages, cocktails and mock tails along with nibbles apart from heavier dishes. Open from 10.00 a.m. to sunset daily. 
El Jefe offers fusion Mexican food or Mexi Cali Sopes and provides peach side service. There is a cute retro pink airstream on the beach where you can sit and sip on the selection of margheritas on the menu of El Jefe. This one is open from 8 00 a.m. to 6 p.m. though you can order drinks till 7 p.m. 
Stix is a Pan Asian noodle bar that's right beside the Baha Mar casino. It caters mainly to the Casino crowd who satiate their hunger pangs here between rounds of games. This one opens at 4.00 p.m. daily and closes at midnight. 
Palms is known for its delectable 12 different kinds of frozen cocktails apart from a distinctly casual themed menu. This place is good for light tropical bites and casual meals. The palms is open from 10.00 a.m. to sunset. 
The Royal Blue Tavern is in the Royal Blue Golf Course and it's primarily meant for light meals before and after you tee off. This place is open from Monday to Thursday between 11.00 a.m. to 8.00 pm. 
The Swimming Pig is known for the 12 different kinds of beers it serves (all from taps). This is a place that has an all-day breakfast menu apart from typical pub food. Swimming pig is open all hours every day and serves breakfast, lunch, dinner and late night meals. 
The Bar Noir can accommodate 52 people at one go and is entirely done up in black and white. The casino music vibrates through this bar and there is a range of nice cocktails and Bahamian food. The Noir opens at 11.00 a.m. till midnight every day. 
H2O is the poolside Bar at Baha Mar and it specializes in frozen food specialties and local cuisine. You can simply swim up to H20 and order what you want. This bar is open from 10.00 a.m. to sunset every day. 
Daqs serves basically daiquiris and is placed near the pier which incidentally commands nice views.  The Bahamas is famous for frozen fruit daiquiris and here they are available at reasonable rates... the Daqs is open from 10.00 a.m. to sunset everyday. 
Elixir is located on the pool deck and it offers frozen drinks, local snacks and classic drinks. Elixir is open from 10.00 a.m. to sunset daily. 
Blue Note Lounge is a lounge bar which plays jazz music with a Bahamian touch. There is a team of mixologists and bartenders who whip up fusion tracks and fusions cocktails respectively. The blue note is near the lobby of the eastern tower and you can view the casino activities from here. There are special counters for tapas and appetizers. This one opens daily only at 4.00 p.m. and remains open till the wee hours of the morning. 
Cigar lovers will love Churchill's which specializes in fine cigars and rums. There are reportedly more than 40 different strains of rums at this open air bar that also plays live music. The Churchill's opens at 4.00 p.m. and closes at midnight. 
Conch Shack is representative of the typical Bahamian shack (though the price list is more expensive) and has colorful conch shell Bahama style décor. Local dishes like Bahamian ceviches, conch salad and local drinks are served here. Opens at 10.00 a.m. every day and closes at sunset. 
Reflections is a small intimate bar that offers lovely pool and ocean views and a cocktail based menu. Open from 10.00 a.m. till sunset every day. 
The Lynden is right inside the casino and has sophisticated art deco décor. Nice cocktails, rare scotches and special reserve drinks are on offer along with fine whiskeys and bourbons for the choosy palette. The Lynden opens at 10.00 a.m. and closes at 4.00 a.m. everyday. 
The Out Island is known for its ocean views and is inspired by the relaxed out island of Bahamas. This is a good place to relax and opens at 10.00 a.m. and closes at sunset. 
Apart from mainstream restaurants and bars there is a French patisserie named Café Madeleine serving fresh pain au chocolate, coffee and snacks (open from 6.00 a.m. to 6.00 p.m. everyday). 
There is an onsite Starbucks for guests who are addicted to their caffeine fix and it opens really early i.e. 6.00 a.m. everyday. 
Other Facilities
The casino at Baha Mar can equal the one at Atlantis and this is one great advantage for all those who are looking out for glittering gaming oriented nightlife. Decorated in exotic oriental style with dazzling lights and pink floors, the casino has full length windows overlooking the sea and features fire and light shows at night. There are live in action casino tournaments happening here that guests can participate in. the casino has its own club (club blu). There are a variety of slot machines (more than 1100 in number), array of table games, (ranges start from 0.01 $ to 100 $). There is even a sports wagering and watching section which has many screens streaming sports events across the globe. The Baha Mar supports responsible gaming and has a running program that complies with gaming act 2014. Incidentally, the casino is one of the few cash accepting places in the resort. 
There is a 30,000 sq. feet award winning ESPA and it offers unique treatments and beauty wraps. On offer are special massage therapies for brides, mothers to be, couples etc. 
There are multiple indoor and outdoor pools and pool side service along with free access to water toys like Hobe cats, floats, kayaks etc. The beach adjacent to the resort has servers, tour operators and life guards all around. The cabanas on rent are chargeable but the resort gives you food credits that's included with the cabana fee. 
There is free parking and free valet service. 
The resort has 200,000 sq. feet of dedicated event space for indoor and outdoor events. There is an 82,000 sq. feet Baha Mar entertainment and convention center that's beautifully decorated with Bahamian Art. The hotel also offers nice locations (both indoor and outdoor) and deals for weddings, engagements and vow renewals apart from their own catering service and wedding planning team. In season times, you will mostly find some or the other event happening at the resort and this may be an advantage or a disadvantage depending upon what you are expecting out of your holiday. 
The Grand Baha Mar has collaborations with third parties who organize tours to various historical and cultural hubs in and around Nassau. Some places you can visit are the antiquities monuments corporation, Christ Church Cathedral, Bahamas Heritage museum, pirates of Nassau museum, Pompey museum, national art museum, parliament square and Fort Fincastle. History lovers can take a guided city and country tour while Rum aficionados will like the John Watling's Rum Tour on the grounds on Buena Vista Estate. 
For guests who are interested in Day trips, the Baha Mar will assist in travel and sightseeing under some primary categories. The blue lagoon island, sandy toes rose island, harbor island, pearl island, ship channel Cay and Flying cloud sailing excursions are some of the popular options. You have to choose your day trip destination in advance. 
Some outdoor attractions tours which are offered by the Grand Baha Mar are visits to Adastra gardens, Clifton heritage park, Paradise Island, Junkanoo Beach etc. swimming, snorkeling and diving adventures at  Stuarts Cove's Dive and excursions at Reel Dreams sport fishing charters are also arranged. 
Overall Opinion
The grand Baha Mar is easily one of the prettiest properties in Nassau. The staff always has a smile on and they go out of their way to accommodate guests. The icing on the cake is definitely the casino, cable beach on which the resort is located and range of activities. Guests can have a good time just examining the beautifully decorated facility…all non-motorized water play stuff is free and there are no limits on the amount of usage. The Baha Mar offers signature signs of a luxury hotel…the towels are thick and luxurious, the beds are super comfortable and the lights are soft yet flattering. 
The resort offers similar and sometimes superior experiences as the Cove Atlantis and yet as of now the price is lower than that of Cove. The casino has machines which cater to the needs of gamblers on a strict budget too i.e. you can easily gamble for a few dollars on the Penny machines and leave. The resort doesn't provide its own shuttle service but Jitney buses leave from outside the Melia (you can access them faster if you take the short cut via the Convention center). 
On the flip side, there are glitches like it sometimes takes a long time to check in. Many of the nice restaurants close post 7 p.m. and guests are left with few dining options (probably this will change soon).  The hotel should really work on its map displays and signage… guests get misdirected on the property!! There is automatic VAT and service charge on all meals but if you are familiar with Atlantis then this isn't a shocker. Overall, one of the best places to go to if you have a good budget and are expecting value out of it. 
Rates provided by booking.com 
How to reach
You need to take a taxi from the airport to the resort and its just 9 km away so you will reach in no time. 
Road Map
Contact Info
Grand Hyatt Baha Mar 
One Baha Mar Boulevard, PO Box SP-64254, Nassau, the Bahamas  
phone +1 242 788 1234 
Related Articles
Visitors' Reviews and Comments