Bay View Suites
Paradise Island, Bahamas
Category: Budget 
The Bay View Suites is located just about a kilometer away from the Hartford beach and it's in proximity to the Paradise Island Ferry terminal. Though the area is busy…there is enough greenery and space inside the resort to make it seem tranquil. This resort remains true to its reputation as a homely place by providing suites and villas with separate sleeping and living areas along with a stocked kitchen and private bathroom and gives guests the feel of having a holiday home. 
The placement of the resort is in a nice residential locality and families and couples who are looking for a quiet pleasant location will like it. The resort also has swimming pools, landscaped gardens and sun terrace along with tennis court and free Wi fi. Guests who want to stay near the Atlantis resort, paradise beach/ cabbage beach and the golf course will like the location of this resort. 
Rooms
The suites and Condos on the property are well spaced out and are styled like residential units with lots of flowers and brightly colored foliage around. 
Rooms at this hotel have modern and pleasant décor minus the typical Caribbean touch… this may work either as an advantage or a disadvantage depending upon your aesthetic preferences. The color scheme is mostly pastels with bright splashes of color in the upholstery and some accessories. 
The property is spread over 5 acres and it seems secured, safe with a residential guard. There is a proper check-in desk which is incidentally outside the main office up a short flight of stairs. Don't carry your luggage up… leave it behind when you go up to check in and then a security guard or a staff member will direct you to your chosen suite or condo. 
Bay View Suites and Pool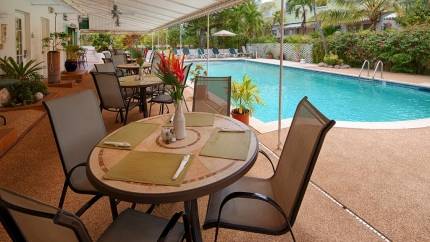 The residential spaces comprise of condos and apartments… the amenities hint at a comfortable rather than luxurious stay. 
The accommodation options here are fully air-conditioned nonsmoking one bedroom suites and villas and townhouses. Obviously the one bedroom suites are the most affordable accommodation option and even that has two subtypes. 
Some common amenities in all suites, villas and townhouses are separate desk with working area, cable TV with choice of channels, data ports, private phone line with voicemail and speaker, alarm clock, sofa bed, tea coffee maker, refrigerator, microwave, hair dryer, iron an in room safe. Cribs are available on request. The sofa bed has separate side tables and a coffee table. The dining space will have a minimum of small chairs and a table. 
A Suite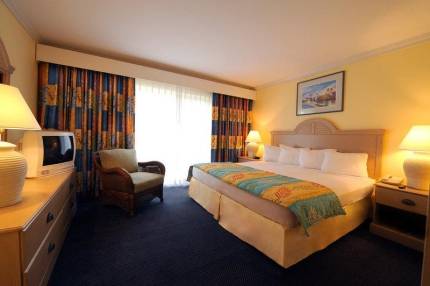 One bedroom suite version A is 615 sq. feet with separate seating and sleeping area along with full-fledged kitchen, bathroom and a private balcony. Version B is larger with 625 sq. feet area and similar amenities plus a private terrace with garden. 
The two bedroom suites are called townhomes and each of these are 1110 sq. feet with 2 bedrooms and 2 bathrooms along with a seating area, full sized kitchen and a charming terrace with flowers. 
The villas are really large at 1230 sq. feet and have similar amenities like townhouses with added space. The kitchens must have started out nice with complete sets of dishes, silverware and glassware. However it appears that the cutlery is hardly checked for missing pieces and you will find various obvious missing pieces. There is an okay range of pots and pans and a 4 top stove and oven along with microwave. There is also dish rags, dish towels and a moderately sized dish drying rack. However you won't find any condiments inside including salt and pepper and that seems a little extreme. There is no dish soap or scrub or even a hand wash…you would have to arrange for all groceries, essentials and basic products yourself. 
Room tip: if you can…opt for the ground floor suites…they have nice private patios and grass patches to walk on. 
Dining
There is a small onsite restaurant at the Bay View Suites called the Hibiscus Terrace. Realistically, it's more of a nicely styled deli rather than a full-fledged restaurant…the menu offers sandwiches, salads and wraps and a basic range of drinks and beverages. The Hibiscus terrace closes early and if you want to dine out for dinner you can take a trip to the nearby restaurants. 
The guests mostly make use of the kitchen and shop for groceries, but for this too depending upon the onsite store is not recommended. There is no fresh produce and fruit and if you are health conscious then you won't like all those salty and sugary snacks available at the in house store. Order in groceries or drive to Nassau downtown one day and stock up to your heart's content. Milk, vegetables and fruits are three items that you should have a decent supply of along with bottled water… 
You can explore the nearby dining options…most of these restaurants can be reached in half an hour…. The Blue Lagoon Seafood restaurant, double dragon Chinese restaurant, Androsia seafood restaurant, Nesbit's Delaporte Lounge and Restaurant, Spritz Wine Bar and Restaurant, VIP Chinese restaurant and Bahamian Cooking Restaurant are some of the options. Some cool pubs you can check around this area are the Green parrot, Jimmy Buffet's Margaretville, Sea Glass and Dune Bar. The hotel recommends Luciano's of Chicago and Anthony's Grill quite highly. 
Other facilities
One great thing about Bay Suites resort is that it has invested in becoming accessible. The parking space has an appropriate aisle and the approach and exit routes from the hotel along with the lobby entrance door are accessible. The interior routes to all public spaces are free from sudden level changes. The common eating area have accessible tables and room signage follows apt accessibility norms. The doors and doorways have more than 32 inches of clear width passages that makes it easy for people with walking aids. The resort scores a point with this feature over the other more glamorous resorts of Paradise Island who are inadequately equipped to deal with people having different access needs. However wheelchair bound guests may still find it difficult… some areas like the check in point are not approachable without steps. 
The resort provides kids swimming pool, babysitting services (on request on a chargeable basis) and cribs in rooms. Rollaway beds are also provided in room subject to availability. 
There are provisions for laundry service, dry cleaning service and housekeeping. For laundry there is a separate room with a coin machine. 
There are 3 freshwater swimming areas and a poolside cocktail lounge. There is a tennis court and a moderately equipped fitness center. The golf course nearby can be used at special discounted rates as the resort has commercial arrangements with the Paradise Island Golf Course. 
There are some small diversions aimed at kids like two parrots in an enclosed area, sandbox and a slide. For more diversions you need to visit Atlantis. 
The Atlantis resort is just ten-minute of walk away and day passes for Atlantis at discounted rates can be purchased from the reception of Bay view suites. 
If you are travelling with kids then you can bring your own stroller filled with kid's beverages near the pool (the resort allows it). many guests prefer to cut down costs by bringing in their own grocery supplies from the grocery store in Nassau en route from the airport (the stores in paradise island are more expensive). You can then use the kitchen to rustle up some basic meals and beverages. 
Medical services and doctor on call are available. Free wi fi is available in rooms…however quality is not good. It's better that you make a deposit and take an internet cable (there are provisions for this). 
Tour desk provides tour plans, guides and arranged day trips at an added charge. Taxis, rented cars can be arranged by the hotel and is chargeable. 
You can pre order groceries and the staff will put all your orders in the kitchen before you arrive. That way you won't have to bother about basics like cooking oil and sugar as soon as you arrive. 
There is small shoppe on the resort ground and it stocks beverages, candy and snacks. However there are no fresh fruits available and you have to get fresh produce from outside. This place closes at 4 p.m. so do all your purchasing before that. 
You will find an alcohol shop, grocery shop and Starbucks nearby in the mall near the hotel. However the supplies reflect paradise island prices. 
The Bay view resort is very near the regular tourist attractions and you can check out some good places like Fort Fincastle, Prince George Wharf, Water Tower, Dolphin Cay in Atlantis, Seafood Explorer, Bonefish Pond, Clifton Heritage Park etc. Booking a cab and then seeing all nearby attractions in a day trip is a good idea. The Atlantis Resort is a short distance away and visiting its numerous attractions can also be a great option. 
The nearest shopping options are the Crystal Court Boutiques and the Bahamas Craft center. For going to the Marina village and the Nassau straw market you need to take short cab rides. 
Overall Opinion
The resort's main advantage seems to be its location…it's very near the Atlantis (with which it has a commercial agreement) and if you want to explore Atlantis facilities without paying Atlantis prices then this can be a good arrangement. You can walk to some of the shopping hubs, the beach and some nearby attractions besides the ferry. The atmosphere is quieter and more intimate than it's possible at the busier and larger resorts and that can be an advantage. There aren't any day visitors and the plants all around add to the feel of relaxed coziness. 
Some of the facilities need upgrades like the hotel claims to be accessible but several guests with wheelchairs have complained about accessibility inadequacy. However there are smooth broad paths connecting all sections of the resort and there are well maintained steps too. 
You will see lots of guests (primarily couples and families) staying here long term and they appear to exist solely on kitchen cooked meals (this means that they are doing their own grocery shopping). Most of them go over to the Atlantis and nearby attractions for entertainments and dine outs. Groceries are best ordered in as the options in Paradise Island are quite expensive. Bottled water supplies are a must if you are travelling with kids or seniors. 
Cab rides and transport to even nearby places are not free and the rates are not cheap either. The beach, Atlantis and nearby restaurants are all some distance away and you have to be a walker or be prepared to shell out a decent amount of cash for cab rides. Make sure that you pack lots of comfortable shoes in your luggage. Bringing along a stroller for your kids also makes sense. 
There are three pools but one of them is only for villa guests. Towel service is not adequate at times. 
The resort is not very forthcoming with supplies of extra towels, mattresses and pillows and you might have to check with the staff multiple times to get what you want. The behavior of the staff is otherwise fine and friendly. 
Overall, if saving money is a big priority and you are not so particular about extra frills and on site fine dining options then this is a fair deal. The hotel management needs to invest in updating furnishings, facilities, paint and amenities in order to really deserve that three star status. 
Rates provided by booking.com 
How to reach
The Nassau International Airport is about 19 km away and you can book a cab from the airport to reach the hotel in 30 minutes (hotel doesn't provide free pick and drop). The resort is in Paradise Island that's connected to Nassau via bridges. Don't forget to stop in Nassau for grocery shopping. 
Road Map
Contact Info
Bay View Suites 
Harbour Ridge Road, The Bahamas 
Phone: +1 242-363-2555 
Related Articles
Visitors' Reviews and Comments