Top cheap restaurants in Grand Bahama
There are lots of budget eateries in Grand Bahama and most of these are near the markets, beaches and busy areas. These are places from where you can order takeaway or quickly grab a bite without any fine dining expectations. These are also places where you can mix with the locals in a friendly way and observe their way of life. Most budget restaurants in Grand Bahama do not accept cards so make sure that you carry enough cash. 
Most budget eateries in Grand Bahama offer local Bahamian food that includes peas & rice, cracked conch, conch salad, conch fritters, jerk chicken etc, and Kalik beer and other drinks. Some of them, particularly the shacks lining the beaches, offer fried snappers, fried groupers etc as well. 
Peas & Rice, Cracked Conch, Kalik 
Photo: Jpatokal at wts wikivoyage, cc by-sa 4.0 
Pisces Seafood Restaurant and Pizzeria
Managed by the same folks who own Neptune cocktail bar and lounge (review given under
Grand Bahama Nightlife
), this place has a similar outdoor décor scheme with lots of eclectic statues in the walkway. They opened in 1980s. The menu is basically pizza and seafood based…there are more than 29 variants off thin crust pizzas. Curries (more than 10 kinds are offered) are also a popular item here. 
Try having the lobster with lemon butter and pair it with some Pinot Grigio… that's a great combination. The interiors are quaint and cute with the rather small dining room having plenty of pretty Tiffany lamps and mirrors studded with shells… exploring the pretty circular stars that lead to the restrooms is a mini adventure. The patio outside has many tables and is a more spacious place for dining. The food as well as wine list has extensive variety and is decently priced. 
The restaurant is bang in front of the main path to the Port Lucaya Marketplace which makes this place ideal for lunch post a shopping expedition (or pre shopping) or simply for people watching.  
Address: Port Lucaya Marketplace, Freeport, Grand Bahama 
Phone: 373 5192 
Da Conch Man/ Daddy Brown's Conch Stand
One of the best places in Grand Bahama for conch dishes... this is basically a local eatery where you can expect great local cuisine dishes. The most popular items here are the fried fresh lobster, conch salad and conch fritters along with the cracked conch. 
You will find a healthy mix of both locals and tourists here and mostly it is crowded. The owner Daddy Brown is very friendly and engages guests in lots of friendly banter. 
This is not a fancy place and the food is served in Styrofoam takeaway containers. However if you are looking for delicious local food and nothing else much then this is the place to go. Whatever you order…. make sure that you get plenty of Conch Daddy's hot sauce as a side dish. 
Address: Seahorse Road, Port Lucaya Marketplace 
Banana Bay
Located on the popular Fortune Beach, the Banana Bay is easily one of the best budget places to have lunch or your favorite daytime cocktail. This place has a shaded comfy deck and lounger right there on the sand. A lovely shallow lagoon is created when the tide rolls in and you can wade in there with your drink in hand or simply sit back and relax watching your kids play there.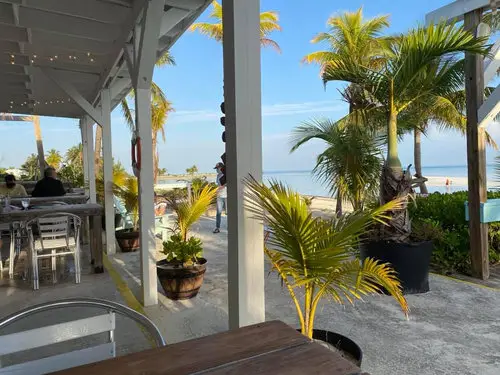 Photo: Banana Bay/facebook 
There is a special fish based dish every day and the menu comprises of salads, sandwiches, seafood appetizers, wraps, conch and crab based dishes. The burgers are juicy and very popular amongst tourists. Banana Bay bakes its own banana loaves and they are very tasty. The only downside here is the lack of music… well selected tracks would have added a lot to the ambience. 
Address: Fortune beach, Fortune bay, Dr Lucaya, Grand Bahama 
Phone: 242-373-2960 
Robinson's Seafood Delight
This is again a nondescript looking place right under some shady trees and has only a small sign saying "Robinson's Seafood Delight"... in the name of decorations. Most food is cooked to order so everything is fresh and hot. The menu is mostly local food based with a few popular items like burgers, fish and chips etc thrown in. 
The conch Tacos are hot sellers here and they mix the Caribbean and Mexican elements quite well in this dish. Other popular items are conch salad, fried conch, cracked conch, fritters etc. 
The Freeport cruise dock has a small area where the cruise passengers flock to catch cabs and vans for transfers to Downtown Freeport. You will find many souvenir shops and local eateries here. Robinson's is one of them and is easily one of the most popular dining options here. Most guests do not sit and eat here... it's pretty crowded anyways and the best advice is to order takeaway. 
Address : Booth number 2, Freeport Harbor (Cruise Port) 
Freeport, Grand Bahama Island 
Phone: 242 443 9891 
Cleveland's Beach Club
The location of Cleveland's is 10 minutes away from the beach. It is very near the Wyndham resorts too and is easy to find. It's like a sophisticated version of the typical Bahamian beach shack…. you will get cute artefacts, handicrafts and paintings (made by the owner's wife and other locals here). Cleveland's is popular and yet retains its original local flavor. 
Photo: Cleveland's Beach Club 
Fish is caught every day and is freshly cooked… you never know what the day's special would be and so there is a surprise element to meals. The owners and staff are extra accommodating and they will adjust seasonings, flavor, temperature etc. according to guest preferences. Sometimes they even let guests play their choice of music on an old computer that is inside Cleveland's. You can also take beach umbrellas and chairs on rent and relax on the beach. 
Popular items here are fried cracked conch, broiled snapper, lobster tails. The French fries here are rumored to be better than Mac Donald's. You can also go fishing… bring your own fish and these folks will fry it up for you. The cold beer and cocktail list is also good. They give out snorkeling gear, non-motorized boats, fishing gear, chairs and umbrellas for rent. 
Again on the flip side, this is not a very posh place so don't go expecting a posh crowd either. 
Address: Spanish Main Drive 
Mather Town, Freeport F40374, Grand Bahama Island 
Phone: +1 3738803 
Livity Vegetarian Takeout and Juice Bar
For health conscious people and tourists who are vegan or are not crazy about typical Caribbean food, Livity on the Furniture Plaza (located in the market) is a lifesaver. Some dishes here like the curry made with chick peas and coconut is very good and it's served with quinoa or wild rice. The wraps are healthy and so is the healthy Quinona burger. They have a range of cold pressed juices and thick smoothies…. the one with kiwi, strawberry and lime was really good.  
It's rather unexpected to find Livity that's purely a health conscious eatery right in the middle of a bustling Bahamian market and its unique feature is it's exceptionally healthy menu that offers salads, sushi, wraps, juices and sandwiches along with smoothies. 
They prepare everything fresh… the cheese that they use is unprocessed and the milk is almond milk. On the flip side… this is a small shop and is often full. They take only cash. 
Address: 9 West Atlantic Dr, Rolles Furniture Plaza 
Shop 3, Freeport , Grand Bahama 
Phone: +1 242 353 1885 
Bernie's
This small eatery on the silver beach are run by two happy people… Bernie and Bernadette. This is a pretty cheap place to get a meal… you can get rice, chicken ribs, corn and drinks. All under 25 dollars. The service is quite fast considering the fact that everything is freshly cooked. The specials here are fried lobster, grouper, conch salad and fritters. 
On Thursdays there are bonfire nights and Bernadette sings for the guests while Bernie serves extra generous portions of food and drinks… it indeed is a beautiful experience. Tuesdays are BBQ nights and on these special days Bernie's is mostly full. Ask for the assorted BBQ meat platter… it's pretty good. The best thing is that these guys pay a lot of attention to cleanliness and hygiene. 
On the flip side, its appearance is rather shabby…it's mostly a hut that has been ravaged by several calamities. If you don't mind the lack of sophistication then do make a beeline for Bernie's for the warmth and the food. Also don't forget this is a cash only restaurant. 
If you search out Bernie's on silver beach on Google Maps it comes across as Burner Tekie Hut so don't get confused. 
Location: Next to Manta Ray restaurant, Silver Beach 
Near Seas Island Resort, Freeport 
Phone: + 1 242 441 1193 
Smith's Point Fish Fry
Several beaches in Grand Bahama are lined up with shacks and small eateries essentially serving local Bahamian food. However, one place out of these is special... the Fish Fry, which opens only on Wednesdays on the Smith's Point beach located next to the Taino beach. 
There are many shacks here including Outrigger's Beach Club, Da' Bus Stop, Terry's, and Penny's etc. which are quite popular with both tourists and locals. Outrigger's is probably the one most crowded because of its location... right on the beach. 
The shacks essentially offer similar food such fried snappers, fried groupers, rice & peas, potato salad, guava buff etc as well as snack items such as cracked conch, lobster tail, barbecue chicken etc. The fish is fried on a large open wood-fired oven in an old traditional way. You also get chilled beer and other drinks. Prices are quite reasonable... probably the cheapest that you get in Grand Bahama. 
Open flame fish frying 
Photo: Tyler Karaszewski, flickr, cc by 2.0 
In the mornings and afternoons, mostly the families and elderly persons visit the place. In the evenings starting at around 6pm, it turns into an adults event when music is played and people enjoy drinks and dance well into the night. This is a great place to meet up and chat with locals.  
There are often long queues at the shacks... people waiting their turn to order and get their food. Outrigger's gets extremely crowded due to its location. If you want to avoid the crowd, take a few steps back and visit Da' Bus Stop instead. The shacks remain open until late at night (about 2:45pm). 
Related Articles
Visitors' Reviews and Comments