Best Beaches in Grand Bahama
Grand Bahama is roughly 530 square miles with a surprising smoothness of land (it has considerably less elevations and depressions than most other Bahamas Islands). There are luscious pine forests spreading all over and lovely white sand beaches fringe the island from all sides. 
Interestingly Grand Bahama is closer to South Florida than to Nassau… water sports lovers and nature lovers prefer Grand Bahama to Nassau because of its richer natural county. 
There are many off shore coral reefs around the island that shield the shallows and cays and make for interesting (yet easy) swimming and snorkeling destinations. 
Beaches in Grand Bahama can be broadly divided into three types… Popular Activity beaches, Secluded beaches and Exotic beaches. 
In an activity beach there are lots of fun and games and frequent parties happening so these are the places you should choose to go to if you want to have a rocking time. 
On these beaches, there are a lot of water sports activities happening like windsurfing, snorkeling, sailing, water skiing, parasailing and fishing. You will also find nightclubs, bars and many restaurants so there will be no dearth of entertainment activities. The most popular activity filled beaches in Grand Bahama are Lucaya Beach, Taino Beach and Xanadu Beach. 
Lucaya Beach 
Easily one of the most popular beaches of Grand Bahama, the Lucaya Beach is situated right across the Port Lucaya Marketplace. The market has more than 100 straw artists, retail shops and restaurants so you will be spoilt for choices. 
If you want to combine your beach activities with shopping, sports and great food then the Lucaya beach is perfect. This is also a major party hub and many restaurants, bars and nightclubs are seen lining the beach though some major ones are also off the beach.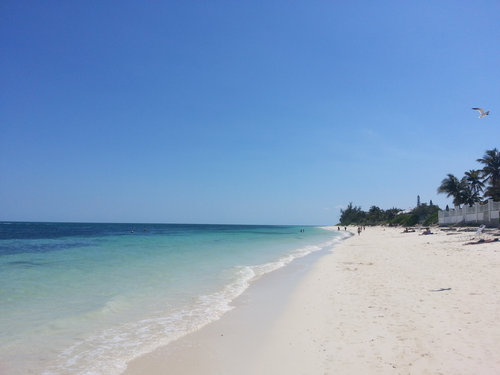 Photo: Pietro Valocchi, cc by 3.0 
This isn't the place for quiet sunset strolls… rather Lucaya Beach is where you go to have a really fun time or to get exotic designs braided into your hair. Go to the beach and you will find hawkers, hair braiders, water sports agents, tours agents all seeking your attention. 
However if you go towards the west of the beach… there will be a few relatively quieter places for sunbathing. The Lucaya Beach is connected to the Silver Point beach and Coral Beach and these are quite popular amongst walkers and joggers.
Horse riding
takes place at Coral Beach. 
The UNEXSO or the Underwater Explorer's Society is within easy distance of the beach and you can choose from a number of activities… the center arranges a nice swim with the dolphins experience at a secured lagoon. Many big resorts and hotels are near the Lucaya Beach that's just south of Freeport…you can purchase a day pass at any of these and enjoy the amenities and facilities. 
You can reach the Lucaya Beach via Sea Horse Road… it's quite easy to find. 
Taino Beach 
If you are holidaying in Grand Bahama with your family then chances are that Taino Beach will be near the top of your must visit list. This beach has some pretty good restaurants and is filled with local hair braiding artists who will do up your hair with flowers, beads and exotic designs (this is a preferred activity amongst kids and teens). The Taino beach is also a hub for special straw craft items that are a Bahamian specialty. There is a water sports hub in Taino beach and you can find almost every kind of water based activity happening here.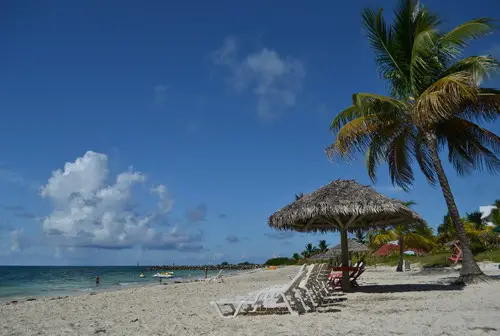 Photo: Matt Taylor, cc by-nd 2.0 
Taino beach is filled with families almost at all times and this area is jam packed on Wednesday nights when special beach activities are organized though the focal point is the beach next door… Smith's Point. The shacks at Fish Fry at Smith's Point Beach also offer lots of special deals on Wednesdays. If you want to spend your days at Taino beach then staying at Port Lucaya (plenty of good hotels near the marketplace) is a good option.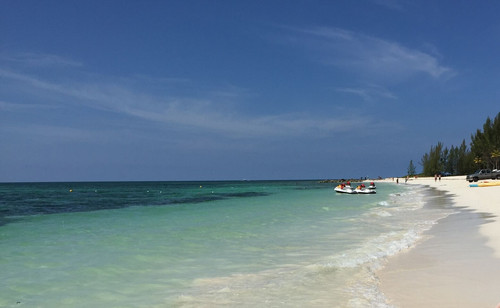 Photo: James Willamor, cc by-sa 2.0 
Taino is located next to Lucaya beach to its east. There is a section here with piers and chairs, and tourists can sit and relax on them. On the flip side, there are no restrooms around. However there is a Beach Club at Taino with full amenities. One can access the beach club by purchasing a day pass (discussed under the beach day-pass section below). The beach club has a full service restaurant, beach bar, restroom facilities, free wi-fi, and access to a host of water activities. 
The Lucaya Golf Course and the museum of underwater exploration are nearby so you might want to visit these together. The ultimate zone amusement arcade and treasure bay casino are also nearby. 
Xanadu Beach 
Once a grand hub of water sports… the Xanadu has grown progressively quieter down the years and now most of its popular hotels and restaurants have closed down. Though not ideal for tourists with a grand water sports or party agenda, the Xanadu is still ideal for a private picnic or a relaxing beach day. 
Photo: elaine moore, flickr, cc  by 2.0 
The sand here is incredibly powdery soft and the beach setting is beautiful giving the place an idyllic ambience. The Xanadu beach is more shuttered off from the large waves than some of the other beaches in Grand Bahama making this place ideal for those who like to explore the gentler side of the ocean. You can come here with your family for a peaceful yet natural activity filled beach session… kids will find this a great pace to explore marine life. 
There is a causeway besides the inlet that goes into the marina which can be used to walk down and then swim off into a rather deep end of the water. This is where seasoned snorkelers who are passionate about marine life swim as the spot is populated by Barracuda, stingrays and Octopus etc. don't try snorkeling here if you are an amateur though. The beach is strewn over with coral chunks… you can pick some up as souvenirs. 
Smith's Point Beach 
This one is right next to the Taino beach in the Lucaya zone. Probably the most popular event on the Grand Bahama… the Fish Fry happens here every Wednesday. This is where locals and Bahamians both freely interact, dance and drink together well into the night while sharing stories and gulping down the tasty cuisine like fried snapper, peas & rice and potato salad and Guava Duff. 
Smiths Point Beach Imagery, Grand Bahama 
As the legend goes, the event was started by a local church as a community gathering. However, it has developed into a much larger event where even tourists also take part as much as the locals do. Mornings and afternoons are family times with kids and seniors joining in the celebrations while evenings onwards there are full-fledged adults only parties. 
There are lots of shacks here offering local food at discounted prices only on Wednesdays… Outrigger's Beach Club, Da' Bus Stop, Terry's and Penny's are some of the popular shacks. Some of the places take a long time to cook food… they use wood fires just like old times. But the food and drinks served are essentially the same in all these shacks. 
Open flame fish frying 
Photo: Tyler Karaszewski, flickr, cc by 2.0 
Outrigger's being located right on the beach, is usually very crowded... there is often a long queue here. Undoubtedly, this is the most popular place here. But, if you want to avoid crowd, take a few steps back and you will reach Da' Bus Stop... a bus seemed to have stopped here and couldn't go any further, and hence the name of the shack... a cool place to have a beer and steaming fish fry accompanied with peas & rice, and even typical Bahamian macaroni pie. 
East Palm Beach 
Surrounding beaches are Xanadu on the west and Coral beach followed by Lucaya beach on the east. The East Palm Beach is in William's Town and its atmosphere is a mix of urban and rural. 
If you want to have a quiet beach day without being very far from the excitement of Freeport then East Palm beach is a good option. You need to take E Beach drive from the south of Freeport till you reach the shore (the road will stop at some point and a dirt path will take you to the beach). The eastern zone of the beach sees a lot of visitors but the crowds taper off as you go the west. 
The beach structure is longish, narrow in parts and straight… it's nice for a stroll. You will find stray hawkers and local vendors selling Bahamian dishes here but for reaching a proper restaurant you have to go off the beach. Billy Joe's is the nearest restaurant followed by Coconuts and the Seagrape Grille. You can also explore the Princess Ruby and Princess Emerald Golf Courses that are nearby. 
Tourists usually visit Xanadu beach, William Towns and East Palm beach in a single day and explore Freeport too. 
Mather Town Beach 
Mather Town Beach is about 3 miles away from Lucaya Marketplace and it's known as a local hotspot for Bahamian food. People who come here never miss stopping by the Margarita Villa or the Sand Bar... this has an interesting sand floor and blackened mahi, pina colada and cracked conch are just some of the awesome dishes on offer here. The beach structure, general climate here are perfect for swimming even for amateur swimmers.  However there aren't many water sports opportunities here. 
If you are the kind of tourist who likes to watch romantic sunrises, sunsets and go on quiet intimate picnics then a beach with scope of solitude will suit you. These are beaches that do not have too many entertainment options and their reclusiveness enhances their natural beauty. 
You can sit reading, fishing or just contemplating the natural beauty around for hours and mostly there will be no one to disturb you. These kinds of seclusion beaches are abundant in Grand Bahama… just start exploring from the southwest or south east side of the island and keep following the highway in both directions. The most popular seclusion beaches are mentioned below. 
Gold Rock Beach 
The Gold Rock beach is right across the road from the Lucayan National Park that's around 45 miles from Port Lucaya. You can take a short scenic walk through the lush mangrove forest till you reach a wooden bridge that opens up to the Gold Rock beach. 
You can visit the Gold Rock beach from downtown Freeport either by scooter or car and it's a pleasant drive. The Gold Rock beach has a good combination of activities and serenity. There are some stray water sports organisers (you can snorkel around to see the marine life), a few picnic tables and BBQ pits along with benches and this beach is full of the tourist crowd during weekends. 
During mid-week however…it's very quiet so you can relax amidst the sand castles and lapping sounds of the ocean. Parking is payable here and afterwards you can hike up a short distance to find a series of lockers where you can keep your belongings. There are no hawkers here selling anything so the experience will be peaceful. 
There are no restaurants or bars here though sometimes you can see locals selling banana bread unobtrusively. Basically be prepared to bring whatever you are going to eat and clear up nicely before you leave. If you drive along a little further to Bishop Point, you will see a nice lunch spot. Interestingly, a part of the 'Pirates of Caribbean' movie was shot here. 
Barbary Beach 
Barbary beach is about 3.2 miles to the south western part of Freetown. This is one of those secluded beaches where you can expect a break from the typical tourist activities that mark most of the Grand Bahama beaches. To get to this beach you need to take the Grand Bahama highway that's east to Freeport and then take a small path (appears to the right) till the beach. 
This is one of the most naturally beautiful beaches in Grand Bahama and is also relatively difficult to reach. You will find the Barbary beach to the east of the Grand Lucayan waterways. An exotic variety of shells are found scattered on its sand (look out for jumbo sized conch shells… they make for nice collectibles) and the ambience is always serene. This is a very wide beach that's well protected by jetties and you can relax here without bothering about the really large waves that hit the shores as in other beaches. 
The multiple half hidden and charming picnic spots around makes Barbary beach very popular amongst honeymooners and couples. There are drives and trails throughout the surrounding forests that will take you to pretty picnic spots…all you need for a lovely intimate picnic here is a picnic hamper and bug spray. 
Many kayaking tours leave from here to the Peterson Cay…you need to book one in advance though. The Barbary beach has lovely clear water and the mostly shallow depth makes it good for amateur swimmers. On the flip side, there are no restrooms around and it gets a little eerie after dark. Also there are no restaurants worth noting in the immediate vicinity… you need to pack your food and come or else go to Freetown for a snack. However there might be locals selling banana bread or fritters around the beach. 
The Grand Bahama Labyrinth, Lucayan Golf Course and the Fortune Hills Golf course are the nearest attractions from this beach. 
Peterson Cay 
This is a lovely small island that located just a mile away from the southern tip of Grand Bahama.  The exact location is a mile offshore and that's protected by coral reefs…. you will find it via the West Settlers way near Freeport. You can opt for a half an hour paddle from the mainland to the beach or a snorkelling tour (these are arranged by experienced divers). Geologists will define this cay as "low lying Aeolian limestone cay"….there is a back reef lagoon here that's less than 5 meters in depth. 
Photo: Mangrove Mike, flickr, cc by 2.0 
Actually, this beach is part of a protected park area (Peterson's cay park which is Grand Bahama's smallest national park) but it's open for tourists. If you are interested in snorkeling and marine life then this is one of the best places to visit. You will get wonderful views from every point of this beach. Lockers, beach umbrellas and chairs are available for rent. For exploring the park and getting information about it you can contact Mrs. Cecilia Bodie, Phone: (242) 352-5438 
Though this is a comparatively remote beach, a lot of photographers and naturalists come here to explore and capture the natural beauty here. If you are not into doing touristy stuff on your holidays then an excursion to Peterson's cay can prove to be a refreshing experience. There are some travel and tour organizers who offer kayaking and snorkeling opportunities for tourists interested in water sports. 
These are beaches that require private transportation to reach. Usually these are co-owned by resort condos and wealthy celebrities position their villas here. Fortune beach is one of the best examples. Exotic beaches have interesting and wild reputations and are situated at the western zone of the island where pirates were once at their most rampant form. 
The west end of the island is also home to the best Bahamian rum. The most popular exotic beach in Grand Bahama is the Paradise Cove followed by the William Town beach. 
Paradise Cove 
Though Paradise Cove seems too far away if you just go by its name, this beach isn't that far away from the town. However the ambience and serenity around will make you feel as if you have entered another island. The cove is directly accessible to Deadman's reef that's on the south west side (Deadman's is Grand Bahama's best reef). The reef is one of the best for snorkeling and you can see amazing corals and marine life here. Don't miss a visit to Deadman's while you are here. 
Photo: Viator 
This is a very nice place to have a day trip or just spend a whole day soaking in the sun or participating in water sports. Glass bottom boats called Spy Cats (these are actually Kayak boats) are available here… you can go for a water ride and admire the amazing water bed filled with exotic marine life. You can contact Mr. Barry Smith (phone: 242 349 2677) for availing short tour deals around paradise cove…these include transport from hotel, snorkelling gear and floats. 
Photo: Viator 
There are a line of beach shacks serving local Bahamian food, great cocktails and playing reggae… it's a good place to sit and relax. The Paradise cove has beachfront villas that also have a private spa, restaurants and pools…in case the venue encourages you to stay longer!! 
Fortune Beach/ Viva Wyndham Fortuna Beach 
The fortune beach is little far away from the touristy Lucaya marketplace but you can still reach it via a short drive. If you are thinking of visiting the Garden of Groves then you can easily combine a visit to the Fortune beach at the same time. 
While you are here at the Fortune Beach, go and have amazing food and cocktails at the Banana Bay…. there are lots of umbrellas, chairs, lounge chairs and lovely shaded patios in front of Banana Bay. There is an empty beach that's on the other side of the popular restaurant that's good for sunbathing and private picnics. Interestingly the fortune beach got its name from an ancient shipwreck which brought in valuables and antiques upon its shores. 
The fortune beach is at the south western coast of Grand Bahama. A beautiful attraction nearby is Grand Bahama Labyrinth and another is the museum of underwater exploration. The Lucayan golf course and the Flovin gallery are also near. Garden Café is one of the best nearby dining options. 
William Town's beach 
The William Town's Beach is to the south of William Town's settlement at Freeport. This is again a lovely yet secluded area… the beach itself is about 1.9 miles long and reachable by the Beach Way Drive. Usually you will find some horses trotting along the beach carrying tourists who want to enjoy a horse- stroll along the ocean. 
There are a few water sports agencies over here and you can find options for jet skiing, banana boat rides and snorkeling. Out Da Sea Bar and restaurant is one of the best places to visit on the William Town's beach if you are looking for good seafood and cocktails. Saturday nights here are fun with dance and musical parties. Billy Joe's is also a great place to stop for a meal here…they sell great seafood and hamburgers. There is pig roast jerk pit here on the beach that's only used on special occasions for succulent Bahamian style roast pigs. 
This beach is situated on the south western coast of Grand Bahama Island. It is pretty close to the Reef club golf course, Grand Bahama museum. Regency theatre, science museum etc. you can also go off to Freeport that around 3 km away from the beach. 
Silver Point Beach 
This is a pretty little beach to the east of Xanadu beach. You can keep walking to the west from Coral beach too and you will soon see the Silver Point beach…. To the west of silver point there is a waterway or a long pier. The entry to the water here is calm and easy and that makes it good for amateur swimmers and explorers. 
There are other small resorts and timeshare complexes around apart from Silver Point Condo's and many guests are seen riding water bikes and playing volleyball. Many horse riders are seen riding vigorously from the Pine tree stables running along the sands. Sometimes you will see locals selling lobsters that they have caught fresh from the sea. The silver point reef is a good snorkelling point for beginners ….lovely marine life sighting opportunities are available…. lionfish, lobster and stingrays can be commonly seen. 
Unlike in Nassau where tourists can avail beach day passes from a number of beach-front resorts, in Grand Bahama such options are limited. Only the following day passes are available here: Bahamas Adventures Beach Club day-pass, Lighthouse Pointe at Grand Lucayan beach day-pass, Paradise Cove Beach Club day-pass and Viva Wyndham Fortuna Beach day-pass. 
Photo: Viator (Bahamas Adventures Beach Club) 
Visit
this Viator Website Page
where you can book the Bahamas Adventures Beach Club day-pass online. It includes round trip transportation, lounge chairs, access to beach and water activities, restrooms, showers etc. You can also order for food and drinks. You can optionally upgrade to include an open bar or all-inclusive option. The beach venue is located at Taino beach. 
Alternatively, if you want a quieter beach experience, then go through
this Viator Website Page
where you can book Paradise Cove day pass. This lovely secluded beach is located at the western Grand Bahama. Here you can walk on the white sands, lounge on a chair, play volleyball or go for snorkeling. The day-pass includes round trip transportation, snorkeling at Deadman's reef where you can see amazing colorful fish, food and one beverage, etc (check out the optional items). 
If you want more options with beach day passes, check out the websites resortforaday.com, bahamasdaypass.com, resortpass.com and shoreexcursioneer.com. 
Related Articles
Visitors' Reviews and Comments