Horseback Riding in Grand Bahama
Riding a horse is one of the most romantic ways to tour parts of the island. There are not many tour operators on the island who will offer a good horse riding experience and the leaders in this field are undoubtedly Pine Tree Stables and Trikk Pony Adventures. 
Trikk Pony Adventures
Trikk Adventures claims to be a pure all beach horse riding adventure provider. They have different kinds of ride in line with your requirements…. for example you can opt for a romantic sunset horse ride or a fun beach ride with a picnic or a kid friendly ride. Most of these rides are 1 hour in length while the sunset ride is 2 hours and is offered only on Wednesdays… this includes a champagne brunch too. 
Trikk Ponies on Coral Beach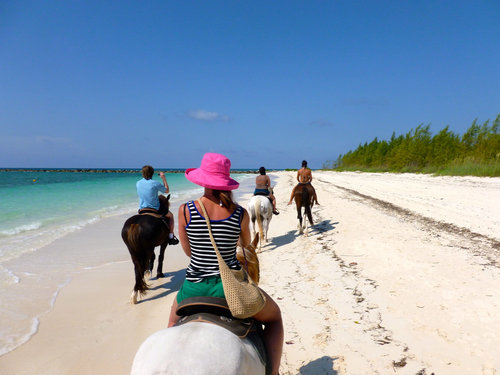 Photo: elaine moore, flickr, cc  by 2.0 
If you want you can even order rides with a carriage. The company offers to and fro transport from most major hotels. Horse rides for weddings and special events are also organized by them. 
Phone: (242) 374-4449/ (242) 727-0131 
Address: Coral Beach, Near Freeport, Grand Bahama 
Pine Tree Stables
They have a great 2 hour horse riding tour which starts off at the highest point on the island and traverses through pine forests around the lovely Coopers castle to a lonely beach and then the trained horse will take you straight inside the sea for a gallop. 
The cost per person if around 165 $... if you take the tour you need to conform to the weight and health regulations. 
Address: N Beach way Drive, Freeport 
Phone: +1 242 602 2122 
Related Articles
Visitors' Reviews and Comments