Top Attractions & Things To Do In Freeport
Unlike the distinctly more glamorous Nassau and Paradise Island, Freeport in Grand Bahama doesn't have too many glittering monuments, manmade real estate wonders and city highlights. Tourists who come here are mostly interested either in adventure tourism or cultural tourism (or sometimes in both). 
So the city landmarks on this island are surrounded by local lore and marked with stories about the island's development and history and these aspects offset their humble appearance. Some of these places have short tours attached to them and if you are interested in cultural tourism then taking the tour is a must as you will learn a lot about various aspects of this island. 
If a beach venue is on the top of your mind, then you will be happy to know that there are several fantastic beaches in and around Freeport, including the Taino beach and the Lucaya beach that are fringed with numerous restaurants and craft shops, and offer all kinds of water based activities. 
Photo: Kevin, flickr, cc by 2.0 
Go through
The top beaches in Grand Bahama
to know about the best beaches that you can visit from Freeport, the amenities they offer and how to reach them. 
There are organized tours that take you around Freeport and Grand Bahama and show you the best attractions. You can avail both group tours that operate on per person rates and private tours. Such tours are offered in cars or minibuses. Visit
this Viator Website Page
to check out the details of such tours, rates and book a tour of your choice online. 
Below are the top places to visit in and around Freeport. 
Garden of the Groves
There are lots of activities for seekers of natural beauty and peace in Garden of Groves. The garden is filled with Bahamian artefacts, statues and demarcated sections showcasing the flora of the island. It's quite easy to reach the garden as it's within Freeport… most day tours will have a stopover at this place as a part of their routine. 
Photo: Pietro, cc by-sa 3.0 
Interestingly when couples visit the Grand Bahama Island to get married, they usually prefer to conduct their wedding in this beautiful garden… the authorities here have a special cell that supervises weddings, events and ceremonies. 
There is an Art and Craft center at Garden of Groves that sells coconut jewelry, seashell jewelry, organic candles and wood carvings along with straw gift items and a select array of books on plants, art and cuisine. They also sell organic products like insect repellent and this can be a useful thing to buy on your Bahamas vacation. 
The lovely chapel here sits on a hillock and that's a true scale replica of the first chapel built in Pine ridge. There is also a spiritual labyrinth that holds deep significance for the locals. 
The chapel at Garden of the Groves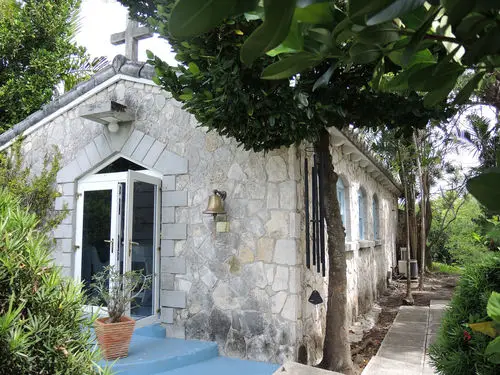 Photo: Pietro, cc by-sa 3.0 
The zoo here is of great interest to kids… it has cute potbellied pigs, pygmy goats and a bird posing zone. There are several ponds filled with turtles, ducks and other water birds along with mini waterfalls. 
It will take you roughly half an hour to explore the garden of groves completely. 
What's great about the Garden of the Groves is that it's neatly demarcated and marked… it's easy to recognize all the sections. There is the Bougainvillea walk, the hanging garden, banana plantation, citrus grove, tilapia pond, fern gully and nature trail. Don't miss the interesting sculptures that dot the garden… also spend a few minutes studying the history and features of the garden from the interactive knowledge disbursement system that's in place there. 
Photo: elaine moore, flickr, cc  by 2.0 
There are also separate areas for the entrance kiosk, gift shop, garden café, head office, Bahamian house and restrooms…. it's easy to explore all the sections because of the neat management. However waste management practices need an overhaul. 
You can book a private or a group tour of Garden of the Groves through
this Viator Website Page
which also combines other island sightseeing. 
Timings: open from 9 a.m. to 5 p.m. Open Everyday  
Guided tours from 11 a.m. to 2 p.m. 
Address: Midshipman Road and Magellan Dr, Freeport, Grand Bahama Island 
Phone: 242-373-5668 
Count Basie Square
The Count Basie Square sits right in center of the Port Lucaya marketplace. For tourists who want to explore shopping and people watching in one shot, a visit to the Port Lucaya marketplace is a must. While you are here, you can't possibly miss a visit to the Count Basie Square. The best place to imbibe the charms of this place is to visit it after dusk on the weekends (Friday to Sunday). 
Live musical performances take place here along with unique demonstrations by local musicians who mostly make their own musical instruments. There are many small bars and pubs around the Basie square and they are always packed full during this time. Sometimes the owners join in the festivities by offering special discounts, deals and even free rounds of drinks. During tourist season time, most weekends will either have fire dance performances, fashion shows and special movie screenings. 
Night performance at Count Basie Square 
Photo: Geoff Livingston, flickr, cc by-sa 2.0 
The Square is surrounded by Port Lucaya Marketplace which is one of the best shopping destinations in Grand Bahama island. You can spend your time bargaining, buying and browsing through the shops once you are done with the Bahamian music and cultural performances. Or you can simply choose to sit, people watch and interact with the locals…there are plenty of chairs and benches around. 
Experiencing the atmosphere at Count Basie Square on weekends will give you the experience of a casual and jolly street festival. Most of the younger crowd gets up to dance during the musical performances so you can join them if you want!! 
On the flip side... it can get a little annoying for a single woman after dusk... locals have a habit of trying to chat up random females... this is a place best enjoyed in a group. When there is no live entertainment… music is played through the huge speakers in the square. 
Address: 
Port Lucaya Marketplace, Sea Horse Rd., Lucaya, Grand Bahama Island, Bahamas 
Phone: 242-373–8446; Website: www.portlucaya.com 
Lucayan National Park
The most well-known and talked about national park in Grand Bahama, the Lucayan National Park is one of the most popular tourist destinations on the island. The park spans across 40 acres and is situated at a distance of 25 miles (to the east) of Freeport. This national park uniquely demonstrates all of Bahamas vegetative zones namely pine forests, coppice forests, sandy shores, rocky shores, wetlands and coral reefs. With so much bio-diversity the park is of immense interest to botanists, nature lovers, zoologists, scientists, geologists and photographers apart from regular tourists. 
Photo: Pietro, cc by-sa 3.0 
When you arrive at the park… the incredible array of mangroves ferns, pines, exotic orchids and rare birds are sure to capture your attention. Another commendable feature of the park is the biggest charted underwater cave arrangement that weaves in and out via the mangrove wetland on the south zone of Grand Bahama. These are all limestone caves and most of these can be toured with supervision. Diving is however, only allowed after you procure prior permission from UNEXSO. 
Photo: Pietro, cc by-sa 3.0 
Cave exploration is generally through ladders and decks so you need to sustain minimum fitness level. You can walk to Burial Mound Cave and Ben's Cave. Stairs lead up to a viewing platform just above the water level. These caves are in fact entrance to the largest underwater cave system in the world having about 6 miles of underwater channels... but you can't see that from the deck. But what you can see during the summers is lots of migratory bats in the caves. 
Burial Mound Cave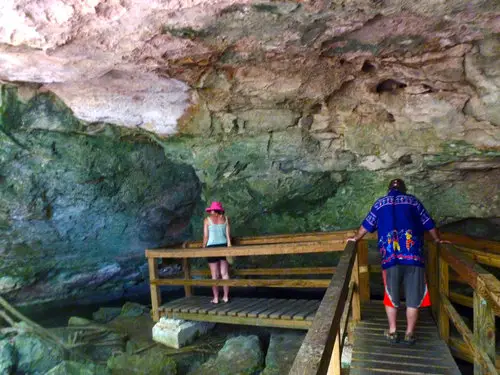 Photo: elaine moore, flickr, cc  by 2.0 
The Gold Rock Beach... one of the most naturally beautiful and photographed beach of Grand Bahama is also a part of the Lucayan National Park… it hosts the tallest sand dunes on the Grand Bahama apart from beautiful flora and fauna. 
If you want to explore the beach fully then try arriving at low tide. The beach has picnic tables and chairs too so you can carry along lunch hampers (there is no food available inside the park)….. Or else you need to book a tour package that will provide you lunch. 
Gold Rock Beach 
There is a nominal entry fee to the park and tourists can start exploring from two directions; either from the parking space on the left or from across the highway Gold Rock beach side. A walk through the entire park will take you 40 minutes or more. Many tour operators offer different experiences like Kayaking through the mangroves… the water in this area is very calm and it's a serene experience. 
There are beautiful trails through the park and all you need to carry along is insect repellent, sunscreen and bottled water (make sure you don't litter…this is a protected zone). There are boardwalks as well. 
Toilet facilities are available and there is also a Visitors Information Center. 
Open Hours: 9am to 4pm (Saturday & Sunday). 
Entry Fee: $5 per person, child below 12 is free. 
For more information about the Lucayan National park and for procuring diving and exploration permits you need to contact…. 
Mrs. Cecilia Bodie - (242) 352-5438 
Bahamas National Trust, West Settler's Way, Freeport 
Dolphin Experience
Visit the Dolphin Center which is located at Sanctuary Bay in Freeport, a short boat ride away from Port Lucaya. The center is managed by Underwater Explorer Society (Unexso). There are a number of bottlenose dolphins here in a natural lagoon spanning over 9 acres and resembling quite similar to their natural habitat. A number of dolphin shows and interaction programs are offered by the center.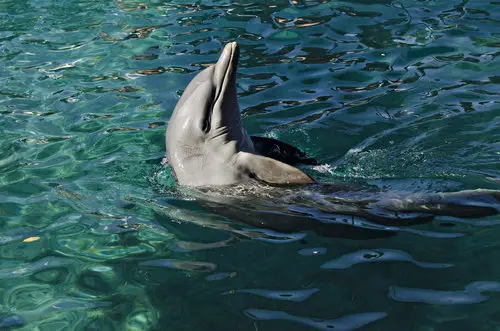 Photo: Boris Kasimov, flickr, cc by 2.0 
Some of the popular programs include 'Freeport Snorkel and Dolphin Experience' where you get to experience snorkeling at the reefs followed by face to face experience with the dolphins, 'Freeport Dolphin Close Encounter' where you can touch and play with the dolphins at waist deep water, 'Freeport Swim with the Dolphins' where you get to swim alongside the dolphins. There are also programs that allow you to dive with dolphins and going out to the open ocean and swim with them. 
Bahamian Brewery
The Bahamian Brewery and Beverage Company has developed a unique name for itself and James Sands (the owner) is something of a local celebrity. Currently a brewing tour is offered in the factory premises on Grand Bahama and most local tour operators have this on their schedule. 
This isn't a big brewery but they supply beer everywhere in the island (a special strain is brewed for Atlantis) and do not export outside it. The tour here lasts for a few hours and is incredibly cheap besides having a tasting session…. all this makes the brewery tour a popular attraction.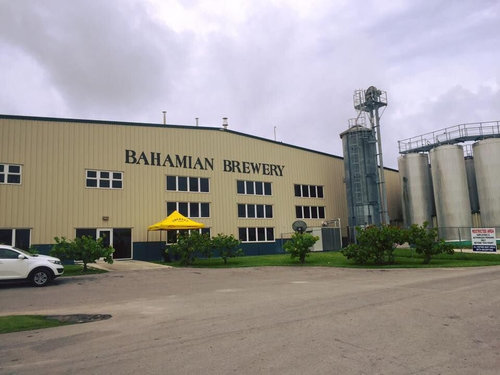 Photo: Viator 
There is a 25 step process that converts malt to beer…this might be interesting for anyone who loves the process of brewing or in general is interested in alcohol. The tour will also expose you to the quality control measures used at the brewery along with the kegging and filtration process. 
As a part of the tour…guests will be invited to Jimmy's tap room where they can sample the different strains of beer before they are escorted away to the huge liquor shop and the gift store where all the shopping is duty free. The brewing souvenirs t-shirts and other stuff at the store are attractive and innovative… and the liquor section sells American beer too along with liqueurs and wines. 
During the sampling part… you will be given as many as 6 different strains to taste in quick succession (light to strong) and it becomes a little difficult to appreciate the differences. Sipping on water and munching on nuts in between should have been a provision on the sampling part. 
If you have been through the brewery tour in Nassau (they have 6 stores there besides a larger brewing unit), you can give this attraction a miss. However if you haven't been to a brewery tour before then this could be a great experience. Avoid going on a warm day though… there isn't an A.C in the main plant unit and it gets very stuffy. 
Bahamian Brewery & Beverage Co., Freeport, Grand Bahama Island 
Phone | 242.352.4070 
Peterson Cay National Park
The Peterson cay is 7 miles to the east of Lucaya and the best way to reach it to hire a cab. Currently the Bahamas National trust manages the Cay and the Park and plans for its expansion are currently under scrutiny…. expansions will probably go along the Grand Bahama southern shore which is a wintering zone for rare birds. 
Really a small place in comparison to the other national parks, Peterson Cay nevertheless makes for quite an interesting experience. It's the only cay on the leeward shore of Grand Bahama…. geologists would define it as low lying Aeolian limestone of Pleistocene origin. At least 4 different zones of reef are present here. The Peterson Cay park area is home to more than 160 pairs of Bridled terns and is classified as an important birding zone…. the shrubby vegetation and the profusion of scrubs makes it an ideal nesting point for avian species. 
Photo: Mangrove Mike, flickr, cc by 2.0 
There is a lot of eco-tourism happening here… lots of local resident kayak operators and boaters take tourists on kayaking and boating expeditions. Park visitors frequently snorkel over to the coral reef nearby and picnic on the beach. Though there is signage discouraging littering… it's sad to see the park management struggle with waste management. 
Many tourists interested in snorkeling and marine life go snorkeling in Peterson Cay… the park is situated within the line of coral reef that goes up to almost the entire length of Grand Bahama south coast. Currently these coral reefs are underrepresented though they possess amazing biodiversity… sea grass, reef flats, coral walls, non-reef flats and sandy stretches are all found in the vicinity of Peterson Cay. 
Peterson Cay, Freeport, Grand Bahama 
Phone: +1 242 393 1317 
Coopers Castle
Mr. Havard Cooper is a local Bahamian who had a typical fairy tale like rags to riches story. Locals say that he was a poor boy who owned just one pair of pants and he grew to own a sprawling white castle… the only one in this island. Incidentally Havard Cooper is the franchisee owner of Burger King and Pizza Hut in the Bahamas and is one of the wealthiest persons in this part of the world. 
The castle sprawls across 46 acres of land and is one of the major landmark buildings of Grand Bahama. There are two ways by which you can explore this place… you can either circle it and admire it from outside when you are doing your day tour of the island. Or you have to contact the management through their website in advance to book the Cooper Castle tour. You can also call on this number (Ms. Fallon Symonette (242) 352-3314) to book a tour and get more information about the place. 
The tour includes exploring the castle grounds, orchards, ponds and some part of the residence besides a fusion Bahamian lunch at Pizza hut… (this usually comprises of Calzone, conch with herbs and marinara sauce along with local desert). You can venture up to the second floor foyer which commands a pretty good view. Sometimes Mr. Cooper shows up at the end of the tour and that's an added bonus. 
However you won't be allowed to see all areas of the house (Cooper's family lives here) and you can't take pictures inside either. Considering the price points charged for the tour…the limited exposure to the house should have been mentioned beforehand. Also the tour expense needs to be paid only in cash. 
Address: 
Cooper's Estate, Beach way Drive, Freeport 42427, Grand Bahama Island 
Phone: +1 242-352-3314 
Taino Beach Ferry
Taking the Taino beach ferry to travel to Port Lucaya from Freeport is something that every tourist must do because of two reasons. Firstly because of the novelty factor and the aesthetic value (what can be prettier way to travel than to glide over the Lucayan waterway in a boat). Secondly a ferry ride will cost you far less than a cab ride. 
The ferry journey is about 12 minutes and is ideal for all tourists …especially those who stay around the Taino beach and want to go to Port Lucaya for the restaurants, markets, dolphins etc. 
The Taino beach ferry is available every day and it leaves from behind the Flamingo Bay Hotel. The ferry goes up to Port Lucaya every hour starting from 8 a.m. till 11 p.m. From Port Lucaya the ferry starts from 8.10 a.m. and the last ferry returns at 11.10 p.m. If you wish you can also purchase ferry passes… they are available at the Flamingo Hotel front desk. On the flip side, the signage providing directions to the ferry definitely needs improvement. 
Address: Jolly Roger Drive, Freeport, Grand Bahama Island 
Phone: +1 242 350 2200 
St. Vincent De Paul Church
This is a rather charming looking little Roman Catholic church that's all white and scrupulously maintained. Incidentally this was built in 1940 and was the first church on this island. There is a larger church across the road from this old one on Hunters Road. 
The atmosphere during mass is friendly and warm and visitors are warmly welcomed with hugs from the parishioners. The Youth choir here is quite melodious… not a surprise since the overall youth in Bahamas is very musically inclined. 
Mass timings: 
9.00 a.m. on Sundays; 6.00 p.m. on weekdays 
Address: Hunters Road, Freeport, Grand Bahama Island 
Phone: 242 353 7986 
Visit West End: Swim with the pigs
This can be a great fun activity for the whole family... go down to the Crystal Beach located at West End. It's 14 miles away from Downtown Freeport towards west... you will need to book a taxi or take a private tour. The beach is quite excellent and secluded... it's fringed with palms and other trees, and there are lots of shades. Plenty of beach loungers are available on the beach. 
Crystal Beach, Grand Bahama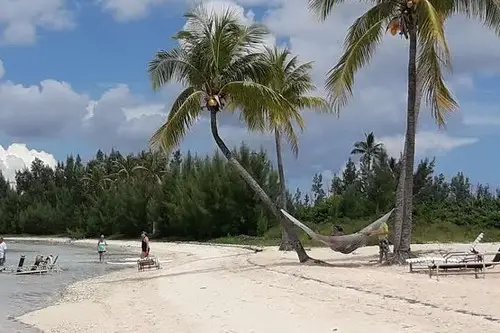 Photo: Viator 
Here you can swim with the pigs, feed them and even pet them. They are all very lovable and friendly. The swiming with pigs is a guided activity and lasts for about 45 minutes. There is a large alfresco but roof-covered bar & grill here... conch fritters and conch salads are excellent. You can get a bucket of 5 beers for only $20... very reasonably priced. There are tables both inside and outside on the sand where you can comfortably have your food. Bathroom facility is available.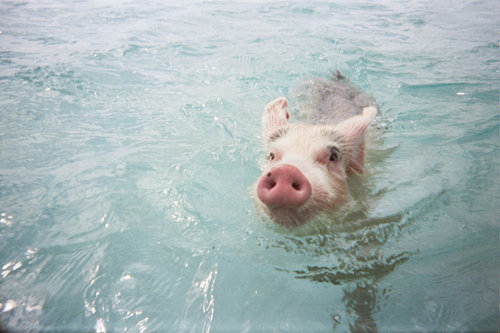 Photo: bookfinch, flickr, cc by 2.0 
For a private tour of swimming with the pigs at Crystal beach, Visit
this Viator Website Page
to check out the details, rate and book the tour online. The tour also combines sightseeing. 
Spend a day on the beach
There is a popular beach club located at Taino Beach which is open to all. You need to buy a beach day pass for entry and access to all water activities (such as Kayaking, Paddle Boarding, Snorkeling etc), beach loungers, umbrellas, food and drinks. They have a full service restaurant that specializes in seafood, pizza, cheeseburgers etc. The beach bar offers tropical drinks, chilled beer, cocktails and other spirits. They also provide free wi-fi at the internet garden. You can have a great day on the beach.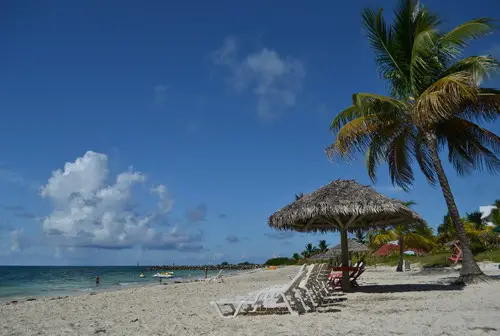 Photo: Matt Taylor, cc by-nd 2.0 
Visit
this Viator Website Page
where you can book the Beach Club day-pass online. It includes round trip transportation, lounge chairs & umbrellas, access to beach and water activities, restrooms, showers etc. You can also order for food and drinks. You can optionally upgrade to include an open bar or all-inclusive option. The beach is only one minute walk from the car park. 
Grum Ma's Cultural Center
This small and pretty purple building is decorated with statues and is perched outside the lane besides St. Vincent De Paul Catholic Church. The center offers many activities, great local food and music apart from a warm retelling of the history and culture of the island and its people. Guests who visit the Grum Ma's cultural center get the opposite of a typical touristy group tour experience. 
There are two kinds of tours available here; Grum Ma's House Tea tour and the Taste Bahamas Premium Tour. Usually a guy called Donald supervises the tour and he is passionate about the history, music and culture of Bahamas… he actively encourages questions and gives well researched responses. He will also drive guests around the island and voluntarily show them places… all the while sharing anecdotes and stories about places. 
Photo: Viator 
The visitors to this cultural center who avail Grum Ma's House Tea tour get to sample the now rare Bahamian Bush tea and pastries and learn about the original island inhabitants… Tainos, Arawaks and Lucayans. Medicine making, sampling local fruits, costume exploring and a visit to the nearby Vincent's Church are included. 
The House Tea Tour timings are from 9.30pm to 3.00pm on all weekdays. 
Saturdays and Sundays tour is organized only after appointment. 
Maximum group size 20; Tour duration 45 minutes.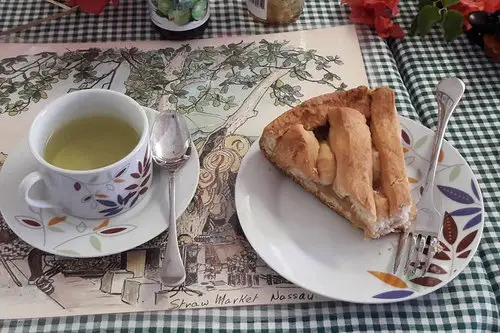 Photo: Viator 
The Taste Bahamas Premium tour is more extensive and comprises of a full-fledged Bahamian meal, cooking lessons, costume trying, tea drinking and mini music lessons. At the end each guest receives a Totters bag as a keepsake. 
The lady cook and cultural guide inside the house is Diane and she will teach guests how to cook Conch delicacies and delicious local cocktails like the Goombay Punch. A typical meal will comprise of conch salad, rice and peas with locally marinated chicken, delicious coleslaw and homemade coconut bread. 
Other activities on the agenda are learning the Junkanoo dance, The meal session is arranged at Buddies on the Bay in Lewis Yards… this is a wooden structure that's built some feet off the ground at a little distance from the sea shore). 
The Taste Bahamas Premium Tour timings are from 9.30pm to 3.00pm on all weekdays. 
Saturdays and Sundays tour is organized only after appointment 
Maximum group size 20; Tour duration 2.5 hours 
Interestingly the most unique feature of both theses tours is the chance to relate the Bahamian ancestry with that of other nations like China, Lebanon, UK, Greece and West African countries. The slave trade practices and the pirate's contribution are also discussed. By the end of those few minutes of history retelling, guests come back more knowledgeable and aware of the island they have come to visit. 
The tour inside the center as well as outside is very personalized and usually the group size is very small (there are space constraints). It's recommended to call and book well in advance so that you get do your cultural tour on a preferred date. On the flip side, the cultural center or museum is not sophisticated and not air conditioned… you need to forget about grand expectations. 
Address: Hunters Main Street. Next to Vincent de Paul Cathedral 
For a private tour of Grum Ma's Cultural Center, Visit
this Viator Website Page
to check out the details, rate and book the tour online. 
Agape House Ministries
If you want a nontraditional non Catholic Church experience and want to experience the truly Bahamian style of life then a visit to the Agape House Ministries is a must. The music is lovely and the locals dance as much as they pray. If you go on Sundays then you can experience the approach that Bahamians take to their prayer... sermons are delivered in a storytelling fashion. 
The ministries run on the theme "place of love" and you can appreciate this place more if you treat it as a cultural/ spiritual experience rather than a typical tourist attraction. 
Address: 
23/24 Pioneers Loop Circle, Grand Bahama Island 
Phone: +1 242 353 4273 
Casuarina Bridge and the New Grand Bahama Bridge
Casuarina Bridge was previously the largest bridge in Grand Bahama with ground clearance of 27ft. Though the Hayward Bridge has beaten it in size, Causarina still remains a city landmark with most tourist guides and tour operators slowing down and stopping as they approached it to show visitors the beauty of the bridge. The view is lovely especially around sunset and the bridge is something of a city relic now. Earlier this was the only mode of travel between East and west Grand Bahama. 
The new bridge over the Grand Lucayan Waterway was opened in May 2, 2016 and it was named Sir Jack Hayward Bridge (after the co-owner of Grand Bahama Port Authority). This is bigger in size than the Causarina Bridge with vertical clearance of 35 feet. 
If you go boating over the Lucayan waterway, you will be able to identify the new bridge… it's in the zone where the narrow natural sided canal widens off to the completed concrete bound waterway. If you are driving you will encounter the bridge as it makes the final connection of the Grand Bahama Highway between Freeport City and East Grand Bahama. 
Plans of building a swivel bridge or a drawbridge across Midshipman road is still being considered by the city authorities. It's estimated that a lot of civic investment will be poured into developing facilities of the Grand Lucayan Waterway especially on Eastern front in the next few years. Tourists should be able to see big changes every 4 to 5 years as the Waterway grows grander. 
The Rand National Park/ Memorial Nature Center
If you are in Freeport, then a trip to the Rand Nature Center is something that happens by default as it's a 100 acres space that's right at the heart of the town. The place commands a small entry fee and there is a parking space too. 
The nature center was named after James H Rand who was a generous philanthropist and thinker. This is one of the first nature education centers in Bahamas and was built to protect the ecological heritage of the islands. 
There are luscious pine and coppice forests in there and this place is very famous for birding… you will see a lot of photographers and ornithologists inside at any point of time. If you are interested in birding then October to May is the best time for you to visit the Rand Nature center. 
The trail inside is roughly 2000 foot long and you can at least spot 130 different variety of plants inside. It will take you roughly 45 minutes to tour this place. It's great for nature lovers or for families with kids as you get to learn about the national tree (lignum vitae) and the national flower (yellow elder). If you are really interested in the flora and fauna then it makes sense to take a guide along who will point out things to you. 
There is a gift shop inside the premises that sells local art and craft, jewelry made with natural produce and gifts for a reasonable price. You will also see small ponds filled with turtles and other marine life. There are a few cages inside with snakes and some exotic birds. 
Some great things to check out inside the park are rotating stunning visual exhibits that include aspects of Bahamian history, art and culture. The Glory banks gallery is also a good spot to educate the mind. The national park is the best place to learn about local trees and plants especially some interesting ones like Poison tree and Whiskbroom. 
On the flip side there are clear signs saying "closed " on the weekends and many tourists are inconvenienced because of the lack of information. The maps inside are not built to scale. There is no in-house restaurant but the nearest places to have a nice meal are Billy Joe's on the Beach, Upstairs on the Bay and Sires' restaurant. 
Open from 9.a.m to 4 .00 p.m. on weekdays 
Closed on Saturdays and Sundays 
Address: East Settlers Way 
Directly stands across Grand Bahama Catholic High School, Freeport, Grand Bahama 
Phone: 242-352-5438 
Pirate's Cove Zip Line and Water Park
The pirate's cove is an interesting little beach cove that also happens to have a water park facility. Though this is not a park focusing on flora and fauna and rather concentrates on rides, water sports, dance and other entertainment activities. Located less than 1 km away from Taino beach, the Pirate/s Cove water park offers amenities, rest rooms, beach facilities with umbrellas and chairs and a good restaurant with a fantastic bar. 
The arrangement will suit two kinds of tourists; ones with families who need a place with entertainment options for all members, and singles & couples who basically want a fun time at the beach with drinking and dancing. Cruises come here all the time and basically if you are availing a cruise then this is a great place to stop for some sunbathing and entertainment. 
Photo: Pirate's Cove Zip Line and Water Park 
Frequent DJ parties happen here and the music is a bit too loud at times. There is rain dance and occasional bonfire parties at the beach. There are locals offering hair braiding services and organically made jewelry. There are also masseuses offering services right on the beach so it's a good place to have a relaxing massage. 
The restaurant serves mostly Bahamian food (look out for the freshly rustled conch salad and fritters) but the quality is generally good… the bar (full service and its built around a tree!!) is almost always packed when the cruise boat is around. There is a "get all you can drink" offer for around 30 dollars that's quite popular amongst tourists. 
Kids and young adults will love the water trampoline section along with the floating playground in the ocean (you have to swim or wade through the water to get to it) and the easily available kayak and paddle boards. 
A private trip to the Pirates Cove and water park along with Taino beach can act as a cheaper substitute to a full day cruise trip. The amenities and food available at Pirates Cove offer good value for money especially if your expectations aren't too high. On the flip side…the Zip line option is not always available. It's recommended to get to Paradise Cove within 10 a.m. if you want to avail all the fun before it gets too crowded when the cruise ships turn in. 
Address:  
Taino Beach West 
West Beach Road, Freeport, Grand Bahama Island 
Phone: +1 242 602 0936 
Related Articles
Visitors' Reviews and Comments