Grand Bahama Fishing Guide
Fishing is a pretty popular activity in Grand Bahama and serious anglers often come here hoping to break one of those 50 lucrative world records in fishing that Bahamas has established. All kinds and variants of fishing are found here and in the Little Bahama Bank consisting of the east and north coasts of Grand Bahama Island. 
Fishing in Lucayan Water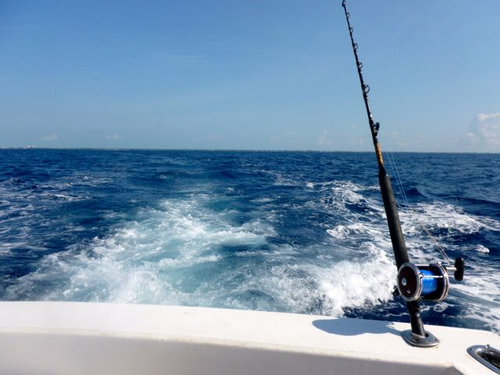 Photo: elaine moore, flickr, cc  by 2.0 
There is a largish expanse of flats meant for fly fishing that's quite popular. Deep water cay in the eastern part of the island is also a fishing hub. Marlin, bonefish, Bluefin Tuna, Wahoo, Yellow fin Tuna and Barracuda are a few varieties of fish popular amongst fishers. 
What bait to carry 
The fish around the island can be pretty large so don't shy away from carrying flies that are bigger than size 2. You can get Bonefish Junk, tan clousers, Greg's flat flier, pops bitters, Petersons spawning shrimp. If you want to go for the kill and catch really large fish then try carrying pop's Hill Special Pink Puff and Kreh's Shallow H20 Fly. 
Best fishing season 
The best season for fishing is considered to be between April and September. Grand Bahama is located towards the north and this means that it's exposed to cold fronts from December to February but becomes ideal for bonefish from May to September. 
One thing you need to know really well before you venture out fishing in Grand Bahama are the best fishing zones…in case you don't have a local fisherman aiding you then Google maps become your best friend. The southern shore of the island has wonderful beaches with convenient access points and few flats. Miles of shores are plentifully available and so are beautiful reclusive fishing spots. The fishing areas here are Barbary beach, Lucayan national park, Bevan Town, High Rock, west part of Pelican Point and Crabbing Bay. 
The north shore or the eastern part of Freeport is well known for bone fishing opportunities. Anglers need to check the wind direction here before selecting a location. Many fishers prefer to use a skiff while fishing here. The Dover Sound Boat Ramp, Water Cay Boat Ramp, boat launch near Statoil and north riding point pier are some of the best fishing areas here. 
The west of Freeport has some decent places for fishing that includes Paradise Cove, Bootle Bay, Bahama Beach and Old Bahama Beach Club. Freeport and Grand Lucaya are the touristy areas of the island. Some good shore/flat fishing areas here are fortune beach, Xanadu beach, Taino Beach, Grand Lucayan Waterway Jetty, Airport Flat. 
Some popular forms of fishing in Grand Bahama are deep sea fishing, reef line fishing, fly/ bone fishing and flat and shore fishing. 
Shore & Flat Fishing Zones 
Flat and Shore Fishing are done in quite a few places in Grand Bahama and these are places where you can easily take the DIY route provided you have prior knowledge of fishing. 
The Water Cays till the West End is a really good fishing zone especially if you are interested in catching big fish. There are a series of flats here ranging from black coral to long grass to sandy bottoms to large stretches of mangrove filled bays. Summer season here is especially productive. For fishing in the flats …there are special resorts that offer an all-inclusive dining-shopping-fishing-lodging experience…like the North Riding Point and Deep Water Cay Club. 
The Fortune Beach that's on the east to Freeport stocks good fish …even bonefish at low tide times. Fishing in the afternoon here and then lunching at Banana Bay Bar and Restaurant is a popular package. 
The Xanadu Beach can be easily reached via the Mall Southern Road and Dundee Bay drive. Shore fishing is best done here in the morning and late afternoon when the sunbathing crowd is sparse. Similarly the Silver point and Taino beach offer good shore fishing opportunities during early morning hours when the crowd is sparse. There is a quiet creek system to the west of Grand Bahama Airport…very few people access it but it holds good scope for flat fishing. 
Another good place for flat fishing is the Grand Lucayan Jetty Waterway that is to the east of Fortune Bay. A long jetty pushes out from the sea and here scores of locals are found fishing with the common catches being bucket fish and snapper. 
The southern shore of Grand Bahama has some of its best beaches and good flats. The expansive shoreline makes it possible for fishers to catch the occasional roaming bonefish apart from the smaller regular catch. 
There are rocky outcroppings which surround that approach to Barbary Beach…this is a good spot on the south shore for flat fishing. 
The National Lucayan Park has a large shoreline where anglers can wade in to catch fish and there is also a spring creek and well developed cave system holding other fishing opportunities. If you travel 3 miles east to Lucayan Park…you will reach Bevan Town that has lots of access points for fishing on its small beach. Anglers can try their luck on the spots where sand merges with the turtle grass and the numerous tiny blue holes around. 
To the west of pelican point is a smallish flat that offers good catch at low tide time. Also before you reach Mc Lean's Town…you will find a clearly marked road pointing towards Crabbing Bay cemetery. There is a small flat here which offers good bonefish too which are best hunted during evenings. 
Bone Fishing Zones 
Bone fishing is one of the most competitive and enjoyable forms of fishing in the Grand Bahama. The bonefish are known to give a fierce fight making victory seem even sweeter to the angler. You need to wade into very shallow waters or cast a line from a shallow flat bottomed skiff though experienced anglers can go in alone with their kayak. 
However the best bone fishing zones can only be reached via boat/ kayak. As Grand Bahama is flanked by deep cold waters…the size of bonefish here are bigger than other parts of the Atlantic and the Caribbean. The average bonefish found here is around 4 pounds and you can regularly expect to see heavier fish around 5 to 8 pounds. 
The North shore of the island that is to the east of Freeport is a mecca for bone fishing. The Dover Sound Boat Ramp is to the east of the airport and has a humongous canal system that can be navigated by a kayak or boat. You can choose to fish both in the east and west directions from here. 
About 3.8 miles east of High Rock lies the entrance to Statoil storage facility… look across the street and you will find a dirt road taking you to a small boat launch. There are good bone fishing waters in the western direction from the boat launch as well as the eastern direction. Anglers can wade in there or they can use a kayak. 
If you cross the Statoil entrance and go further five miles then you will reach another dirt road leading to the North Riding Pier. You will find absolutely wadeable flats on both east and west sides of the road along with a nice creek system. 
Deep Sea Fishing Zones 
If you go a further offshore in the Grand Bahama then it's possible to hunt for anything from sharks to Tuna. Most of the reefs surrounding the cays in Grand Bahama have sharp drop-offs and so it's not that difficult to reach the deep sea though in this type of fishing… you have to get on a fishing charter and reach the deep sea zone where the really large fish dwell. 
Most fishing charters are operated by experienced and avid sailors and fishers who will help guests land a good catch. You will need deep sea fishing rods, fighting chair and tackle (most fishing charters of course come well equipped with all fishing gears) …and you will probably be on the lookout for mackerel, wahoo, kingfish, large jack, marlin, sailfish etc. Several charters will also offer the opportunity of helping guests catch swordfish, white marlin, sailfish and other variants. 
Spear Fishing Zones 
For snorkelers and good swimmers… another variety of fishing is available…spearfishing. This is the only type of fishing where the fisher enters the waters (without scuba gear…the use of this while fishing is banned by the law). The fisher spots the prey, dives deep and shoots with the spear and the fish caught is directly proportional to the fisher's skill level. You will need flippers, Hawaiian sling, a mask and a snorkel and you will be hunting around the reefs while looking under the ledges to spot the fish. 
You can't spearfish on the southern coast of the island or near any of the national marine parks. Your best spear fishing spots will be under reefs surrounding the northern shores of the island. You can also try Paradise Cove which is a popular spot for this sport. Remember that using scuba gear during spearfishing is prohibited…you can use a Hawaiian sling. 
Lil B Fishing 
Fishing specialization: Reef fishing, deep sea fishing, private fishing tours, night fishing tours 
Reef Fishing is what they specialize in and the target audience is kids and amateur fishermen. Lil B uses a small charter with plenty of personalized attention (only up to 6 guests can go in a charter) and the operation is in charge of Captain Les who is affectionately called "the cheerleader". A typical charter reef fishing tour session happens 4 times a day and they leave periodically from 9.00 a.m. to 2.00 p.m. Guests get to keep the fish that they catch… The charges are about 70$ per angler. 
Customized private half day and whole day charters are also available though these have to be booked in advance. Typically such trips include snorkeling and sightseeing along with fishing  
These guys have an app which you can download from their website. It contains information about catch limits, seasons, protected areas, fish species descriptions and bait. 
Address 
Address: Freeport, Grand Bahama Island, Bahamas 
Phone: (242) 351-6917 or (242) 646-5083 
Checkmate Fishing Charter 
Specialization: Bone Fishing, Spear Fishing 
It's run by Captain Cole who is immensely experienced in navigating a charter and holds a SCUBA and FAA Pilot license certificate too. This is a pure private charter experience which offers fishing license, fuel, bait and charges for 6 guests for a price of 900$ for 4 hours. The charter is a 50 foot Hatteras with 2 diesel engines, 2 private cabins, private bathrooms and air conditioning. The charter also contains towable toys, wake board, jet skis, snorkeling equipment and paddle board. 
Phone: 800-688-5871 
Go Fast Fishing Charters 
Specialization: deep sea fishing, light tackle fishing, bone fishing 
This one is managed by Captain Smith who promises to find the best fishing grounds in the shortest possible time for participants which is why he named his charter "go fast". A half a day private fishing trip will cost around 625$ for 6 people while whole day trips cost upwards of 1250$. 
Phone: 242-373-1684 / 242-557-6292 
Pinder Brothers... Bone Fishing Specialists 
Fishing Specialization: Bonefishing, Reef Fishing 
If you are interested in Bone Fishing exclusively then try contacting the Pinder Brothers who have more than 60 years of cumulative experience in this field. Joseph Pinder and David Jr Jeffrey were featured on ESPN shows and they are famous among the global angler community. You have to book well in advance though…they are a busy duo. 
They have 16'' fiberglass Dolphin super skiffs with 85 horsepower outboards, lean bars, padded seats, line buckets, polling platforms. The brothers have special commercial arrangements with the Grand Lucayan Resort. 
Address: 
Sea Horse Road, Freeport 
Phone (Jeffrey Pinder): 242 373 1896, 336 817 7395 
Whitney Rolle's Firefly Bonefish 
Fishing Specialization: inshore fishing, flats fishing, bone fishing and reef fishing along with spear fishing. 
Captain Rolle heads operations at Firefly Bonefish and he has more than 29 years of experience in fishing…this is a good place for both seasoned and amateur anglers who want to know using the spin rod, fly rod etc. His claim to fame includes the privilege of fishing with Prince Philip. 
He fishes mostly on Eat Grand Bahama shores and his packages include fishing license, live bait, an assortment of drinks, snorkeling equipment and lunch. He offers inshore fishing, flats fishing and reef fishing with an added specialization in bone fishing and spear fishing. However the 16 ft. boat he operates can only include 2 guests so if you are planning to fish in a group this isn't the place for you. For a personalized half a day fishing trip…the rates start from 400$ upwards. 
Address: 
Mc Lean Town, East, Grand Bahama Island 
Phone: 242.357.521 
Toll Free: +1-888-395-2564 
Exotic Adventure 
Fishing Specialization: Bottom Fishing, Deep Sea Fishing 
This is a full-fledged adventure tour company that offers fishing along with other activities like scuba, snorkeling etc. 
Captain AJ who supervises fishing activities on behalf of Exotic adventures has 19 years of fishing and sailing experience and he has unparalleled knowledge of the best fishing zones around the islands. He operates a sturdy vessel with double 250 hp Evenrude engines, cabin for two, GPS system and VHF Radio. Half day fishing trips on this charter are 600$ while a full day charter cost is more than 1200$. The charges include fuel expenses, bait, and fishing license for up to 4 guests etc. 
Phone: 242-374-2278 
Since Grand Bahama is very popular as a fishing destination…almost all hotels arrange basic provisions for this sport. If you want to go the DIY route then indulging in Light Tackle fishing and inshore trolling is great. The latter happens in shallow waters and is a light entertaining form of fishing. You will need a small sized agile boat and a local fishing guide will be helpful too (most hotels will arrange this). 
Light tackle fishing is quite popular amongst tourists and newbie fishers…. this kind of fishing uses a reel and rod technique and is relatively simple. You can't catch large fish using the tackle fishing technique but a catch becomes simpler to achieve. There are gigantic coral ecosystems around the island which are ideal for light tackle fishing…. these are all described in the reefs, wrecks and blue holes article. In case you are a serious fisher then consider availing the following accommodation options. 
If you are really passionate about fishing and you want your vacation in Grand Bahama to center around this activity then choosing to stay at one of these places will be a good idea. 
H2O Bone Fishing and Pelican Bay Resort 
This is a luxurious accommodation option for fishers who need to stay at a family friendly entertaining place that's rather high end. The Pelican Bay resort is near the Lucaya Beach and Bassie Square so there is easy access to bars, restaurants and casinos. 97 rooms with pretty marina overlooking balconies are available. 
The fishing activities are all organized and managed by H2O fishing… one of the premier fishing operators on the island. They have 16 foot Maverick Mirage flatboats with Yamaha 90 HP Outboards and casting primarily happens from the boats though anglers are also found wading in the shallow waters. Besides bonefish, barracuda and horse eyed jacks are common catches here. Fishing packages can be custom built here in consultation with H20 fishing… the rates are equal all year around and include accommodation, picnic lunch and breakfast and fishing. 
Phone: 
H2o bone fishing 800-669-3474 (call for custom packages) 
Pelican Bay Hotel: (242) 373-9550 (call for suite selection and accommodation details) 
Address:  
Entrance of Grand Bahama Bell Channel 
Pelican Bay, Lucaya Sea Horse Road, Port Lucaya 
Watercay Bonefish Lodge 
Watercay is in the northern side of the Grand Bahama Island and it has lots of barracuda, bonefish and tarpon. There is a lodge there with a remote feel about it that claims to give anglers access to super-sized bonefish. The lodge is only open from November to August and is almost exclusively accessed by avid anglers. 
They offer angling packages ranging from 2 days 3 nights to 6 days 7 nights based on single and double occupancy. The angling packages include hotel transfer, fishing site transfer, accommodation, guide fee, meals and snacks, restricted laundry service, maid service etc. Equipment rental, drinks and tips are extra (they only take cash) 
They have a battery of new Beavertail 495 lb. skiffs that help anglers target fish in shallow waters. The Bahamian famous guide Sidney Thomas is associated with the lodge. 
To reach the lodge you need to go via the Water Cay minivan that will take you on a 30 minute drive to the crossing and then a shuttle boat takes you across 3 miles of protected water to reach the lodge. 
Phone: 800-669-3474  
East End Lodge 
A superior quality fishing destination in the Grand Bahama…only serious and passionate anglers come here. The location is about 45 minutes away from Grand Bahama Airport in Mac Leans Town. This is an exceptional flat fishing and bonefishing destination as there are 5 bights nearby that slash through the eastern horn of the island and is enhanced by the optimal tide flow that encourages productive fishing at all hours. The average range of catch here is bonefish, barracuda, snapper, permit and tarpon. 
The guide team here is headed by Cecil Leathen and the team runs 16 foot Dolphin super skiffs that have 85 HP Yamahas with storage coolers, poling platform, ice box and comfy seats. Though the east end lodge has equipment on rent facility most anglers who come here bring their own stuff. 
Their bone fishing packages are inclusive of airport transfers, accommodation, meals and non-alcoholic beverages, daily fishing guide service, rods and reels, Wi Fi and resort tax 
Address 
Mc Lean's Town Bahamas 
Phone: 561 354 8005 
Deep Water Cay Club 
A fly fishing hub, the Deep Water Cay Club (established 1958) has been used by the glitterati of the fishing world like A.J Mc Clane, Joe Brooks and Gil Drake. The club is rather exclusive and can accommodate only 12 anglers every week …so it makes sense to book early. This is a 2.2 mile large private island at the eastern end of Grand Bahama…common catch here are the bonefish, tarpon, cuda, permit and sharks. 
Great guides, superior equipment and ultra-comfortable cabanas overlooking the ocean are some of the highlights here. Families can opt for staying at the mini private homes at the Cay. There are lots of experienced guides here and a fleet of Hells Bay Marquesa skiffs. 
There is a private airstrip here for those flying in on private aircraft. 
Accommodation, meals and beverages, airport transport, Wi Fi, fishing guide, resort tax are all included in the fishing packages. The resort is closed in august and September. 
After arrival in Freeport, travelers are contacted by Representative from the club and then escorted eastwards for 50 minutes till Mc Leans' town. From here it's a 2 minute ferry ride to deep water Cay Island. 
Phone: 242-353-3073 
Address: Deep Water Cay, Grand Bahama 
North Riding Point Club 
This specialty bonefishing lodge has seven 16-feet dolphin skiffs. The daily catch rate is anywhere between 3 to 7 and it's well known that the northern shores are less pressured so fishing here isn't tough… you will mostly catch barracuda, bonefish, tarpon and permits. 
Anglers fish here mostly from poled flat skiffs in the large expansive inlets, mangroves and flats that dominate this region. The lodge looks reclusive and old world and has a beach setting …there are 3 private cottages along with a main lodge. All fishing packages include accommodation, meals, to and fro transport from the airport, free usage of club equipment and amenities. Tips for guides and house staff and special gear rentals are all extra. 
The lodge is open all year through and takes in only 12 anglers at a time. They have their own team of well-trained independent fishing guides. 
Address: 
Burnside Cove, Grand Bahama Island 
20 miles east of Freeport 
Bahama phone: 242-727-4250 
US Phone: 864-248-6113 
Old Bahama Bay 
Old Bahama Bay is in the extreme west end of the Grand Bahama Island and is a mecca for fishing lovers. There are 73 beach facing suites here with restaurants, fully functional marina, beaches and snorkeling plus boating activities in addition to its specialty….fishing. This is an all-inclusive place where food, accommodation, equipment rental and access to facilities like the marina and pool are all part of a flat fee. 
Old Bahama Bay is perfect for fishers who have come to vacation with their families… you get the best of both worlds here. Besides individual fishing excursions, guests can opt for bone fishing, bottom fishing and reef fishing tours via charters. A native fishing adventure including full day fishing and then cleaning, cooking and eating the fish as a package deal is also offered. There is also the option of hiring a standalone local guide and then exploring the best reef fishing zones around the west end of the island. 
Address: Bay shore Road West End 
Grand Bahama Island 
Phone: 888-983-6188 (USA/ Canada reservations) 
242-602-5171 (resort line) 
Bishop's Bonefish Lodge 
Ideally suited to fishers who are looking for a quiet relaxing time…the bishops is near a wide expanse of virgin flats where there are lots of bonefish. The location is near High Rock and it's away from the main town which adds to its reclusive charm. There are only 7 rooms inside and you have to book well in advance. Fishing packages include meals, accommodation, fishing equipment and guide service. 
Address: High Rock, East Grand Bahama 
Phone: (242) 353-4515 
Related Articles
Visitors' Reviews and Comments