Bike, Jeep and ATV Tours in Grand Bahama
The diversity of terrain that marks Grand Bahama has made bike and jeep tours a popular activity on the islands. 
The principal biking routes here run along the southern shore of the island. Usually biking tours have shopping, city sight-seeing, nature watching and swimming as added activities. You can choose to bike to the wetlands (Harley Davidson is the preferred vehicle) for nature watching or choose to bike to one of the islands many inland blue holes. Motorised bicycle tours are another popular choice. 
Jeep safari tours can be self-driven or you can hire a driver and guide. Usually jeep tours are conducted in a 4x4 open top jeep in a convoy. There will be a customized schedule for you depending upon whether you are a cruise ship passenger or a hotel guest on the island. The Lucayan caves, Garden of Groves etc. are popular stopovers on the jeep safari. 
Photo: Grand Bahama Nature Tours 
ATV tours are also a popular option and the commonest route is along the Grand Lucayan waterway with stopovers in local gardens, parks and beaches. 
A Segway trip is for tourists who want to experience the island while on a two wheeler. There are guides who will teach you to handle the vehicle and the usual routes are to Discovery Bay and then a popular beach club. 
Here are the details about the best known bike, jeep and ATV tours on the island. 
CocoNutz Cruisers offers Electric Bicycle Tours that explore the coasts, island attractions and local restaurants in a self-paced style. The electric bike group tour lasts for about 5 and half hours. The tour typically starts of at 10.00 a.m. from the Port Lucaya Marketplace and ends at the Banana Bay Restaurant located on the gorgeous Fortuna beach.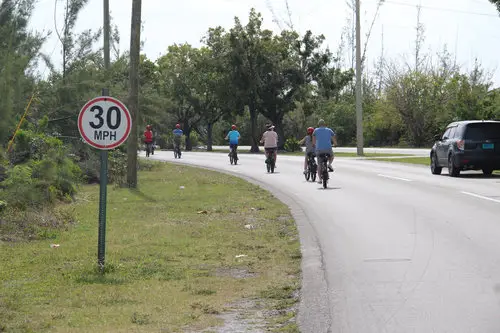 Photo: CocoNutz Cruisers 
Other highlights of the tour are conch picking sessions, cultural experiences, and dolphin watching and checking out the islands richest homes. Trip photographs are mailed to tour guests free of cost and towels, lunch and bottled water are provided free of cost. You can check further details and book the tour online through
this Viator's Website Page
. 
Address: Port Lucaya Market Place area, Freeport, Grand Bahama 
Timings: Monday to Saturday 9:30 am - 4:00 pm  
Phone: (242) 808-7292 
Off road ATV tours and Garden tours are offered by Grand Bahama Nature Tours. The tour centers on riding to the garden of groves and the trails move through beautiful patches of flora and waterways. There is a short safety session and practice ride at the beginning of the 3.5 hour tour (including an hour long exploration of the garden) and the cost per person is 89$ only.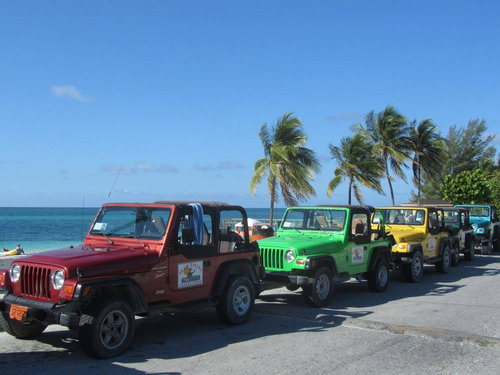 Photo: Grand Bahama Nature Tours 
A 5.5 hour Jeep Safari is also offered were you have to drive your own 4x4 open top jeep as a part of a convoy. The garden of groves, art and craft village, private beach club is one of the tour routes while the Lucayan Park and the Golden rock beach is a part of another route. This tour is priced at 89$ per person. 
Toll-free phone: 1-866-440-4542 
West end Bike and Snorkel adventure is offered by Calabash tours and its 6.5 hour long adventure that combines snorkelling as well as biking. There are well spaced stops and guide interactions along west end where guests are briefed about history, culture and unique features of Bahamian settlements. The bike ride is 6 mile long and takes place on the northern side of west end before ending at old Bahama bay. The snorkelling experience is at Paradise cove followed by lunch. 
Freeport F 40365, Grand Bahama Island 
Phone: 1 242 727 1974 
A 3 hour long Harley Davidson bike tour is offered by Reef Tours …on the agenda is beach exploration and city rides where a guide will lead the way. All bikers need to have a valid license. 
The Segway tour is targeted towards discovery Bay and is 3 hour long including the instruction session. A fun session at Bahamian beach club is also a part of the tour. 
Address: Port Lucaya Marketplace, Near UNEXSO Centre 
Phone: 1 242 373 5880 
Related Articles
Visitors' Reviews and Comments