Getting to Grand Bahama
Following airlines operate directly to Grand Bahama International Airport located at Freeport (The domestic flights of Bahamas operate to the domestic terminal of the airport): 
American Airlines: From Miami International Airport, Florida. 
Website: www.aa.com 
Bahamas Air: From Orlando (Canada), Fort Lauderdale (Florida) and Nassau (Bahamas). 
Website: www.bahamasair.com 
Delta Airlines: From Atlanta (USA) 
Website: www.delta.com 
Flamingo Air: From Fort Lauderdale (Florida) and several places in Bahamas including Nassau, Marsh Harbor and Bimini. 
Website: flamingoairbah.com 
Sky Bahamas: From Fort Lauderdale (Florida) and several places in Bahamas including Nassau, Marsh Harbor and Bimini. 
Website: www.skybahamas.net 
Western Air: From Nassau (Bahamas) 
Website: www.westernairbahamas.com 
iJet Charters operating from Fort Lauderdale (Florida) offers private aircrafts for various destinations including Grand Bahama. Available aircraft include Boeing 737-400 with  12 first-class and 138 Economy seating, Dornier Jet, Saab 340, Saab 2000, Cessna Caravan etc. 
Website: www.ijetcharters.com 
Following cruise lines operate to Grand Bahama (Freeport) from various places in the US: 
Cruise Port of Grand Bahama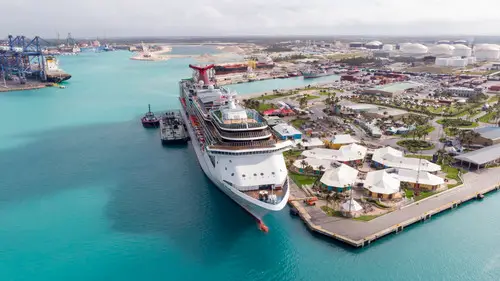 Photo: YES Market Media, Shutterstock 
Bahamas Paradise Cruiseline: From Port Of Palm Beach (Florida) 
Website: www.bahamasparadisecruise.com 
Carnival Cruise Line: From Miami (Florida) 
Website: www.carnival.com 
Norwegian Cruise Line: From Miami (Florida) 
Website: www.ncl.com 
The ferry terminal is located at the Freeport Harbor at the western end of the town. There is a narrow inlet Hawksbill Creek on which the ferry terminal and the ship berths are located. There aren't much facilities at the ferry dock area... however the Pier-1 Restaurant here offers excellent Sushi and Sashimi items plus island cocktails. The restaurant has a great sunset view. You can also see shark feeding here (a great sight) in the evenings at 7, 8 and 9pm. It's open all days of the week (lunch and dinner). 
There are three places which are connected to Freeport by ferry ... Miami (Florida), Fort Lauderdale (Florida) and Nassau (Bahamas). Another ferry service connects Abaco Island with McLean's Town of Grand Bahama. These are fast ferries and have air-conditioned cabins. Note that ferry frequency and timings change depending on time of the year. So check their websites for current schedule. 
FRS Caribbean operates three ferry services (air-conditioned catamaran) per week between Miami and Freeport. It takes about 4 hours one way. There is also a service several days a week between Bimini (Bahamas) and Freeport (takes about 2 hours one way). 
Website: www.frs-caribbean.com 
Balearia Caribbean operates 6 ferries per week between Fort Lauderdale and Freeport. One way sailing takes about 3 hour 30 minutes. 
Website: www.baleariacaribbean.com 
Bahamas Ferries operates 2 ferries per week between Nassau and Freeport with one-way sailing time of about 13 hours. 
Website: bahamasferries.com 
Pinder's Ferry Operates twice daily between Crown Haven (Abaco) and McLean's Town (at the eastern end of Grand Bahama). Leaves Crown Haven at 7:00am and 2:30pm; Returns from McLean's town at 8:30am and 4:30pm. Phone: (242) 365-2356 Abaco, (242) 458-2621.  
Once used mainly for carrying postal mails between various islands in the Bahamas, Mailboats have gone through their own evolutions and can now comfortably accommodate passengers ferrying them between the islands while they also carry provisions and merchandise items. The mailboat too has air-conditioned large cabin for passengers along with facilities for food and beverages. 
Mailboat: Operates two round trips in a week between Nassau (Potters Cay) and Freeport ferry dock. One way sailing can take between (9 to 12 hours). 
Website: mailboatbahamas.com 
In case you are arriving at Grand Bahama by your private boat or one that you have rented, you need to follow the below guidelines: 
You must clear Customs and Immigration at one of the designated Ports of Entry. 
While entering the port, fly your yellow quarantine flag and the officers will come to your boat to complete the formalities. Until your boat is cleared, only the captain of the boat is allowed to come out, all others must remain inside the boat. 
All on board must show the proof of nationality (for example, the passport). The US nationals can show some alternative documents such as birth certificate, diving license or a voter's card.  
If you have any firearms, you must declare that to the customs. 
The following fee will apply for stay up to 90 days (which includes boating and fishing license plus departure tax for up to 3 persons): Boats up to 34 feet: $150; Boats 35-99 feet: $300; Boats 100-149 feet: $500; Boats 150-200 feet: $800; Boats over 200 feet: $1,000. This fee also covers re-entry within 90 days period. For longer stays, the fees are annualized and double the above rates. 
Below are the marinas in Grand Bahama that are Official Ports of Entries and allow customs and immigration clearance: 
Bradford Marine 
Offers full refit and repair services other than yacht sales and re-sales. 
Bradford Marine, 100 Queen's Highway, Freeport, Grand Bahama 
They also have a marina location in Fort Lauderdale (3051 West State Road 84, Fort Lauderdale, Florida 33312, Phone: 954-791-3800; Email:
[email protected]
) 
Grand Bahama Yacht Club 
It's one of the best marinas in Grand Bahama and located in Freeport. It offers facilities such as vessel clearance, pool and pool bar, club house, fueling, safety and emergency services. It can accommodate large number of boats for sizes up to 200ft. 
Midshipman Road, Freeport, Grand Bahama. 
US phone: 1-954-284-5193; Local: 1-242-373-7616 
Freeport Harbor Company 
This is a harbor with cruise ship berths and day ferry facilities. It is operated jointly by Hutchison Ports and The Grand Bahama Port Authority. The harbor and the berthing facilities spans across 1630 acres. There are number of retail stores and entertainment center. 
Freeport, Grand Bahama. Phone: (242) 688-8500  
Old Bahama Bay Marina (West End Marina) 
This is a resort marina (of Old Bahama Bay Resort) located at West End. This is the only marina in Grand Bahama which allows night time entry for boats. It has 72 slips. This is a full service marina. 
Old Bahama Bay Resort, Bayshore Road, West End, Grand Bahama. 
Phone: (242) 346-6500; (242) 350-6516 
Port Lucaya Marina 
Located at Port Lucaya (short driving distance from Downtown Freeport), the marina offers several services including boat airing, washing, toilet facilities, transport services, grocery shopping etc. Port Lucaya Marketplace located close by is buzzing with shoppers and diners. 
Photo: Geoff Livingston, flickr, cc by-sa 2.0 
Call Reservations: 561.290.4792 / 242.373.9090 
Sunrise Resort & Marina 
The resort and its marina is located in a quiet place in Freeport. There are floating docks and 70 slips. Boats of up to 110ft can be accommodated here. This is a full service marina and a good thing is there is a full service boatyard located next to the resort. You can enjoy several facilities of the resort as well including pool, wi fi, gym etc. 
Sunrise Resort & Marina, 208 Kelly Court & Knotts Boulevard 
Phone: (242) 352-6834; (800) 932-4959 
Related Articles
Visitors' Reviews and Comments