Treasure Cay, Abaco - Bahamas
Arguably one of the most visited zones on the Abaco Islands, Treasure Cay is located in Great Abaco and about 17 miles to the north west of Marsh Harbor. Unlike some other quieter and more relaxed cays, Treasure Cay is developed as a vacation community. Incidentally this is not an island but a peninsula like structure that's joined to Great Abaco by a thin strata of land... the very first loyalist settlement called Carleton first laid its steps in Treasure Cay. 
Treasure Cay has its own airport which receives flights from Miami, Orlando Ft Lauderdale, West Palm Beach and other cities apart from other Bahamian destinations. Treasure Cay has its own marina and a harbor, and if you are staying here then you can anchor your vessel there should you arrive through private boat. The marina has a great restaurant, large resort and well maintained docks. 
Treasure Cay Harbor. Photo: Tom, flickr, cc by-sa 2.0 
Ferries operate between Nassau and Sandy Point Beach (afterwards you need to take a taxi to Treasure Cay) so that's another travel option. There is also a ferry dock at Treasure Cay... ferries operate to few small islands of Abaco from here such as
Green Turtle Cay
. 
Location & Road Map, Treasure Cay 
Treasure Cay Beach
The beach itself is 3.5 miles long and was voted as one of the Bahamas top 10 beaches by Caribbean Travel & Life. The sand here is baby soft and white which creates a nice contrast with the sparkling blue water around. The long stretch of the beach with powdery sand is ideal for a stroll... however, afternoons can be very hot and there are hardly any shades along the way.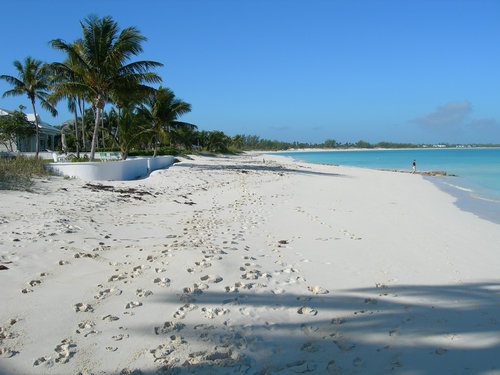 Photo: Tommy Miles, flickr, cc by 2.0 
The water is exceptionally clean and clear. There are plenty of fish in the water including stingrays and starfish... this along with shallow and calm water makes it ideal for swimming and snorkeling, even for families with kids. There are hardly any strong waves or undercurrents on this beach.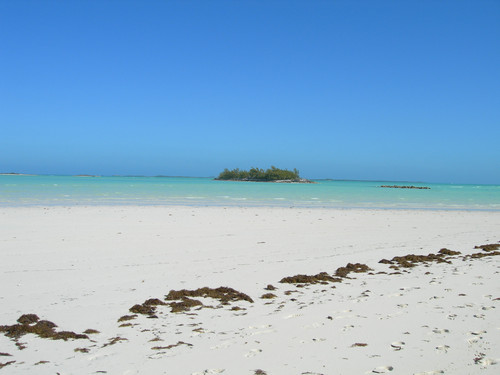 Photo: Tommy Miles, flickr, cc by 2.0 
In low tide, you can walk down to the small island offshore (the one you see in the picture above). Some great restaurants are located on and near Treasure Cay Beach like the Coco Beach Bar & Grille and the Treasure Sands Club and the Tipsy Seagull (across the street on the Marina). 
The Coco Beach Bar & Grille
The Coco Beach Bar is part of the Treasure Cay Resort and Marina… grilled food and Bahamian mixed cocktails here are a must try. The direct ocean view, thatched shades and umpteen lounge chairs makes this a good option to spend some quality time. 
The Tipsy Seagull is the swim up bar here…. If you do go to Tipsy Seagull, go on Fridays and Saturdays... the ambience is great. On Thursdays this place becomes a pizzeria. Do try the Treasure Bomb Shot, Tipsy Splash (speciality cocktails) and their range of awesome ice cream mix cocktails. 
Treasure Sands Club
Treasure Sands Club lies on the main road in Treasure Cay…they provide an organic farm to table experience and have a symbiotic relationship with the local community. If you are interested in fusion food and want to experience a Bahamian farm (the club has its own farm called Bahama Woodstar Farm…named after the Woodstar Hummingbird) then this is the place to go. 
Windward Point
Windward Point lies at the tip of the Treasure Cay Road. You can walk it down to the beach from the Bahamas Beach Club. There is an extended sand bar off the beach that you can use to walk out 300 yards (of course at low tide) and glimpse amazing marine life. 
The water temperature on the shallow flats is warmer than the deep sea water so it's fun to wade in there. This is arguably the best place on Abaco for a lovely walk. 
Treasure Cay Beach Marina & Golf Resort
Treasure cay has a golf course (Treasure Cay Beach Marina & Golf Resort) to which you can get a day pass. The golf course is designed by Dick Wilson (its ranked amongst the top 100 golf courses in the world) and it stretches across 6985 yards…. there are fairways around decorated by lovely island vegetation. Many special golf events and occasions are held here. The beach here is great. If you want to enjoy water sports in a relatively private environment then this is the perfect beach for you. 
There are many boat rental agencies at Treasure Cay and it's one of the best places to plan a fishing excursion. You can also take a ferry to a cute little settlement called New Plymouth that's situated on the Green Turtle Cay Island. If you are planning to stay at Treasure Cay then you will need to rent a boat or car for the entire length of your stay as Treasure Cay is a little isolated from the rest of Abaco (hiring a taxi all the time can turn out to be expensive). 
Treasure Cay Blue Hole
The Treasure Cay Blue Hole is a great place to visit though it's nestled quite deep in the pine forest. The drive to the blue hole is quite pretty. There are tree swings near the hole and you can cannon ball right inside the hole creating an amazing experience!! Incidentally this is one of the most easily accessible blue holes in Abaco. The depth of water here is 254-feet.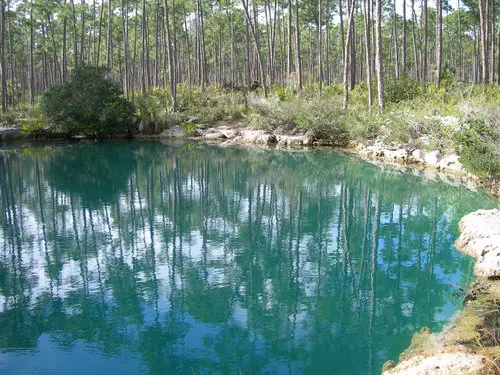 Treasure Cay Blue Hole. Photo: Tommy Miles, flickr, cc by 2.0 
Abaco Wild Horse Preserve
Wild Horses of Abaco Preservation Society (WHOA) 
Visits have to be prearranged through Milanne (Mim) Rehor… the head of the preserve. The preserve is in the pine forests near Treasure Cay and visitors must be physically fit and not averse to walking. Tours are tailored to suit group requirements ….the best season to visit is between June to October. 
Abaco Wild Horse Preserve is a center dedicated to celebrating the heritage of beautiful wild horses of the islands who once galloped freely through the pine forests of the islands. Incidentally the horses are believed to be the descendants of fine Spanish barbs. 
The preserve was meant to keep these horses in simulated natural habitat and visitors had a good chance of seeing the in their full glory. In the 1960's the herd was 200 strong. 
Once you reach there the wild natural environment will stun you… options of exploration are only via guided tours. The area has been untouched since the 1940's and some of the huge pine trees here are more than a 100 year old. Everything from luscious dense forests to jagged fields to nurseries for medicinal plants and conservatories for insects and butterflies can be seen here. 
If you are interested in geology then the large petrified dunes here along with huge fresh water lens and marshes of various sizes will be a good exploration option. Hiking, butterfly watching, bird watching, swimming or simply admiring nature while taking long walks are some of the things you could do here. 
Unfortunately, the last descendant of the original Spanish Barb Horse (these descended from the sturdy horses Columbus brought into the new world) was Nunki (a mare) who died in 2015. 
In a dramatic attempt the tissues of Nunki were extracted, cryopreserved and then flown to USA where a genetic engineering firm Viagen cloned two mares. As of now plans are underway for breeding the mares and restoring the glory of the Spanish Barbs. The horse preserve will become a setting for equine assisted therapy, eco-tourism and healthier energy systems…. the preserve is committed to ensuring the proliferation of the Spanish Barbs on the lush grounds of the preserve. 

By Raj Bhattacharya 
Raj, a seasoned travel writer and Bermuda destination expert, has extensive global travel experience. This website reflects his profound insights, garnered over nearly two decades of dedicated findings and research on the island. Raj has assisted countless Bermuda-bound visitors by providing direct, personalized responses to their queries and imparting his wealth of knowledge through this platform. This site serves as an indispensable guide for those seeking informed and reliable insights into Bermuda's treasures. 
Related Articles
Visitors' Reviews and Comments