Marsh Harbor Tourism Guide
Many tourists prefer to base their stay in Marsh Harbor as it has easy accessibility to many tourist points in Abaco along with the best dining and shopping options. This is the largest settlement on the Abaco and most of the island's population lives here. 
In Marsh Harbor you will see a long strip of road (Bay Street) and most hotels and restaurants line up this one strip. This is a good place to restock cash (this place has lots of ATM machines and that's tough to find in other remoter areas) and shops for groceries (affordable well stocked stores are here) and spend a pleasant enough day.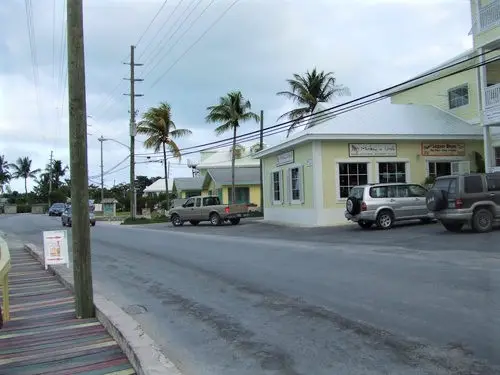 Bay Street, Marsh Harbor. Photo: Tommy Miles, flickr, cc by 2.0 
There is also a lot of variety in terms of accommodation options in Marsh Harbor... lots of condo complexes and hotels are clustered around the main beaches. Great ones include Abaco Beach Resort & Harbor (Bay Street), Conch Inn Hotel (Bay Street), Pelican Beach Villas (2 km from the Abaco Marina), Lofty Fig Villas (center of Marsh Harbor…across the street from Dive Abaco), Turtle Hill Vacation Villas (this is on the highway between Marsh Harbor and Elbow Cay)… all of these have private marinas and docks so in case you want to take your own boat to reach, these are ideal choices. 
Marsh Harbor is linked to a tarred main highway (roads all over the islands are not this good elsewhere) and you can drive down visiting all the settlements with interesting names like Snake Cay, Mango Hill, Fire Road and Hole in the Wall.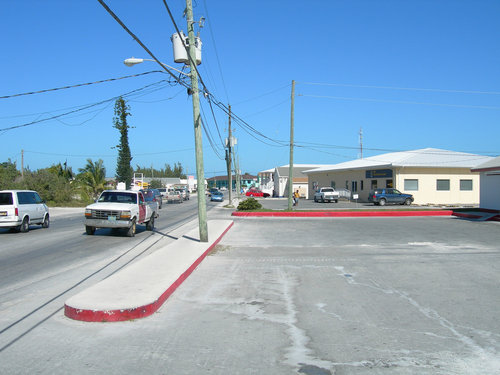 Marsh Harbor. Photo: Tommy Miles, flickr, cc by 2.0 
Marsh Harbor is close to many beaches... Crossings Beach is to the North (1.4 miles away), Snake Cay is to the South (accessible through a bridge from Great Abaco), Cemetery Beach is the North East (5.1 miles north east of Marsh Harbor) and Garbanzo beach is to the South East (5.8 miles away).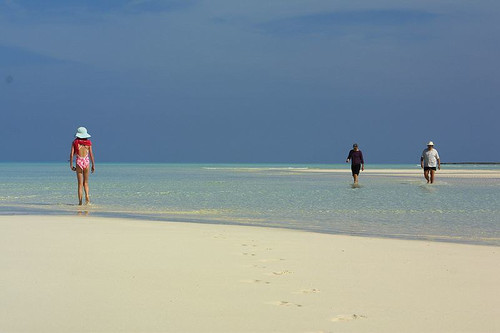 Photo: Michael McKechnie, flickr, cc by 2.0 
Here are some of the nice restaurants you can check out in Marsh Harbor: Jamie's Place is basically an American style dining place… go here for eggs and grits, buffalo wings, cracked conch and loads of ice cream. It's located on East Bay Street and is open from Monday to Saturday from 7am to 9pm. 
Colors By The Sea is a shack that's open till 11pm …this is probably one of the most quirky places in East Bay Street in Marsh Harbor. Try blackened Grouper, fresh lobster and conch dishes here along with Kaliks. For a nice meal you can head off to Jib Room Restaurant… it's there on Johnny Cake Lane. Musical nights with dancing is there every Saturday and Wednesday... food is rather nice with delicious grilled fish, steak and ribs. There is even a marina here... this is an extremely popular place. Call 242-367-2700 for dinner reservations. 
Snappas is sort of a social hub and pub here on East Bay Street…on Saturday this place is open till 2 a.m. otherwise Snappas closes by 11 p.m. everyday. There is happy hour every day from 5 p.m to 7.30 p.m... grilled fish and meaty burgers here are a must-try. Bliss Coffee Shop is the most chic coffee shop in this part of the world…this was formerly known as the Java Coffee Shop. Located in Bay Street the coffee shop is open from Monday to Saturday 11 a.m. to 5 p.m. 
Maxwell's Supermarket is where you should go to stock up on your groceries. It's located on Stratton Drive and is open from 8am to 7pm from Monday to Saturday. Call 242–367-2601 before going... you can even pre-order your groceries. 
Getting to Marsh Harbor
If you are coming by flight... this is probably where you are landing. The main dock and the major airport of Abaco are both in Marsh Harbor so it has best accessibility from all points. 
The airport in Marsh Harbor is now known as Leonard Thompson International Airport. There are regular flights to Abaco from Fort Laderdale (Florida), West Palm Beach (Florida), Atlanta etc connecting Marsh Harbor. There are also ferry connections between Nassau and Abaco with average sailing time of 5.5 hours each way. Read
Getting to and around Abaco
for further details. 
Airport in Marsh Harbor. Photo: Tommy Miles, flickr, cc by 2.0 
Location & Road Map of Marsh Harbor 
Little Harbor & Cherokee Sound
Getting Here: Cherokee Sound and Little Harbor can be easily reached by car from Marsh Harbor (it's a 45 minute ride and you will need a sturdy vehicle). Also if you drive south for an hour from Treasure Cay then you will reach Little Harbor. Both of these places are usually visited in a single trip. 
Little harbor is a sheltered anchorage that lies on the south end of Great Abaco Islands. It's a sheltered community of about 60 homes (this was founded by Randolph Johnston who was a bronze sculpture artist) that encompasses a semicircle of white beach... incidentally the community is solar powered. The waters here are full of dolphins, turtles and stingrays and there is a fringe reef near the east shore of the harbor mouth that offers good snorkeling opportunities. 
Little Harbor. Photo: Killian77, flickr, cc by 2.0 
This is not a glamorous place but it's good for tourists who want to experience the local culture. There are caves in here around the island fringes that sailors have occupied for months back in the ancient 1800's. 
In 1783 Colonel Thomas Brown founded the settlement Cherokee sound (south of little harbour) and it was so named because Brown had liaisoned with the Cherokee Indians. This is a small isolated community and people know each other on a first name basis. When you go to Cherokee sound you will see the fishing smack boats all have five sails instead of the usual seven. 
The harbor (in Cherokee Sound) is beautiful with great views. There is a dock here that's the longest wood pier in Bahamas…its about 700 feet out in the sea. Now that there is a well maintained road that connects Cherokee to the mainland, the dock is just a tourist attraction. Another local attraction to check out is the 1988 built monument that's dedicated to the local Cherokee fishermen…the base of the monument contains the scripted history of the illustrious fishers here. 
There is an art gallery called Pete's Pub & Gallery here that is a must visit spot. It's basically an on-sand local restaurant plus an art gallery that's famous for exquisite bronze sculptures and sea food dishes. There is an under-explored little beach at the back side and there is the Jhonstons Foundry that displays good work. Incidentally Pete Johnston (son of the famous sculptor Johnston) runs this place... he himself is a master craftsman and sells bronze castings to visiting yachts.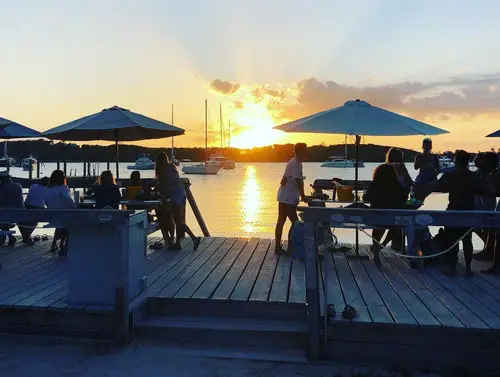 Photo: Pete's Pub & Gallery 
Other places to visit here are the winding bay trails, lighthouse and Ezras Picnic Spot. The lighthouse is just ahead of Johnston's Foundry… it's now non-functional (this was also a manned lighthouse) and there is a 100 year old house and a blowhole (named Dragon) in front of the light house. 
The winding bay trails are a bunch of walking trails that crisscross the whole area... just ask around locals will show you many options. Ezra's picnic spot is along the beach near the tennis court…its best to approach this area during low tide. 
The most prominent place to stay here is the Abaco Club (it's on winding Bay) that happens to be a Ritz Carlton enterprise. You can enjoy a luxurious meal at the Abaco Club and use its spa, health center, golf course and gift shop. 
You can also take a kayak ride from Little Harbor to Cherokee by following the Yellow Wood Creek. Blue holes are aplenty around (tom curry's point is a famous one) but you would need a trained guide along to show you the places. 
You can spend a nice quiet day by combining a visit to both Little Harbor and Cherokee… get lunch at Pete's club and check the gallery of sculptures… admire the ocean and then drive around to Cherokee…. swim in the waters and check the long dock before heading back. 
If you are interested in bone fishing then little harbor, Cherokee sound and all the land to its south is bone fishing territory…you will find umpteen fishing lodges and fishing gear rental agencies here. 
If you are driving back from Cherokee Sound to Great Abaco and turning southwards then there is a pretty little fishing village called Casuarina Point where there are lovely stretches of sand and blue flats (good place for bone fishing). Vacation rental homes are available here and there are a host of other activities you can indulge in here like kayaking, paddle boarding, swimming, dipping into blue holes etc. 
Some distance away southwards is another fishing hamlet called Crossing Rocks (this is where Great Abaco shrinks to its narrowest point)... you have to travel for 45.7 km from Little Harbor via the Great Abaco Highway to reach the Schooners Bay at Crossings Rock. Nice luxury vacation rental homes are available here and there is the Black Fly Bonefish Club and the Sand Piper Inn that is clustered around a 14 acre harbour. 

By Raj Bhattacharya 
Raj, a seasoned travel writer and Bermuda destination expert, has extensive global travel experience. This website reflects his profound insights, garnered over nearly two decades of dedicated findings and research on the island. Raj has assisted countless Bermuda-bound visitors by providing direct, personalized responses to their queries and imparting his wealth of knowledge through this platform. This site serves as an indispensable guide for those seeking informed and reliable insights into Bermuda's treasures. 
Related Articles
Visitors' Reviews and Comments