Hiking and Eco Tours in Abaco Islands
Abaco is mostly visited for its exquisite natural beauty and unique geographical topography. The distinctive natural beauty these islands possess has made eco-tourism popular over here. The relatively untouched parts of Abaco are best explored by hiking trails combined with kayak tours and horseback rides... all of which are included as eco-tourism opportunities by different operators. 
The Red Mangrove is one of the most famous kinds of flora in the world and its found right here on the Abaco islands... many call these the walking trees as they have super strong prop roots that dive deep into the water creating the image of walking trees. Young fishes and other marine forms inhabit this safe mangrove zone until they are fit enough to sail into stronger waters... mangroves play an immensely important role in preserving the delicate and complex ecosystem of the islands. 
Tilloo Cay (Abaco)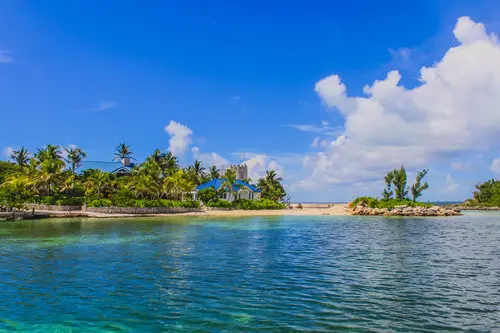 Boat rides through mangrove forests gives you great views of caves, jutted limestone formations and tunnels along with the coast... on your boat ride you may be lucky enough to catch glimpses of exotic migratory birds (mangroves of Abaco are a preferred destination for birders) and reptiles. 
Kayaking through the mangroves can also be an interesting experience. You can see that the waters are deep brown red (tannins released from the plants does that to the water) and this experience is very different from viewing the crystal blue beach waters. Sea grass meadows are linked to mangroves and they hold manatees, sponges and anemones flourish in these environments. 
It's important to realize that mangrove forests serve a great role in preserving the ecology of Abaco Islands… all sea-life from sharks to dolphins visit the mangroves for breeding and rearing their young. Black Sound Cay National Reserve has some excellent mangrove ecosystem…. you can hike through the reserve while renting a kayak to explore the canals surrounding the mangrove swamps. 
The other
Parks of Abaco
like
Tilloo Cay, Pelican Cay and Fowls Cay
have lesser known but uniquely beautiful hiking trails. The best way to explore these parks on foot is to hire a trained guide and naturalist who can point out the unique landmarks here. You can contact
Bahamas National Trust Abaco Office
to arrange guided tours. 
Abaco Office Headquarters 
P.O. Box AB-20953, Marsh Harbour, Abaco, Bahamas 
Phone: (242) 367-6310 
The operator Abaco Tours & Activities offers a 2.5 hours package that includes hiking, kayaking through the mangroves and snorkeling in the flats and also a 1.5 hour package that includes only slow paddling. Prices range between 40$ per person to 70$ per person. You can contact…. 
P O Box 22203 Treasure Cay, Abaco, Bahamas 
Phone: (242) 365-8044 (office) 
The Abaco National Park is a 20,500 acre park that's full of palm, mangrove and pine trees and one of the prettiest terrains in Bahamas. 
There is a well-known hiking trail here called the Parrot Ridge trail… naturalists and ornithologists would love the option of looking at Pine Warbler, Bahamian Parrot, Kirkland Warbler, Loggerhead Kingbird, Antillean Bullfish, Emerald Hummingbird, Blue Gray Gnat Catcher, Bahama Mockingbird and other exotic birds. 
There is also the wonderful chance of spotting the Atala Butterfly that's now named as an endangered species. Enjoy the walk through the pine forests here… this is mostly a DIY activity though if you enquire with Bahamas National Trust… guided tours are also available. 
Lucayan Nature Tours offered by Abaco Nature Tours (located at Memorial Plaza in Marsh Harbor) is a day long hiking trip which includes bird watching, blue hole spotting in the pine forests and a trip to the Hole in the Wall Lighthouse. Reginald Patterson or Reggae as he is fondly called is extremely knowledgeable about the local terrain and will point out birds, history of places, eco systems and geographical information with elan. 
Very few tourists know that Reggae is the son of Jack Patterson who is the author of the well-known book "Native Trees of Bahamas" and a true descendant of the loyalists who came to Abaco after the American Revolution. Phone: 242-367-2749; 242-477-5953 
Excursions to caves are available and this is a good way to explore the topography of the Abaco Islands. You can hike to the Maxi Caves that are about 4.1 miles northwest of central Hopetown in Great Abaco and the Sugar Beach Caves that are 2.1 miles southeast of central goat cay. 
Hikers and nature lovers who visit the Abaco Islands often wander off individually or in groups to explore the lovely land formations here… these are places which very few tour operators will take you to.  You can also explore the sinks and underwater cave sites in East Abaco like Dan's Cave, Ralphs Cave, Nancy's Cave, Sawmill Sink etc. These are places surrounded by exotic flora and fauna… even if you do not dive… hiking to some of these spots can be an exhilarating experience. 
Some interesting land formations in Abaco that you can explore via long walks/ hikes are Brigantine Bay that's about 0.4 miles southeast of Central Treasure Cay and Guana Cay Reef that's 0.8 miles east of Central Great Guana Cay. 
Walking to the Hope Town Point that's on Elbow Cay and the Hope Town Reef is also a good idea. Pelican Cay on Elbow Cay and Sandy Cay Reef, Tilloo Bank, Tilloo Pond on Tilloo Cay are great land formations that you can explore. Another nice destination to hike to is the White Sound Lagoon that's in Elbow Cay. 
Manjack Cay is about 30 minutes of boat ride away from Treasure Cay and it has great coves and beaches that are perfect for long walks. The south east side of the island has a well-marked nature trail called the Manjack's Nature Walk. If you are a nature lover you will enjoy looking at the unique vegetation on the trail… there is Poisonwood (Abaconian kind of Poison Ivy) and the Gummilemmi Tree (again a native species of the island) besides many indigenous flowers and shrubs. 

By Raj Bhattacharya 
Raj, a seasoned travel writer and Bermuda destination expert, has extensive global travel experience. This website reflects his profound insights, garnered over nearly two decades of dedicated findings and research on the island. Raj has assisted countless Bermuda-bound visitors by providing direct, personalized responses to their queries and imparting his wealth of knowledge through this platform. This site serves as an indispensable guide for those seeking informed and reliable insights into Bermuda's treasures. 
Related Articles
Visitors' Reviews and Comments