Best Things To Do In Exuma
Thunderball Grotto Snorkeling
Thunderball Grotto is the location where James Bond movies were shot…there were actually two of them filmed here though the grotto got its unusual name from the James Bond movie 'Thunderball'. Other movies like 'Splash', 'Into the Blue' and 'Never say Never Again' were also shot here. 
You can be sure of finding snorkeling in Thunderball Grotto on the schedule of any Exuma day tour and with good reason. Located near Staniel Cay (which makes it accessible) this is a fantastic underwater cave system that has great options for diving, wading and snorkeling. 
Photo: cdorobek, flickr, cc by 2.0 
The structure of the Grotto is like Swiss cheese... it's a hollow island with holes running through it and people can swim through it. You can basically swim through dark caves into light filled caverns that are teeming with exotic marine life. The sunbeams lighting up scores of jewel toned fish and the clear water makes the whole place look like an aquarium. Unlike a typical underwater cave that's dark and mysterious... the Thunderball Grotto has light coming in from all directions. 
Lots of marine life are found here including collared coral, fish (angel fish, yellow snappers and sergeant majors are there in abundance) and arthropods. … Thunderball Grotto actually features on our curated list of
the best activities in Bahamas
so it's definitely a must do thing while in Exuma. 
Photo: cdorobek, flickr, cc by 2.0 
If you want snorkeling into the Thunderball Grotto as one of your main agendas then you can stay at the Staniel Cay Yacht Club or other alternative accommodation on Staniel Cay (that's the nearest cay). You will need a guide to help you explore Thunderball Grotto, and unless you are an accomplished snorkeler, go at slack tide only. 
Frolicking with Nurse sharks at Compass Cay
Compass Cay is a distinct island in the Exuma chain and has its own beach lodge and marina. The residents in the marina are docile nurse sharks. You can reach Compass Cay via Exuma Banks or Exuma Sound using channels and buoys. The great thing about the Cay anchorage is that even big yachts can be moored here. If you come here for a day trip then the laundry, shower and refreshment facilities will come in handy. Rentals on the Cay are limited so you can either take an excursion to this place or rent a boat from whichever Island you are on (Fowl Cay, Black Point Cay, and Staniel Cay etc.) 
Compass Cay, tourist pier to swim with nurse sharks 
Photo: Giongi63, Shutterstock 
Though scary as a concept, swimming with nurse sharks is a non-threatening and exhilarating experience. The sharks are very slow moving and feed right near the sea bottom and seem to prefer only squid, shrimp and fish. The nurse sharks have been tamed, they love human interaction and actually enjoy being fed and petted respectfully. If you rent/ carry snorkel gear then getting inside the water with an underwater camera can be an unforgettable experience. 
Nurse Sharks at Compass Cay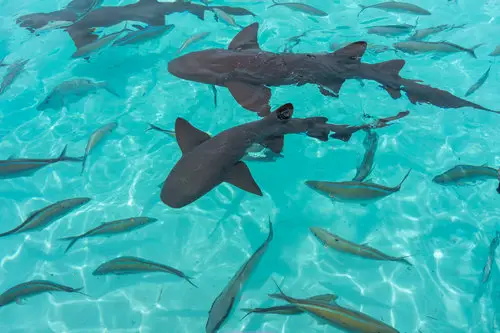 Apart from the nurse shark experience, the island has a beautiful mile long crescent shape beach (actually called the Crescent Beach) that's perfect for long walks. There are also hiking trails of varying difficulty all over Compass Cay. 
Feeding Pigs at Pig Beach/ Big Major Cay
The first thing that will strike you when you reach the famous Big major Cay is that the anchorage here at Big Major Cay is very un-Exuma like. You will find the ambiance reminiscent of Nassau with loads of big yachts and plenty of small boats... it's not difficult to understand the reason why... Big Major Cay is quite near Nassau (about 82 miles south east of Nassau and about 50 miles northwest of Georgetown). 
Wedding parties and group excursions/ day tours from Nassau to Big Major Cay are very common. Tourist parties from Nassau frequently visit here to see the swimming pigs… the iconic residents of this island. The pigs have a trail of stories about their origin… some say that a group of sailors left them here and they were about to return for a pig roast feast which they didn't while others say that the pigs were shipwreck survivors. The only way to reach this place is by boat…either chartered or private. 
Pig Beach (Big Major Cay), Exuma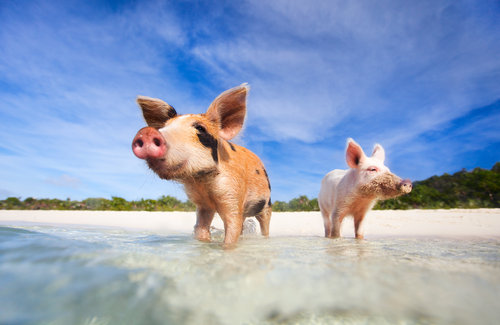 The pigs are friendly…sometimes ultra-friendly and will climb onto your vessel (you need to be careful so that your boat isn't punctured). This will happen more frequently if you store food in your boat. The large ones will also chase you on the beach if they see you with packets of food. Posting selfies with pigs in Big Major on Instagram is a trend amongst tourists.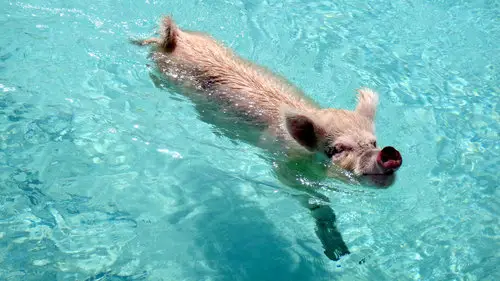 Photo: cdorobek, flickr, cc by 2.0 
One tip is to throw your hands up in the air waving them and making the pigs understand that there is no food with you…otherwise they will be after you searching for food. The little piglets are quite cute but the big pigs are quite hefty and can be aggressive….it's interesting to see them swim in the waters towards your boat as you approach the cay. 
Every tour operator in Exuma and Nassau will offer excursions to the famous pig beach so accessibility is never an issue!! 
Interacting with Iguanas at Allen Cay
Allen cay is in northern Exuma Islands approximately 37 mile south west of Nassau. Many tour operators conduct day excursions from Nassau to Allen Cay…Choose an operator who can pull up right at the beach and drop down a ladder for easy access to the ground. There are lots of anchorage here but they are mostly busy so you can have a tough time finding a spot. 
The primary attraction here are Iguanas….these are classified as one of the worlds most endangered lizards…they are pretty huge as the heavier ones are around 20 pounds. Often you will see the Iguanas simply walking up to you and expecting to be fed… they are very used to tourists. 
Photo: Giongi63, Shutterstock 
It's mostly a custom around here to feed the iguanas fruit speared on a stick… you can see so many tourists busy in trying to take the perfect picture of the Iguana opening its mouth to snap up the fruit. There are about 1000 iguanas here now…as a result of monitored breeding and conservation program run by the BNT (Bahamian national trust) for them. However you need to be careful around these endangered animals…don't just feed them anything…stick to stuff that your guide has approved. The Iguanas are friendly, bold, jump quite high and will sometime climb on body parts. 
Long walks on the Coco Plum Beach
The Coco Plum beach is arguably the prettiest beach in the whole of Exuma despite that it's still relatively uncrowned. If you love beach combing then you will have a great time at Coco Plum beach…there are so many shells in pastel hues just waiting to be picked up. There are lots of sand dollars, sand biscuits and starfish too at low tide. You aren't supposed to pick up and take anything that's alive though.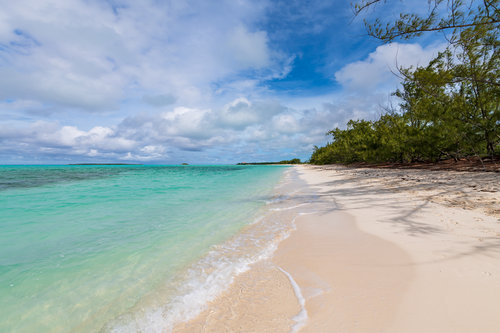 Snorkeling is a very popular activity here. There are no professional operators around here so you need to be an experienced snorkeler to explore the waters here. Walking along the lovely sandbars that pop up around low tide is also a nice activity. 
There are not too many amenities on the beach apart from some swing sets. The beach is nice for kite-boarding and this particular sport seems to be gaining popularity here. However the best thing to do on the Coco Plum beach is to keep walking in the crystal clear water that's only about knee deep and to wholeheartedly admire the juxtaposition of blue and white. 
The Coco Plum beach is at the north part of the island between Rolleville and Steventon. You can access the island via a gravel road that emerges perpendicularly from the main road and goes up to the coast. The beach is only 15 minutes away from Sandals Emerald Bay Resort. 
Vacationing on the Stocking Island
Stocking Island is just a mile away from the shore of George Town and is the focal point of the ever popular cruising Regatta of George Town. This island is only 4 miles long and has very few inhabitants but there are lots of lovely beaches, high-end resorts and marvelous snorkeling sites…all of these contribute to make Stocking Island one of the most popular vacation spots in the Bahamas. 
Beach at Stocking Island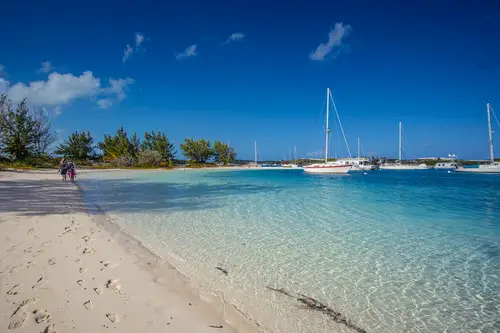 Photo: picearl, Shutterstock 
The central part of stocking island has a spot called Hurricane hole…this is where sailors used to anchor for protection against storms. There is a sandbar opposite the hurricane hole which has Chat n Chill Beach Bar & Grill. The water around the island is teeming with stingrays and tourists find it nice to interact with them. Beach volleyball and softball are pretty popular activities here. There are some really nice secluded beaches here and many guests prefer going to the Starfish beach (north end of stocking island) known for its abundant population of starfish and sand dollars. 
Another nice beach here is the Hamburger beach which is good for watching marine life. Activities on the beautiful white beaches of Stocking Island include snorkeling, fishing, scuba diving, biking etc. Incidentally there is a small hill called Beacon Hill on the Island that will give you a fabulous view of the Island and the waters around that seem to shimmer in hundreds of blue shades. 
Take a water Taxi from George Town (you can use Elvis's Water Taxi) to reach Stocking Island. You will probably get dropped off to a cute little Cove just behind the famous Chat and Chill Restaurant. 
Enjoying the Chat 'N' Chill's Sunday Pig Roast
Every Sunday a whole pig is smeared in a secret array of spices and roasted to perfection….Bahamian style at the iconic Chat 'N' Chill Beach Bar on Stocking Island. The spectacle is visit worthy in itself even if you aren't a pork lover. No wonder the dish sells out by noon …which is why you should come early if you want a delicious plate full of roast. The cost is only about 17 USD per plate and there are 3 side dishes that include the garlic Coleslaw that's famous over here. 
Photo: Chat 'N' Chill 
If you come around noon and stay on to enjoy the ambiance then you might as well catch the sunset from here…the sun setting over the Elizabeth Harbor is a beautiful spectacle. 
Just take a 6 minute water taxi ride from Government dock in George Town. For the record everything at Chat n Chill is delicious including the burgers (cheese, conch, lobster etc.) and conversations flow really smooth here. There is a little TV inside that keeps airing NFL games and people are always playing some or the other sports like Volleyball outside. The crowd is eclectic…yachters, locals, expats and you will feel instantly at home. The Sunday roast is the biggest event in the Stocking Island social calendar. 
Walk on the earth's line of latitude on the Tropic of Cancer Beach
The beautiful Tropic of Cancer beach combines fame and seclusion in a potent combination that's hard to resist. Locals sometime refer to it as the Pelican Beach and it's the longest beach on the Exuma Chain... its beautiful white sands stretch along endlessly and it's almost always peaceful and quiet here. 
Tropic of Cancer Beach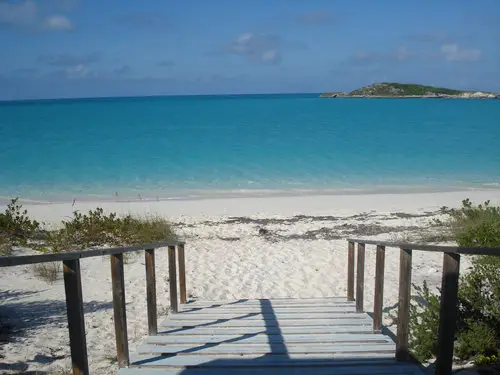 Photo: Barbara Guida, flickr, cc by 2.0 
The tropic of cancer line technically runs through this beach. Walking over one of the earth's line of latitude has to be a must do activity. Take a few photos of the tropic of cancer line that's painted on the steps leading to the beach. You can go for a long walk along the beach as it gently curves along the coast of Moore Hill. 
The waters are beautifully blue and the beach is pretty secluded. If you are a fan of Pirates of Caribbean movie series then do visit this place…the first movie was shot here. Getting to the beach isn't too easy as there aren't proper signs... Once you cross the bridge joining Great Exuma to Little Exuma, look out for a telephone pole with blue reflectors and turn left. You need to walk a long way down a rough road to reach the beach after you reach this part of Little Exuma. 
Tropic of Cancer beach doesn't have too many amenities so bring your own drinks and snacks. If you are staying at the Grand Isles Resort or the Sandals Resort, Tropic of Cancer is a 50 minute journey. 
Nature Watching at the Exuma Land and Sea Park
Exuma Cays Land and Sea Park is one of the first and best marine parks in the world. It's globally known as the first 'No Take' zone and its marine diversity is widely celebrated. The Land and the Sea Park makes for an interesting day trip for the entire family and the headquarters Warderick Wells offers a wide range of activities like eco tours, nature walks and special events for families. 
Warderick Wells, Park Headquarters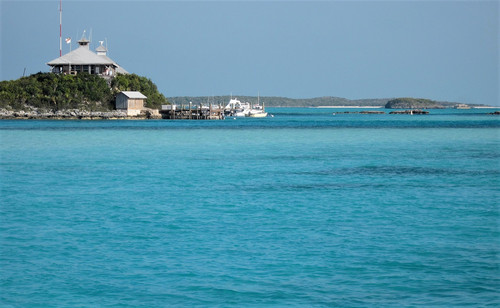 The Park's headquarters has a lovely horseshoe shaped channel of blue water that's surrounded by exquisite beaches. There is a sandbar that uncovers at low tide only…a perfect place to have a lovely picnic. The park provides kayaks and you can swim and kayak in the multiple water areas in the park. 
If you take a boat then use the mooring balls in the North field to anchor it. In case you are taking your boat to the back of the Exuma Land and Sea Park…you can climb up to its highest points i.e. shroud Cay hillock. This will require you to make your way through shoulder deep water and then clamber up a rocky path but an excellent 360 degree view at the top is your reward. 
Exuma Land and Sea Park is one of the most beautiful protected areas in Bahamas. 
Visiting famous Local eateries
Exuma is known for its exquisite offerings of local food and like all out islands…food in Exuma is best experienced in non-fancy ubiquitous locations that focus rightfully on the taste and not the ambiance. Santana's holds the second position in the popularity list of Exuma after the iconic Chat n Chill. It's a little off route for most tourists as it lies in the Little Exuma but their marvelous food is well worth the trip. They are specially known for their 'cracker spiny lobster'. 
Santana's has Mom's Bakery as its neighbor and the latter produces the most delectable rum cake in the islands. Just west to George Town, there is a motley of restaurants known as Fish Fry Shacks that are known for their low key yet incredible food. There are about 10 shacks here and only a few are open for breakfast and lunch while almost all of them are their liveliest in the evenings. 
On Fridays and Saturdays there is live music and DJ stints. Shirley's Seafood is the star here... Shirley cooks up great curries/ fried lobster and pork chops in Cantonese style. Other stuff she is known for includes coconut shrimp, garlicky grouper, plantains, peas and rice, cheese burgers, lobster burgers and coconut grouper with pineapple salsa. 
There are some non-Bahamian food stalls here too like Charlie's that serves great takeaway style Pizza. Expect a steady stream of beer, Pina coladas and local cocktails at the Fish Fry. 
Shopping for local craft at Sandpipers Art and Craft
For an authentic Bahamian shopping experience, visit Sandpiper art gallery at George Town which offers art and craft pieces that reflect the island life and culture. You will find beautiful pottery here and nice resort wear and t-shirts. 3 generations of the Minns family display their art here. You will also find Bahama Hand Prints, Abaco Neem and other local stuff here.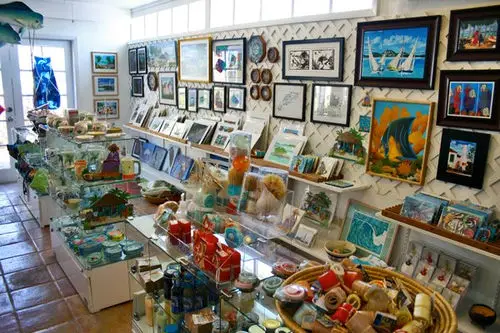 Photo: Sandpipers, Exuma 
You can also shop for smart table ware, shell jewelry, paintings, cell phone covers, maps and books….the collection is pretty broad. The pretty looking gallery is flanked by colorful blooms and stands across the street from the famous Peace and Plenty Hotel. You will recognize the shop immediately by its pleasing sea green color and paintings displayed on the outer walls. Prices are very reasonable and the owners are artists plus being super friendly. 
Kitesurfing on Exuma beaches
Exuma has a profuse collection of natural harbors and clear waters that make kitesurfing a top activity here. Gliding across the gorgeous waters using just the kite and board is a beautiful feeling. If you haven't kite surfed before then you will need half an hour lesson of riding along the waters and staying upwind before you can actually fly by yourself. Soon you will find yourself doing freestyle tricks, conquering waves and exploring down winders along the beautiful coast. 
The waters are clear, warm and there are absolutely no breathing problems down there. The beaches that face Exuma Sound like those on Great Exuma and Stocking Island are especially great for water sports like kitesurfing. The presence of the nearby Long Island protects these beaches and kite boarders are found in plenty along these beaches. The Moriah Harbour area is protected from swells and turbulence and creates suitable conditions for a swift and fast ride. 
The kitesurfing season is from November to July when the winds are strong enough to windsurf and kitesurf. Many operators like
Exuma Kite Surfing
offer kitesurfing lessons. 
Bone fishing on the Islands
Exuma is the second most popular place in Bahamas to bonefish after Abaco. There are lots of flats surrounding the islands and at low tide it's fun to simply wade in and try to catch a couple of beauties. The islands are filled with tourists who are busy in planning some or the other fishing expedition. 
Some of the best bone fishing zones in Exuma are Channel Cut, White Bay, Airport and Rolle Town. You can expect to catch yellow tail snappers, jacks, Barracudas, Nassau Groupers, Triggerfish, Porgy in these areas. The staggering depths of the Exuma Sound yield a record number of mahi, sail fish, king fish, tuna and barracuda and are known as a super competitive zone for fishers. 
Mangrove zones and flats (that aren't too easy to navigate) surround Exuma and using a guide is recommended as otherwise it becomes very difficult to find out the best bone fishing spots. Also a lot of the waters around the islands are no take zones i.e. taking away fish isn't permitted. 
Exuma Bone Fishing Association has a network of great fishing guides who offer fishing packages. You can also rent a chartered yacht for half a day or a full day. If a fishing holiday is what you are aiming for then stay at the Peace and Plenty Bonefish Lodge in George Town… its right near Elizabeth harbor and offers unmatched facilities.  
Tour George Town
George Town is the capital of Exuma and it's located on Great Exuma Island. It's interesting to know that the tropic of cancer runs directly through this buzzing town that has about 2500 people. The yachting community marks Georgetown as a favorite destination and the annual Georgetown sailing regatta is a grand event. 
George Town attracts lots of history lovers because of its colorful past… it's said that pirates used the deep water harbor there as a hideout. The 17th century Georgetown had a lot of aristocrat plantation owners (migrants from South and North Carolina) residing there. 
George Town, Exuma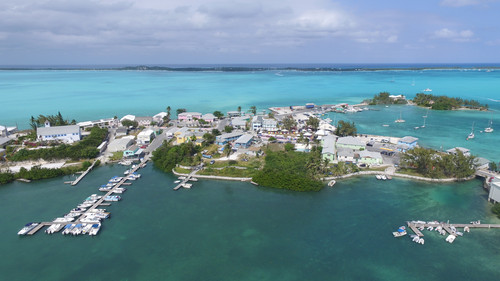 Elizabeth harbor was a base for ships of the British Navy. Other things to look out for in George Town is the happy looking Jolly Hall Beach with its picnic tables, make shift bars and multiple shaded areas. The Three Sister's beach is equally beautiful but doesn't have too many amenities. Like most Bahamian islands, George Town also has its own straw market that's worth a visit. 
Explore the Sandbar near Musha Cay
A secluded 2 mile saddleback sandbar pops out at low tide near Musha Cay and will probably be one of the most fairy-tale spectacles that you will see in the Exuma chain. Many local operators including Roberts Island Adventures in Exuma offer full day/ half day trips that cover this sandbar along with other Exuma attractions. The Sandbar is public and open to all though the island isn't. 
For the record, Musha Cay is privately owned by illusionist David Copperfield and he has built an ultra-luxurious eco resort there that puts all of life's pleasures at one place. There are speedboats, paddle boards, tennis facilities, steam room, massage parlor with trained therapists and a gorgeous 28 feet Nautilus Rib Catamaran. Guests of the resort get treated to pre-arranged four course meals on the sandbar. Nevertheless, just sitting on the sandbar with a bottle of water in your hand can be an equally magical experience. 
To reach Musha Cay, you need to take a 45 minute boat ride to the Cay from George Town. 

By Raj Bhattacharya 
Raj, a seasoned travel writer and Bermuda destination expert, has extensive global travel experience. This website reflects his profound insights, garnered over nearly two decades of dedicated findings and research on the island. Raj has assisted countless Bermuda-bound visitors by providing direct, personalized responses to their queries and imparting his wealth of knowledge through this platform. This site serves as an indispensable guide for those seeking informed and reliable insights into Bermuda's treasures. 
Related Articles
Visitors' Reviews and Comments