Snorkeling & Diving Sites in Exuma
With so many species of exotic marine life in the waters surrounding hundreds of cays that make up Exuma and diversity of the coral and underwater formation…it's difficult to pinpoint the best snorkeling and diving zones here…there is just too much choice. However below are the top spots to snorkel and dive in the Exuma. If you are interested specifically in diving then you should know that the Northern Cays of Exuma offer the most interesting dive sites. 
Currents are low along the Exuma reefs and there are many sunk wrecks around here that offer great wreck snorkeling and diving options. For advanced divers there are plenty of underwater cave systems, blue holes and shark feeds to explore. 
Most diving & snorkeling activities take place from small sized boats, however if you wish to target exotic or remote sites then try booking a live-board (most of these depart from Nassau). Whatever you do, remember that collecting live marine life and spear fishing is restricted by law in Exuma. 
Snorkeling in Thunderball Grotto, Exuma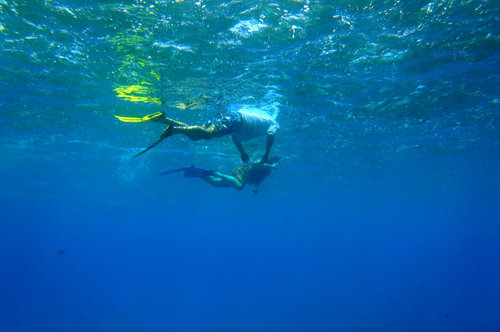 Photo: cdorobek, flickr, cc by 2.0 
The months between November to May are best for diving and snorkeling. From June to October…hurricanes may occur. 
Top Sites
Exuma Land and Sea Park
spans across 176 miles (rests between Norman's Cay and Compass Cay) and contains blue holes, thunderball grotto, underwater caves, coral formations at Fire Coral Wax Cut Drive, springs and freshwater ponds. Its best explored in collaboration with a trained guide... not all the waters in the park are allowed to be explored. Make sure that you explore the stromatolites here... these are unique turquoise colored reef inhabiting algae that are scientifically proved to be the oldest form of life on earth…some of these algae are about 2000 years old.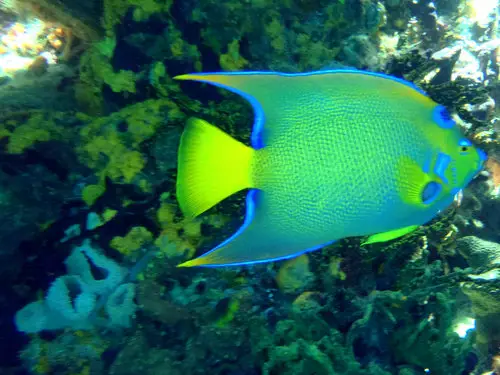 Photo: cdorobek, flickr, cc by 2.0 
Black Rock Reef is a shallow patch of a reef that's located in the shoreline which is to the east of Chat n Chill. Here you will find many clusters of coral heads and corals that can smoothly be explored by snorkelers of various proficiency levels. The land nearby belongs to Good Hope Properties i.e. it is privately owned and you need to be sure that sand around the reef is not stirred up badly….this will increase the sedimentation problems.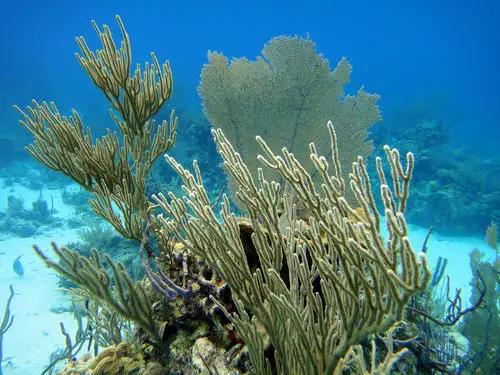 Photo: Matt Kieffer, flickr, cc by-sa 2.0 
Mystery Cave is a difficult dive spot... it's one of the many caves right under stocking island. If you are based around Elizabeth Harbor then exploring Mystery Cave via snorkeling (you should take a guide preferably) should be on your priority list. The entrance of the cave is filled with Atlantic spadefish, groupers, blue tangs and snappers. Try visiting during outgoing tide as the visibility is best during that time frame. 
Angelfish Blue Hole is nearby in an enclosed bay around Stocking Island. You can dive to a depth of 92 feet here and swim through an underwater chamber teeming with parrotfish, hose eyed jacks, eagle rays and sea turtles. 
Channel Marker Reef 2 is towards the east end of Elizabeth Harbor. This reef has multiple holes, growths and cracks underneath and lots of fish inhabit these zone. The reef is up to 5 meters in depth. 
Fowl Cay Restoration reef is a whole cluster of reefs that are located between Fowl Cay and Guana Cay. Huge formations of star coral, stag horn coral and Elkhorn coral are found here and snorkelers find it an intriguing destination. Incidentally a coral restoration project is going on here and you need to abide by the rules. This is a medium difficulty diving and snorkeling spot. 
Harbor Buoy Portside has a super active reef with lots of things to explore and watch. There is also the Harbor Buoy starboard with the remnants of the masts of an old ship towards the north end of the reef here. Massive chunks of brain corals are found here. 
Stocking Island is only a mile away from George town and its waters have many underwater caves, formations of lovely coral and a great variety of marine life that inhabit its blue holes. 
Jolly Hall reef is known as a hatchery so you must be extra careful not to disturb the delicate ecological balance here. There are umpteen groups of yellow snappers and grunts here. 
Three sisters reef are full of small fish…they offer a good snorkeling option for beginners.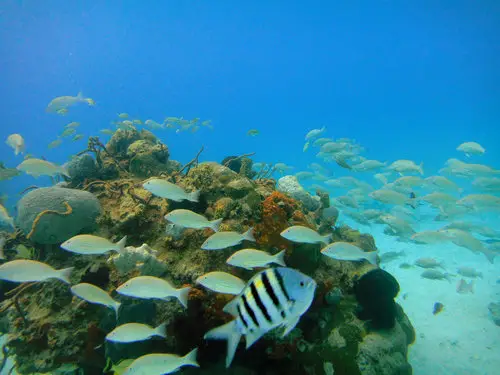 Photo: Matt Kieffer, flickr, cc by-sa 2.0 
The Liz lee shoals is an easy to navigate shallow reef with lots of soft corals and brain corals surrounding it. 
Reefs around Duck Cay have incredible variety. There are shallow reefs to the south which hosts colorful marine flora while the unusual reef formations in the north have huge schools of snappers and other colorful fish. 
The famous Three Sister's Rocks are actually reefs that are one of the best snorkeling zones in Exuma. There are loads of small fish which teem around these reefs. 
Loaded Barrel reef has huge beds of staghorn corals and tropical marine life. Amberjack reef is known to be a top dive site... it offers options of shark diving along with reef diving (about 20 grey reef sharks inhabit these waters).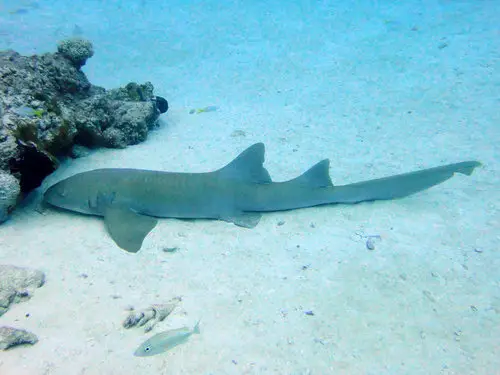 Photo: Matt Kieffer, flickr, cc by-sa 2.0 
Operators
Many tour operator offer day trips that combine diving and snorkeling in Exuma. In case you are interested in learning the art of diving and snorkeling, then go for a PADI 5 Star Dive facility. 
There is one operated by the Exuma Yacht Club in Georgetown and PADI Courses right from beginning to advanced level are offered along with Scuba, Boat tours and water sports. You can call (242) 336-2893 to make bookings. 

By Raj Bhattacharya 
Raj, a seasoned travel writer and Bermuda destination expert, has extensive global travel experience. This website reflects his profound insights, garnered over nearly two decades of dedicated findings and research on the island. Raj has assisted countless Bermuda-bound visitors by providing direct, personalized responses to their queries and imparting his wealth of knowledge through this platform. This site serves as an indispensable guide for those seeking informed and reliable insights into Bermuda's treasures. 
Related Articles
Visitors' Reviews and Comments